NC State looks for 3rd straight ACC road win at Duke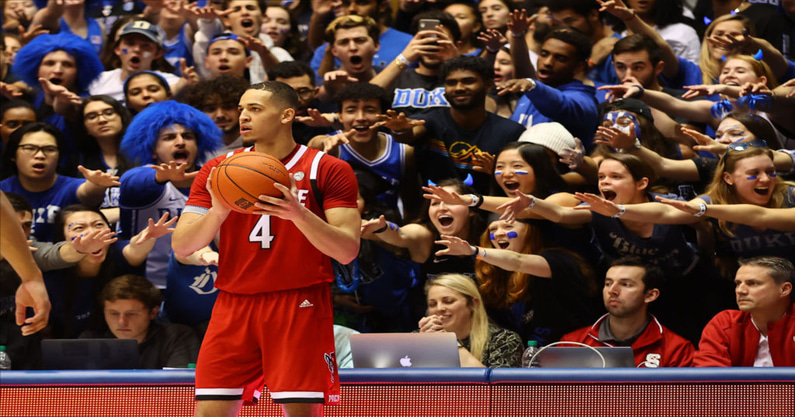 The NC State Wolfpack come into this Duke game 9-8 overall, 2-4 in the conference. It's been a struggle this season especially after the tough overtime game against #1 Purdue in Brooklyn where NC State was leading by 12 points with just six minutes remaining. As a fan, you can either look at this team as losing six of their last eight, or winning two of their last three. The Wolfpack have to continue to improve. In a down conference this year, anything can happen in the ACC Tournament.
Duke is 13-2 overall, 3-1 in conference while ranked #8 in the AP Top 25. Their two losses have come at the hands of Ohio State and most recently against a hot Miami Hurricanes team. Duke is coming off of one of their worst seasons in the Mike Krzyzewski era. They reloaded by bringing in one of the top recruiting classes, and returned players who have taken their talents to another level. It's rare for Duke to lose back to back home games, but it can be done. The last time NC State won at Cameron was on January 23, 2017 when the Wolfpack beat a Duke team featuring eight future NBA players by two points, 84-82.
NC State vs Duke Statistic Overview
Points Per Game: Duke is a Top 10 scoring team, averaging 82.8 points per game. This ranks 9th nationally.
Field Goal %: Duke takes and makes high quality shots, hitting 48.6% of their shots from the floor which ranks 22nd in the country.
Assists: Duke does a great job of sharing the basketball, breaking down defenses, and making the extra pass. They average 17.1 assists, ranking 16th nationally.
Turnovers: Duke's pace ranks 108th, which is faster than over two thirds of college basketball teams. Usually, playing faster means more possessions and more likely a turnover will occur but they've been impressive taking care of the basketball. They average only 9.7 turnovers per game which ranks 12th nationally.
Assist/Turnover Ratio: With Duke ranking in the Top 20 in assists and turnovers, it only makes sense they would have a great ratio. They rank 4th nationally in this category.
Blocks: Duke ranks 15th nationally in blocks per game.
Duke Main Personnel
#5 Paolo Banchero: Paolo is a 6'10" 250 pound Freshman forward out of Seattle, Washington. He was one of the top recruits from the 2021 high school class, already inserted on NBA 2K22 before playing a college game, and he's more than lived up to the hype. Now considered a Top 3 lock in the 2022 NBA Draft, there is not much he can not do on the basketball court. Paolo is averaging 17.7 points and 7.3 rebounds on 49.2% shooting with about 25% of his shots coming from distance. He'll make about one 3pt shot per game, but he understands he does most of his damage within 17 feet of the basket. In the last four games he's been averaging an even 21 points. NC State has to keep him off the glass, and force him to take contested jump shots.
#0 Wendell Moore Jr: Moore is a 6'5″ 215 pound Junior out of Charlotte, NC and is one of the most improved players in the country so far this season. Last year he averaged 9.7 points on 417% shooting. This year he's up to 15.4 points on 54% shooting. There are some talented players who will become lottery picks, but Moore is the glue guy who holds this Duke team together. He has struggled in the last three games, averaging nine points on just 32.1% shooting.
Duke Supporting Personnel
#21 AJ Griffin: Griffin is a 6'6″ 220 pound Freshman wing out of New York. He is a high impact athlete and has averaged eight points and three rebounds on 56% shooting. The Freshman has seen his minutes steadily increase throughout the season and has recently found a nice rhythm. In the last four games, Griffin is averaging over 14 points and five rebounds, shooting 62.5% from the floor and 46.6% from 3pt range.
#1 Trevor Keels: Keels is a 6'4″ 220 pound Freshman guard out of Maryland. Out of high school, he was known as a lethal shooter but he has struggled so far this season from long distance. Keels has continued to remain aggressive, shooting, driving, getting down hill, and finishing around the basket. He has been Duke's best on the ball guard, playing fearless, and always stepping up to the next challenge.
#15 Mark Williams: Williams is a 7'0″ 240 pound big man out of Virginia. His job on this Duke team is to control the paint on both ends. On offense, he finishes plays around the basket with dunks and layups. On defense, he rebounds and protects the rim at a high level. Williams is currently ranked 10th in blocks nationally, blocking 3.1 shots per game.