NC State QB Ben Finley continues to embrace role after scout team season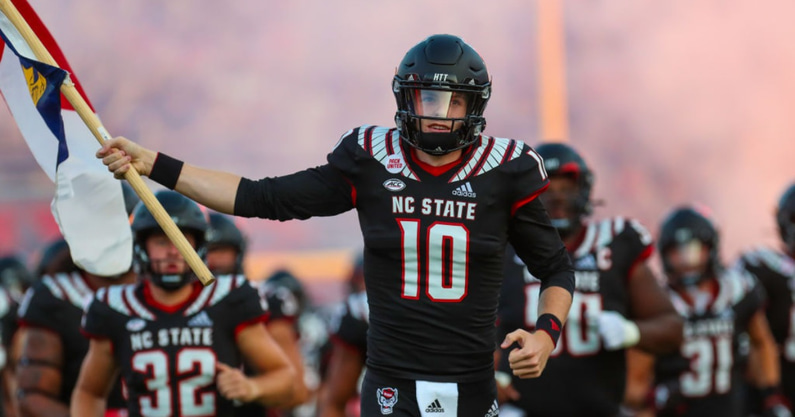 From handling backup quarterback duties during spring practice, to spending the majority of the season running the scout team, NC State signal-caller Ben Finley thought there was no way he would be in the spot he is today.
Now that he is trending towards preparing to start under center against North Carolina in the regular-season finale this weekend, if freshman quarterback MJ Morris remains out due to injury, the redshirt freshman is ready to take on that responsibility. 
"We're just playing with who we've got," Finley said. "And I think that the best I can give is the best I can do. I'm just going to go out and do my best when my name is called and, other than that, just be comfortable."
Subscribe to The Wolfpacker today with our limited-time $10 deal for premium access until 8/31/23
Finley said he took a focused but relaxed approach to the Louisville game when he threw the ball 35 times. He avoided overcomplicating things and finished the game with 201 passing yards and a touchdown during the loss to the Cardinals. 
"I think there were definitely some things I could have done better, but I think I just kind of went out there with 'Just let it fly,'" Finley said. "I just wanted to go out there, pick a guy and let it fly, just simplify the game, go out, have fun, and I think that was important that I wasn't overthinking stuff and just going out there and doing my thing."

Going into this week against the Tar Heels, the quarterback said he will work on going through his progressions against UNC, but he wants to carry over some of the same mentality for Friday if he is asked to play. 
If Finley does start the rivalry contest with North Carolina, it will be his first career start under center with the Wolfpack. The last time he received major playing time prior to the Louisville game was also against North Carolina in 2020. He finished that matchup with 143 passing yards, 1 touchdown and 2 interceptions. 
"It was really calm for me," Finley said. "Leading up to the game, the bus ride over, I was nervous as hell and then I got on the field, and everything just slowed down and stopped, and it was just kind of a surreal moment, and it was so fast, but now the game has been slowly getting slower and slower."
When he entered the game against Louisville, things started quickly and a bit chaotic but slowed down for him as the afternoon went on, just like the game two years ago. 
"I do remember that first play, handing off to [Jordan Houston], just seeing like the linebacker just come in and swarm him. I was like 'Wow, this is real,' and, after that, it just kind of settled down."
For most of the season, it did not look like the freshman would see any meaningful snaps. That did not discourage Finley, as he was happy to help the team win in any way he could. NC State's coaching staff tasked Finley with running the scout team — a responsibility he took seriously.
"In the end, I love my team, and I love those guys so much, so I was willing to do whatever it was to help us win," Finley said. "The first eight to nine weeks, when I was over with the scout team, I think we helped prepare them really well. 
"We even got guys off the scout team. It was awesome seeing it from my perspective, seeing wide receivers get bumped up to the starting two-deep. That was really cool for me to experience that, and then came my time, and now I'm ready."