Notebook: Devin Leary shines in NC State's 28-14 win over Florida State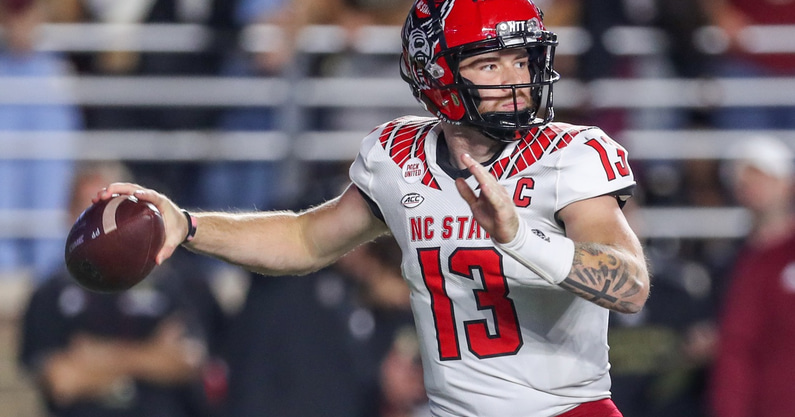 Another Saturday, another 300-yard performance for NC State redshirt sophomore quarterback Devin Leary. 
For the third game in a row and the fourth time this season, Leary threw for over 300 yards. This time, it was enough to lead the Wolfpack to a 28-14 road win over Florida State, a needed victory to keep the Pack in control of its own destiny in the ACC Atlantic Division race. 
"He's managing the offense really well," head coach Dave Doeren said. "He's making smart decisions. He's taking care of the ball. He's giving his guys a chance."
And Leary was quite generous with those chances. 
He completed 21 of his 32 attempts to eight different receivers. He totaled 314 yards and four touchdowns, most of the night without much production from his usual go-to receivers. 
The Wolfpack's two leading pass catchers this season, senior Emeka Emezie and redshirt junior Thayer Thomas, totaled three receptions for 11 yards. 
Sophomore Devin Carter, the Pack's third-leading receiver, didn't even see a target come his way. 
And yet, Leary, who is quietly forcing himself into consideration for All-ACC honors in a conference loaded with quarterback talent, was able to light up a Florida State defense that was allowing 167.8 passing yards per game to opponents in its last four contests.
"The thing I like is he's not getting cocky, he's not trying to force throws because he's having success," Doeren said. "He's still going through his progression, running when he has to run, burning it when he has to burn it. He's doing the right things you want in a quarterback. 314 yards, four touchdowns, that's a pretty good day."
So how was Leary able to have such a great day at the office without leaning on his usual suspects?
"The guys that had opportunities, they took advantage of them," Doeren said. 
Redshirt sophomore tight end Trent Pennix was the game's leading receiver with three receptions for 97 yards and a score.
Fifth-year senior receiver C.J. Riley, redshirt freshman tight end Christopher Toudle and junior running back Ricky Person Jr. were on the receiving end of Leary's other three touchdowns, each evenly spread over four quarters. 
Freshman receiver Porter Rooks was Leary's top target, however, finishing with an efficient five receptions on six targets for 39 yards. 
"It's just football, so there's no flinch," Doeren said. "I think it is a mature thing. Having a very poised quarterback helps you in scenarios like that. It's great to see different guys score. 
"CJ Riley scored a touchdown, big play for him. Ricky Person on the screen play, and I thought Derrick Eason had an incredible block on that play that fired me up. Chris Toudle made a great catch, and then Trent Pennix again sparks us on a naked.
"It was really good just to see other guys. They were keyed in on Emeka Emezie. It's hard for him to get open when they pressed with the safety over the top most of the night."
Defense steps up, again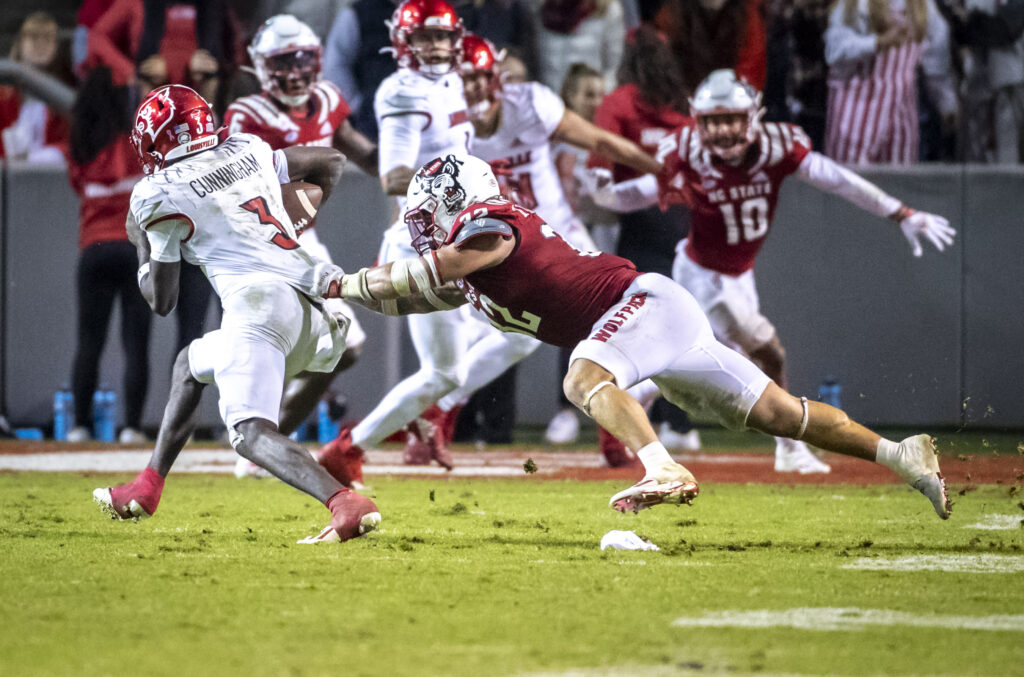 There's no one player to exclusively thank for NC State's 7-2 start this season, but the defense would be a great place to start. 
With starters seemingly dropping like flies, the Wolfpack defense once again laced up its bootstraps to suffocate an ACC offense. 
NC State was already missing preseason All-ACC linebackers Payton Wilson and Isaiah Moore. It was also missing transfer safety Cyrus Fagan and redshirt sophomore C.J. Clark. 
But prior to kickoff, it was announced that the Wolfpack would also be without junior nickel Tyler Baker-Williams and sophomore defensive end Savion Jackson. 
Not to mention, the Pack learned of its opposing starting quarterback mere hours before kickoff. 
NC State was expecting Seminoles quarterback Jordan Travis, a known explosive threat both through the air and particularly on his feet. For the second straight season, however, the Pack did not face Travis. 
Travis was unavailable for the game. Florida State's next man up was McKenzie Milton. 
Milton, a Central Florida transfer that was among the more intriguing names on the transfer portal this offseason, is a traditional pocket passer. 
"We had no idea," Doeren said. "We worked on quarterback run game all week. They did a nice job of not getting that one out in the news. Had no idea we were going to be playing a throwing quarterback instead of a running quarterback today."
But the potentially-impactful switch-a-roo didn't phase the Pack. 
The Wolfpack never allowed the Seminoles to establish a run game, and consistently flustered Milton in the backfield when he was inevitably forced to pass. 
At halftime, Florida State had -1 rushing yards. After four quarters, the Noles averaged 1.4 yards per carry on 27 attempts.
NC State sacked Milton three times. He completed 50 percent of his 44 attempts for 233 yards, one touchdown and an interception. 
"These kids are amazing, first of all, so they deserve all that," Doeren said. "But you know, if you would have asked me at the beginning of the year a list of guys you can't lose at the start of the season, we'd start knocking out these names. Right? But the guys that are playing are playing their butts off."
NC State will enjoy the win before shifting focus to Wake
As soon as it became evident that NC State would leave Tallahassee with a win, the attention of many Wolfpack fans likely drifted to next weekend's road game against No. 9 Wake Forest. 
It's easy to understand why. Next Saturday will ultimately make or break the Pack's season. 
It was even on the mind of some reporters on the Wolfpack beat, and Doeren was asked to look ahead after the game.
But he didn't bite.
"We're excited about playing those guys, but I'm going to enjoy this win if that's okay with you," Doeren said. "We'll talk about Wake Forest on Monday. It was a hell of a win today, so I'm excited about that. I don't know how many times NC State has beaten Clemson and Florida State in the same year as a program. That happened this year, and that's pretty good. 
"When you look at those two programs, what they spend on football, their budgets, what they spend on their staffs. What we just did, I think it says a lot about what our program is doing. So, I'd rather focus on that than who play we play next week."
While the question certainly had no malice, Doeren raises many good points. 
It's hard to win on the road in the ACC, let alone the Atlantic Division. 
And the last time the Wolfpack beat the Tigers and the Seminoles in the same season, Philip Rivers was a junior. 
That was 2002, arguably the Pack's best season in the program's modern history. NC State went 11-3 that year and crushed Notre Dame 28-6 in the Gator Bowl. 
It was also the last time the Wolfpack won 10 or more games in a season. 
The Pack already broke one record from 2002, but it will need to break another to accomplish its ultimate goal this season. 
NC State makes it no secret that it's locked in on a central mission: to win the ACC Championship. Doing so would require an appearance in the title game, which would mean winning the ACC Atlantic Division. 
Despite suffering its first loss of the season to North Carolina today, Wake Forest currently sits in first place of the Atlantic Division standings with a 5-0 record in ACC play. Because the game against UNC was scheduled as a non-conference meeting, the loss didn't count against the Demon Deacons' conference record. 
The good news for NC State, it still controls its own destiny. 
The winner of next weekend's meeting in Winston Salem will take the lead in the ACC Atlantic standings with the head-to-head tiebreaker in hand. 
If the Pack wins, it would still need to win its last two games against Syracuse and UNC to ensure an appearance in the ACC title game assuming Wake wins out. 
And it's a challenge NC State is embracing. The team knows it will decide how special this season can become. 
"We truly are writing a 12-chapter book right now," Doeren said. "The pen is in our hand. We are the authors of the story, currently. We don't need anyone else's help. Whatever we put down every week is what's going to be in there. Each week's a new chapter, and this was another one. The guys have really embraced that."