Pack of Wolves provides NIL opportunity to all of NC State football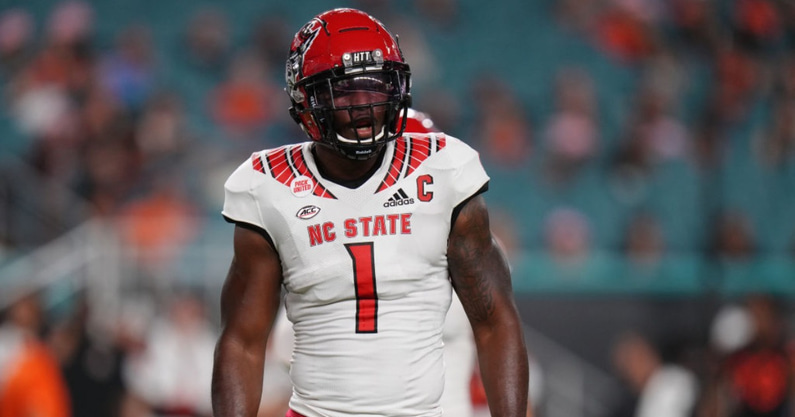 Pack of Wolves, NC State's name, image and likeness collective, launched earlier this year and has been consistently expanding since. The organization will take its next big step in launching the Wolfpack into the NIL space when they host 'Meet the Pack Day'— an event that will compensate every participating scholarship and walk-on football player.
NC State's football athletes will all gather at PNC Arena Saturday, August 13 from 5 p.m. to 6:30 p.m. for the milestone moment for Pack of Wolves. Members of the collective told The Wolfpacker earlier this year that their goal was to eventually provide NIL deals to all NC State athletes. This is a vital step towards that goal. 
"We're proud to be one of the very few collectives in the country to be able to support our entire football program with unique and engaging NIL opportunities," Pack of Wolves Board Chairman Charlie Stallings said in a Thursday evening press release. "Athletics hasn't been able to provide this event to fans the last couple of years because of COVID, so we're excited for NC State supporters, fans and the community to enjoy this classic throwback event."  
During 'Meet the Pack Day', NC State fans will have the opportunity to meet members of the football team, take pictures, receive autographs and bid on Wolfpack memorabilia. Not only will all 85 scholarship athletes receive a NIL payout from the event, they will also have the opportunity to sign on for future sponsorship deals through the end of December. 
Pack of Wolves members will receive early access to the event, but it is completely free to attend otherwise. 
So far, eight football players have joined Pack of Wolves, including center Grant Gibson and linebackers Isaiah Moore, Drake Thomas and Payton Wilson. Each of those players are All-ACC athletes with potential NFL careers in their future. Next Saturday's event will be an excellent opportunity for all of the Wolfpack's football athletes to receive compensation for their respective personal brands. 
In addition to the current athletes involved in the NIL space, NC State legends are also getting involved at the event, including former Wolfpack women's basketball star and Pack of Wolves Advisory Board member Kai Crutchfield. 
"This exciting event also provides the opportunity to engage former athletes," the Pack of Wolves statement said. "For example, former women's basketball player and recent graduate, Kai Crutchfield, has been tapped to provide original artwork and digital design for autograph posters all attendees will receive, as well as limited-edition t-shirts to be sold at the event. Guests are also sure to spot many former athletes in attendance at this can't-miss event!"
Pack of Wolves plans on hosting similar events in the future for other NC State varsity sports.