Explaining The Wolfpacker's All-ACC ballot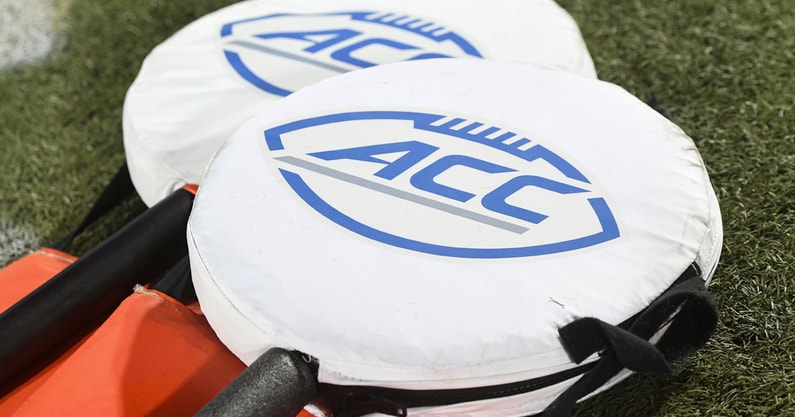 The Wolfpacker was part of the participating media for postseason conference awards in the ACC. Here is how the All-ACC ballot looked.
All-ACC Offense
Quarterback: North Carolina's Drake Maye was an easy, clear-cut decision. The harder choices was who would be second and third choices as writers are allowed three choices (ranked in order). Duke's Riley Leonard made a compelling case, but he was first out after FSU's Jordan Travis and Wake Forest's Sam Hartman.
Running back: Pittsburgh's Israel Abanikanda is an easy call, but choosing between Sean Tucker of Syracuse and Clemson's Will Shipley was tough. Ultimately, our decision was Tucker.
Wide receiver: The best receiver we saw in person all season was Boston College's Zay Flowers, and he grabbed our top spot on All-ACC. Although Josh Downs from UNC had a subpar game vs. NC State, he certainly proved his worthiness throughout the year to easily get a spot.
The last place on the first-team was a decision between Wake Forest's A.T. Perry and Louisville's Tyler Hudson. The latter went over 1,000 yards, but Perry was close with 980 yards and his 11 touchdowns (compared to Hudson's two) made Perry the last choice.
From NC State, we did include super senior Thayer Thomas, as he grabbed the last spot on our third team.
Tight end: Since Syracuse's Oronde Gadsden II was being counted as a tight end, this was an easy choice. Gadsden had 54 catches for 891 yards and 6 touchdowns.
Offensive tackle: We were between three players for the two first team spots: Jordan McFadden from Clemson, Graham Barton from Duke and Matthew Bergeron from Syracuse. Close call but the picks went to McFadden and Barton.
Offensive guard: Another position that was close, but our first-team All-ACC choices were NC State super senior Chandler Zavala and Florida State's Dillan Gibbons. Per Pro Football Focus (PFF), neither allowed a sack, and Zavala was also responsible for not letting the quarterback get hit once and gave up just 4 hurries. Zavala was also the top-rated guard in the ACC.
Pittsburgh's Marcus Minor was also strongly considered.
Center: NC State super senior Grant Gibson did miss the final 2 games, but he was the top-rated center in the ACC by PFF after allowing just 2 sacks, 0 hits and 3 hurries. Louisville's Bryan Hudson was the top competition, giving up just 3 sacks, 2 hits and 8 hurries.
All-purpose: This was a position seemingly invented to get former NC State do-it-all Jaylen Samuels on the All-ACC team like he belonged. Shipley got our vote here.
Defense
Defensive end: Florida State's Jared Verse was a prime contender for ACC Defensive Player of the Year, and Boston College's Donovan Ezeiruaku led the ACC with 8.5 sacks. Those were our choices.
Defensive tackle: Pittsburgh's Calijah Kancey was another player that was worth ACC Defensive Player of the Year consideration. We strongly considered Louisville's Yaya Diaby and Wake Forest's Kobie Turner, but the last spot went to Clemson's Tyler Davis.
Linebacker: Easily the deepest position group to choose from on defense, and some players did not make the cut for our three deep that surprised us. Ultimately, we settled on NC State fourth-year junior Drake Thomas, Louisville's Yasir Abdullah and UNC's Cedric Gray.
NC State super senior Isaiah Moore was on our third team.
Cornerback: Our top two choices were NC State fourth-year junior Aydan White and Virginia's Anthony Johnson. White was second in the ACC with 4 interceptions, while Johnson tied for a conference high 14 passes defended. Those two also allowed the lowest NFL passer rating went targeted against among ACC corners with at least 400 snaps, according to PFF.
Safety: Hearing Wake Forest head coach Dave Clawson rave about NC State super senior Tanner Ingle helped justify our decision to make him first-team All-ACC. Miami's Kamren Kitchens and his league-high 6 interceptions were also an easy choice.
Specialists
Placekicker: NC State's Christopher Dunn's near perfect season with a long field goal of 53 yards made him an easy selection.
Punter: No one was more effective pinning opponents and flipping field like Miami's Lou Hedley.
Specialist: There was not a deep group of nominees, thus we chose Pitt's M.J. Devonshire, who returned a punt for a score during the year.
ACC Award Winners
Offensive Player of the Year: The decision was between Maye and Abanikanda, but truthfully while the latter had eye-popping production, the Heisman dark horse chatter for Maye was justified until his final two weeks.
Naturally, if Maye is Offensive Player of the Year, he also received our vote for Offensive Rookie of the Year and Rookie of the Year.
Defensive Player of the Year: NC State head coach Dave Doeren told a story at how Louisville coach Scott Satterfield said Thomas was his favorite player to watch in the ACC. There were a lot of good candidates, but Thomas was too disruptive to ignore.
Defensive Rookie of the Year: Virginia Tech corner Mansoor Delane impressed us in person and had a sterling PFF grade to back that up.
Player of the Year: Maye again gets the nod, as he was probably the difference in UNC being 9-3 and perhaps a .500 squad.
Coach of the Year: Duke's Mike Ellko deserves a lot of love for his work, but our choice was Florida State's Mike Norvell.
While Duke had a 5-game improvement from a year ago, FSU had a 3-game bump. Furthermore, Duke this season played 11 Football Bowl Subdivision (FBS) teams, seven of whom did not reach bowl eligibility, and an eighth who finished at 6-6. The Devils also had an FCS opponent.
Of the four FBS bowl eligible teams Duke played, the Blue Devils went 1-.3.
FSU played a harder schedule, beating LSU and Florida from the SEC in the process, to make their notable improvement in record.