Zoe Brooks earns spot on McDonald's All-American team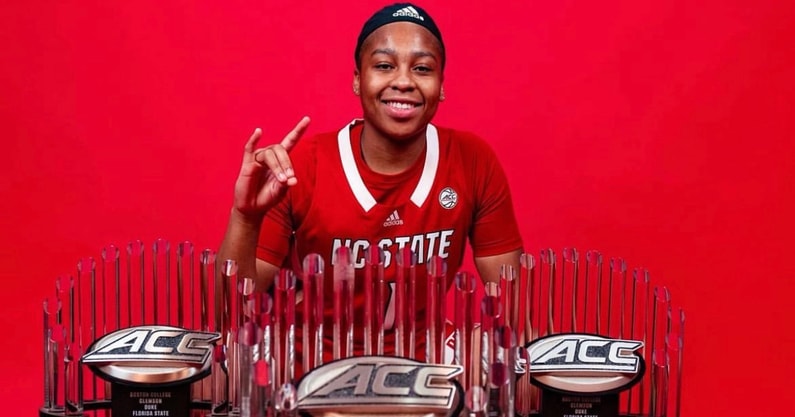 NC State women's basketball signee Zoe Brooks is in the middle of an undefeated senior season at Saint John Vianney's High in New Jersey. On Tuesday, she was officially selected to the McDonald's All-American team. She is 1 of 24 elite class of 2023 recruits to receive the honor.
The five-star guard signed with NC State in October after committing to the Wolfpack over the summer. According to ESPN, the recruiting service that ranks Brooks as the No. 9 recruit in the country, she is averaging 24 points, 6.5 rebounds and 4.1 assists per game this year. She has also recorded double-digit steals in 3 games this year and scored a season-high 35 points Jan. 6, per nj.com.
"Zoe is a combo guard who can run the show at point and break the defense down while also scoring the ball at all those levels," NC State head coach Wes Moore said in a signing day press release. "She makes everyone around her better with a high school state championship to prove it."
ESPN elaborated on why Brooks made the All-American team.
"Brooks is a gifted scorer who can flat out put the ball in the basket. Over the past 18 months, she has really gone to work on her conditioning and it brought her game to another level. She is a true three-level scorer. Defenses must be there on the close out, but containing Brooks is no easy feat as she attacks angles, changes speeds, and has the footwork and handle to counter.
"Her strength allows her to finish with contact at the rim and her touch provides an array of floaters and usage of the glass for buckets. Brooks sees the floor well and zips passes to teammates for open looks. Defensively, she has fantastic instincts and is good in passing lanes and in the press."
After picking up offers from North Carolina, South Carolina and others, Brooks decided to wrap up her recruitment and chose the Pack. The 5-10 guard previously received MaxPreps All-American honors as a junior. Saint John-Vianney is 18-0 going into the home stretch of its 2022-23 season and most recently won a game 90-27 Monday. Brooks' squad has scored a total of 1,362 points this year, per MaxPreps, and only allowed 624.
"I love winning. I only lost one game as a freshman, one as a sophomore and one as a junior so far in high school," Brooks told NJ.com after committing to NC State. "When I was younger playing for the New Jersey Sparks and in middle school at Holy Savior Academy, we did a whole lot of winning, too. The same thing with Philly Rise AAU right now. So, I wanted to go to a program with a history of success, a coach that plays a lot of guards and doesn't hold them back and a team that competes on the national stage.
"That's why I chose Saint John Vianney last summer, and why I chose North Carolina State now."
The 2023 McDonald's All-American Games will take place Tuesday, March 28, in Houston, Texas.