Nebraska A.D. Trev Alberts has no complaints over new Big Ten schedule changes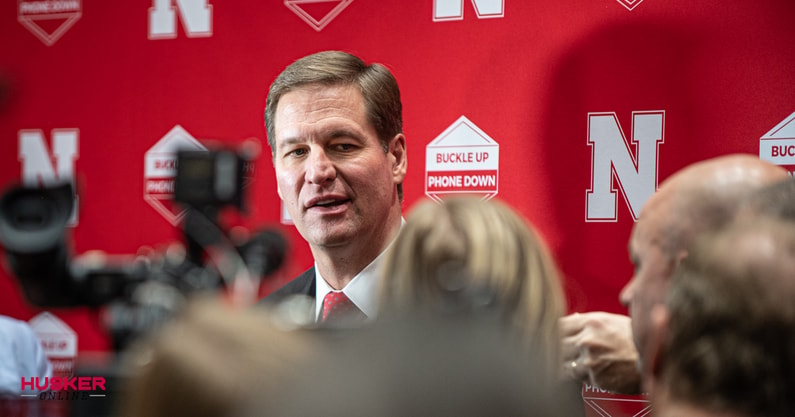 When the Big Ten Conference unveiled its new football scheduling model and matchups for the 2024 and '25 seasons, everyone around the league had opinions.
That included Nebraska athletic director Trev Alberts.
During an impromptu interview on the Huskers Radio Network on Thursday night, Alberts reacted to the changes and the draws Nebraska was dealt.
In short, Alberts said that while the Huskers' schedules might look difficult now – especially their daunting 2025 slate – the Big Ten's new model was designed for long-term consistency.
"You can't look at a schedule in the vacuum or the silo of just one year," Alberts said. "When you're not playing everybody in a true round-robin, ultimately what ends up happening is you have to go through several years to have things kind of even out."
RELATED: Five takeaways on the new Big Ten schedules and what it means for Nebraska
Alberts said Iowa was Nebraska's top rivalry choice
One of the more notable developments was that the Big Ten awarded Nebraska just one permanent protected rival in Iowa. Other schools, such as the Hawkeyes, got as many as three.
Alberts said the Big Ten asked each university to name their top three choices for protected rivals. NU's top pick was Iowa, followed by Wisconsin and then Minnesota.
Alberts said the conference's 11 rivalry selections involved many factors. That included some "gamesmanship" by teams wanting to pick opponents that had struggled in recent years.
"Sometimes you submit a protected rival, and that school doesn't submit you as a protected rival," Alberts said. "So, there's nuance there."
In the end, Nebraska locked in its top selection in Iowa. Alberts said he immediately reached out to Hawkeye A.D. Gary Barta when the protected rivalry discussion began, and both agreed that Nebraska-Iowa needed to continue.
Get three months of access for $1 or one year for $49.99. This is a limited-time offer for Nebraska fans!
NU's next 'two-play' opponents are already locked in
The Big Ten also gave Nebraska "two-play" games (a.k.a. home-and-home series) with Iowa, Minnesota, and UCLA for the 2024 and '25 seasons. 
Alberts already knows NU's next "two-play" opponents for 2026 and '27. But the conference won't reveal those matchups until a later date.
"You just have to let these schedules kind of even out over time," Alberts said. "We have to be consistent in its application in order for it to be equitable and fair. But I think the Big Ten did a very good job. 
"There was nothing nefarious about the intent. It was very transparent."
Never miss Nebraska breaking news or another HuskerOnline article again. Click HERE to sign up for HuskerOnline's Daily and Breaking News Newsletters.