Final take: Illinois showed Nebraska why they are the best team in the Big Ten West right now
To win in the Big Ten Conference, you have to be able to do a few things at an elite level.
Towards the top of that list are playing sound defense and running the football. No. 17 ranked Illinois (7-1, 4-1) gave Nebraska (3-5, 2-4) a lesson in both areas in their 26-9 win on Saturday.
The Illini's defense dominated for the better part of the football game and standout running back Chase Brown and quarterback Tommy Devito executed a near-perfect game.
Related: Five things we learned from Nebraska's loss to Illinois
Nebraska had a small margin for error
Let's face it, the Huskers had a very small margin for error if they wanted to win this football game.
Things turned in a big way right before halftime when quarterback Casey Thompson left the football game with an injury to his throwing arm.
"After Casey went down and threw that pick I was surprised that it got away that quick," interim head coach Mickey Joseph said following the loss.
However, even before the injury, Thompson was off, as he threw two first-half interceptions and missed on a couple of key throws/reads.
Nothing felt in rhythm, from first down play calling to finding NU's top playmaker wide receiver Trey Palmer.
"We could not get it to (Palmer), but they were really handsy," Joseph said. "We talked to him during the week that they are just not going to let you run. He has to run through some of the contact. He understood that during the game that he had to run through it but some plays we just could not get it to him."
The Illini effectively took Thompson and Palmer out of the game. They put the game in the hands of NU's back-up quarterbacks once Thompson went down, and the rest was history.
The Huskers had just 29 yards of total offense on 20 plays in the second half. It was a 17-point loss that felt every bit as bad as the Huskers' 49-14 loss to OU. Things got away from Nebraska in a hurry.
"It went downhill," Joseph said. "We got off the tracks second half, and we need to go back and look at the film, but I can tell you that they dominated us in the second half."
Moving forward, the Huskers have four games remaining and a lot of unknowns regarding the status of Thompson and the future direction of the program.
"There's a lot of season left," senior tight end Travis Vokolek said. "Our locker room is so tight, we're brothers in there. It's a positive locker room right now, and obviously it sucks we lost, and guys are upset about that, but we have the 24-hour rule. We're going to come back tomorrow and learn from our mistakes.
"We'll find what we didn't do well and move onto next week, it's another opportunity. Guys are excited about that, and we'll learn from this one and move on."
Now on to the breakdown…
---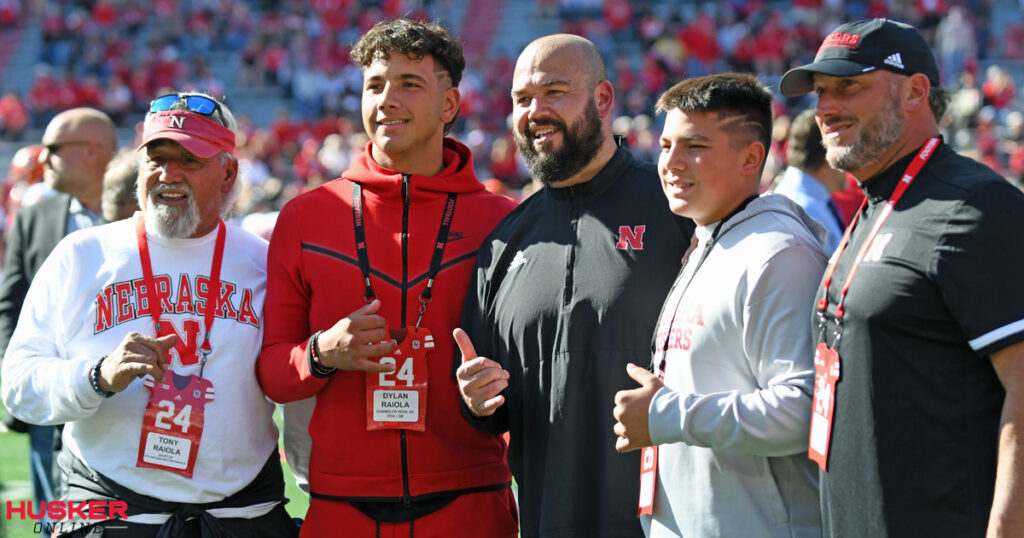 What I saw on Saturday
***A lot of the pregame scene on Saturday for Nebraska was dominated by the presence of the Raiola family. Five-star, 2024 quarterback Dylan Raiola was in town with his younger brother Dayton Raiola, who NU just offered this past week. Dayton is a 2026 QB prospect. The family was in town to support their uncle Donovan.
***Offensive coordinator Mark Whipple called 11 pass plays on first down, compared to seven runs. NU was 3-of-11 for 27 yards on those first down throws. They averaged just 1.7 yards on first down, compared to 4.3 for Illinois.
***After having a record-breaking game against Purdue, wider receiver Palmer had just one catch for 1 yard on six targetted throws. Illinois's cornerbacks got "handsy" with Palmer according to Joseph, which didn't allow him to run free very often.
Related: Nebraska-Illinois postgame nuggets
***Luke Reimer had a presence on the field for Nebraska's defense. He looked like the Huskers' best defender, leading the way with nine tackles.
***On a positive note, the screen call to Chancellor Brewington was arguably the offense's play of the game, along with Thompson's touch pass to Travis Vokolek that went for a 56-yard TD.
The negative was after Thompson went out, Chubba Purdy had just three completions for 15 yards on eight attempts. He was sacked twice with an interception.
***After the game, Joseph shot down the notion they would give any other QBs a shot when asked about where Richard Torres might factor into the discussion. Logan Smothers got one series in the first half, but they quickly moved on to Purdy in the second half.
---
The final grade out
| | | |
| --- | --- | --- |
| | Grade | HOL take |
| Rushing offense | F | Nebraska could never find its rhythm in the running game. Grant had a few moments, but nothing was sustainable. Grant also had a costly fumble to start the fourth quarter. NU finished the game with just 14 rushing yards on 12 carries on the second half. |
| Passing offense | F | The Huskers threw three interceptions and Palmer had just one catch for 1 yard on six targets. Illinois did not let the Huskers' wide receivers get behind them. NU was 11-of-24 passing and 2-of-12 on third downs. |
| Rushing defense | D | Illinois had a very efficient ground game. Their long run of the game was just 21 yards, but they were very consistent finishing with 207 sack-adjusted rush yards. Brown had 32 carries for 149 yards and was very effective on his situational runs. |
| Passing defense | D | Devito was 20-of-22 for 179 yards. NU did apply some pressure on him at times, but it was not enough. The Illini were 7-of-15 on third down. |
| Special teams | C+ | Nebraska made a 26-yard field goal but missed an early extra point. The return game was a non-factor, as the Huskers had kick returns of 14 and 18 yards. The Huskers also allowed a 24-yard return on a low-linedrive punt from Brian Buschini. |