Five takeaways on the new Big Ten schedules and what it means for Nebraska
Some seismic Big Ten news was announced on Thursday, as the conference revealed its new football scheduling format and 2024 and '25 matchups.
Here are five of our biggest takeaways from the new schedules and how the changes will impact Nebraska going forward…
Get three months of access for $1 or one year for $49.99. This is a limited-time offer for Nebraska fans!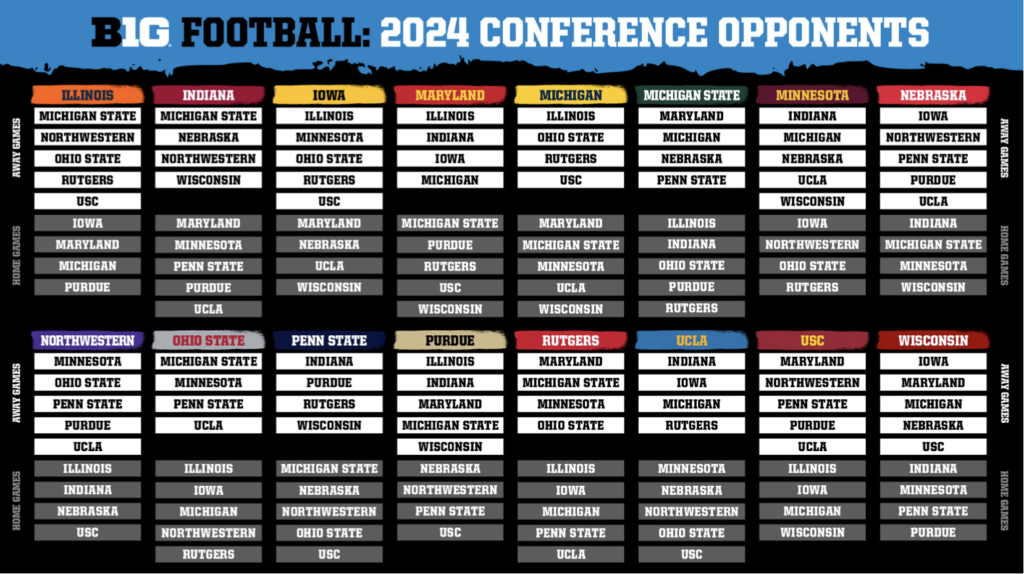 1. Some big shakeups ahead
Just as Nebraska was settling into some traditional Big Ten rivalries, the league will shake things up in a big way starting in 2024.
The most notable change was removing Wisconsin – one of NU's more organic conference rivals – from the Huskers' 2025 slate.
That will mark the first time Nebraska won't have the Badgers on its schedule since joining the league in 2011. The teams didn't play in 2020 because UW canceled the game due to COVID-19 issues. Wisconsin has won 10 of the past 11 meetings over that stretch.
Iowa was Nebraska's lone protected rivalry under the Big Ten's new scheduling format. Each team will have three "two-play" opponents, meaning they will play home and away in 2024 and '25. Nebraska's two-play matchups are Iowa, Minnesota, and UCLA.
Moreover, Nebraska will not play Illinois in 2024 for the first time in a decade. The Huskers and Fighting Illini have faced off every year since 2013, with NU owning a 6-4 advantage.
RELATED: The three most pivotal games on Nebraska's 2023 schedule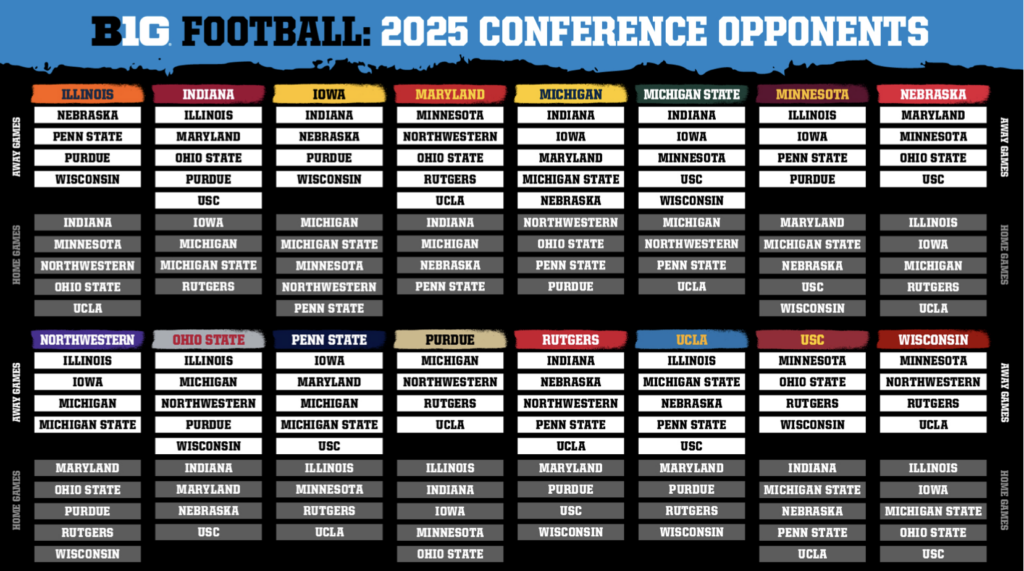 2. Big Ten picks 'Flex Protect' model to preserve rivalries
There were several proposals for the Big Ten's future scheduling model for when USC and UCLA join the league next year. 
Ultimately, the conference opted to go with the "Flex Protect" model, which had been one of the frontrunners for some time.
In that system, Big Ten teams can preserve up to three annual rivalry matchups while rotating through the rest of the conference opponents over the years. 
The idea was that the "Flex Protect" model was the best compromise to maintain historic rivalries while maximizing the league's competitive balance. 
There are 11 annual-protected games, while every conference pairing will be guaranteed twice in four years in home-away matchups.
That includes every original Big Ten team traveling to USC or UCLA before 2025. The Bruins and Trojans will play every league opponent at least once by the 2025 season.
It should also help limit travel in a coast-to-coast conference while keeping a nine-game league schedule.
RELATED: Toughest Tests: Ranking the best offenses and defenses Nebraska will face this season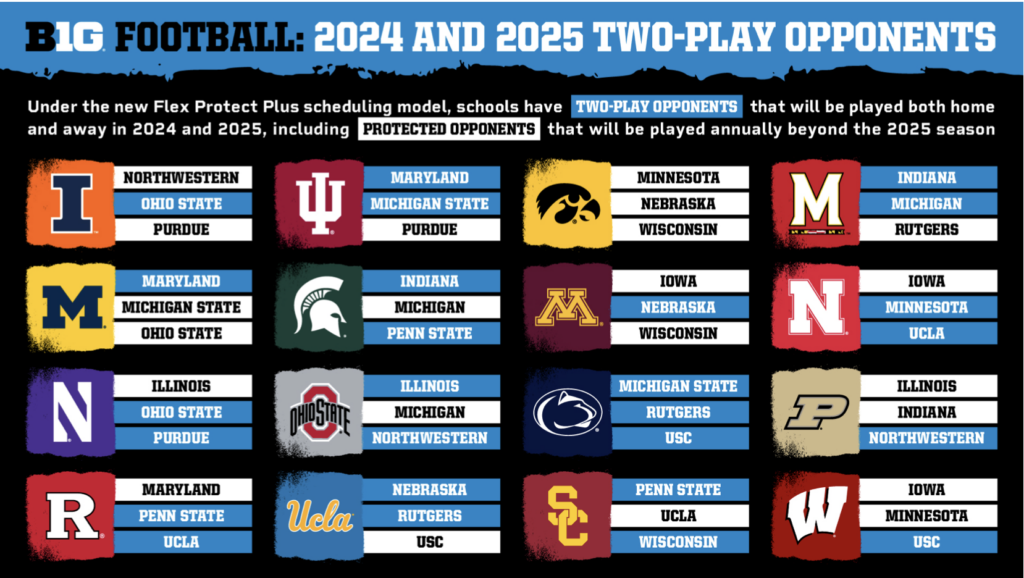 3. The Nebraska-Iowa rivalry lives on
As mentioned, Iowa will be Nebraska's lone protected rivalry under the Big Ten's new scheduling model. 
The decision was obvious for several reasons. Beyond geography, the Hawkeyes have emerged as true rivals for the Huskers. 
It may have felt forced when NU initially joined the league, but it didn't take long for it to blossom into a legitimate football feud.
It also helped that the annual Black Friday matchup finally got spiced up again, with Nebraska snapping a seven-game losing streak last season in Iowa City. 
The Big Ten let the Wisconsin series go, but it made sure to keep the Nebraska-Iowa border war alive for the foreseeable future. 
RELATED: Degrees of difficulty: Ranking Nebraska's 2023 schedule from easiest to hardest
4. Nebraska's 2025 schedule is a beast
Matt Rhule's third season in Lincoln will be an absolute gauntlet.
The Big Ten did Nebraska no favors with its 2025 draw, giving it road games at USC and Ohio State and home tilts with Michigan and UCLA.
There's also a road trip to Maryland, meaning the Huskers will travel from coast to coast that season.
That's all in addition to a non-conference trip to Cincinnati, although speculation has been that that game will eventually be replaced.
RELATED: Over or under? Predicting Nebraska's 2023 win-loss record
5. Huskers are going back to Cali
One of the most intriguing aspects of the Big Ten's adjusted schedules was how it would handle new additions of USC and UCLA.
As expected, Nebraska will get a crack at one of the league's newest members right away in 2024. 
UCLA will host the Huskers at the Rose Bowl for their fourth meeting in 13 years in 2024 before returning to Lincoln in 2025. Nebraska dropped a 36-30 defeat the last time it was in Pasadena back in 2012. 
The teams met again in 2013, where NU fell at home 41-21. Nebraska got the last laugh in the series, though, with its 37-29 victory in the 2015 Foster Farms Bowl in Santa Clara, California.
The Huskers are arguably UCLA's most familiar Big Ten opponent, as they've faced off 13 times dating all the way back to 1946. Nebraska owns a 7-6 series lead.
In 2025, Nebraska will travel to Los Angeles for the first time since 2006 to face USC. In case you chose to forget, the Trojans steamrolled the Huskers 49-31 in a game that wasn't nearly as close as the final score might indicate.
USC and NU last met in the 2014 Holiday Bowl in San Diego, California, where the Trojans edged out a 45-42 shootout win. The 2024 game will be just the sixth meeting in series history, with the Trojans owning a 4-0-1 all-time advantage.
Never miss Nebraska breaking news or another HuskerOnline article again. Click HERE to sign up for HuskerOnline's Daily and Breaking News Newsletters.