Former Nebraska head coach Frank Solich returning to Lincoln for NU Spring Game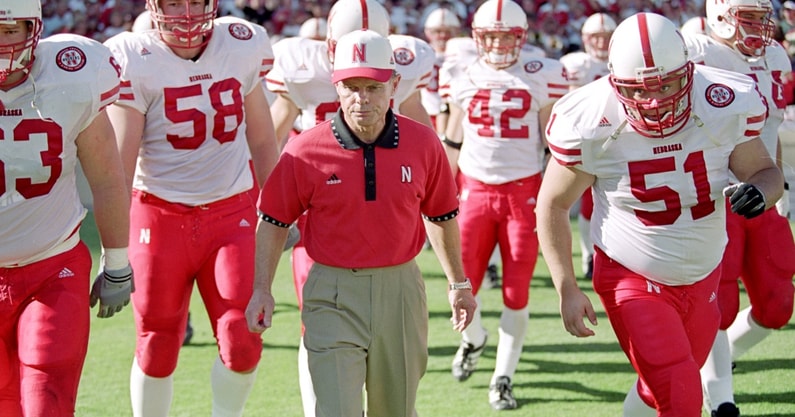 Nebraska athletic director Trev Alberts had been working on a project pretty much since the day he took the job in July 2021.
He finally announced the completion of those efforts on Wednesday night.
During his monthly show on the Huskers Radio Network, Alberts said that the program would honor former head football coach Frank Solich during NU's Red-White Spring Game on April 22.
The news was significant given that Solich has not publicly appeared at NU since his firing in 2003. In 2018 he received the Tom Osborne Legacy Award at the Outland Trophy ceremony in Omaha, and in 2012 he was inducted into the Lincoln Southeast Hall of Fame for his time as a football coach there.
"We've been working on this a while, but I think it's time," Alberts said. "I'm really looking forward to Husker Nation honoring Frank and thanking him for everything that he's done as a player, as a coach, and also honor him for what he's done since he left here. Frank is a Hall of Famer in terms of what he accomplished as a coach."
Alberts said Solich and his family would be on-hand for the event, adding that there would be "another special announcement" during the game regarding Solich.
Click here for a limited time and get four months of access to HuskerOnline for $10
Many highlights in Solich's time with the Huskers
A fullback at Nebraska from 1963-65, Solich joined Tom Osborne's coaching staff in 1979, serving as the team's running backs coach from 1983-97.
Osborne handpicked Solich as his successor as the Huskers' head coach following his retirement in 1997. 
Solich went 58-19 in his six seasons at the helm, going to six straight bowl games. That included winning the 1999 Big 12 Conference title and taking NU to its last national championship appearance in the 2001 Rose Bowl.
Solich earned the Big 12 Coach of the Year in 1999 and 2001 and the Home Depot National Coach of the Year in '99. He's the last head coach to win a conference championship at NU or appear in a major bowl game.
"An incredible person," Alberts said. "After a lot of work, we're going to be really excited to get to honor Frank Solich at the spring game… We're going to have a special day. It's going to be a special weekend."
Never miss breaking news or another HuskerOnline article again. Click HERE to sign up for HuskerOnline's Daily and Breaking News Newsletters.
Solich coming back after a 20-year absence
Nebraska athletic director Steve Pederson fired Solich after the final game of the 2003 regular season. 
He took a year off before becoming the head coach at Ohio in 2005. Solich retired in 2020 after 16 seasons with the Bobcats, finishing with a 115-82 record. He won four MAC East Division titles and was the MAC Coach of the Year during that stretch.
Solich is now the Special Assistant to the Athletic Director at Ohio, and the Bobcats renamed the field at Peden Stadium as "Frank Solich Field" before the 2022 season.
It's been 20 years since Solich has been formally recognized by the program to which he devoted 27 years of his life. Alberts said some of that was because Solich didn't want that kind of spotlight on him.
But after some long talks, Alberts found a selling point that finally convinced Solich to come back to Lincoln.
"He is one of the most humble people that you will ever meet," Alberts said. "In many of our conversations, I think one of the ways that we turned the corner a little bit is he would continue to say, 'Trev, it's just not me. I don't want that.' It finally donned on me, and I said, 'You know, Frank, what if it's not about you? What if I told you it's about the fans and our fans' want-to?' That gave him pause."
Alberts said Nebraska was "approaching 52,000" tickets sold for the spring game. He encouraged Husker fans to sell the game out and held make Solich's return unforgettable.
"I'm just so grateful to Coach Solich," Alberts said. "Our athletic department is going to do everything we can to make that weekend extraordinarily special for Frank and (his wife) Pam and the entire family…
"I'd just like to encourage Husker fans to help us make it really special."