After testing the NBA waters, Keisei Tominaga is returning to Nebraska for senior season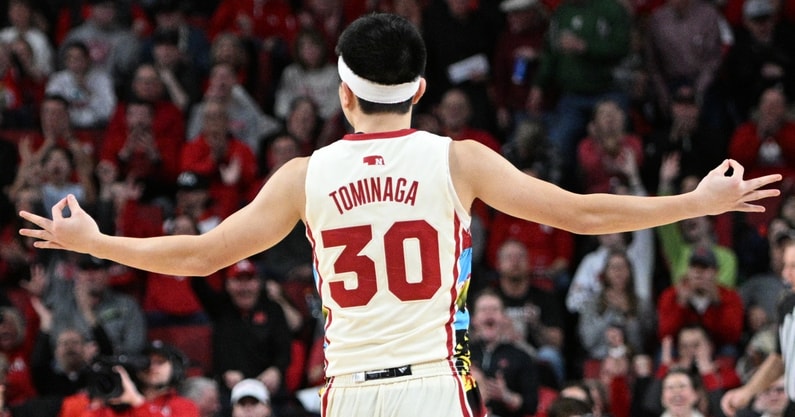 It took until the NCAA early entry withdrawal deadline to become official, but Keisei Tominaga will return to Nebraska next season.
After going through the NBA Draft process, the senior guard announced his decision on Wednesday night, the final day to preserve his college eligibility. 
"We are excited to have Keisei return for the 2023-24 season," Nebraska head coach Fred Hoiberg said in a statement. "I think the process was very beneficial because it allowed Keisei to get feedback from NBA personnel and what he needs to keep working on.
"He showed the ability to be one of the best players in the Big Ten and was a catalyst for our success in the second half of the conference season. Keisei has really worked hard since the season ended and has the opportunity to have a special senior season."
Tominaga held one pre-draft workout with the Indiana Pacers on Tuesday. That included NBA legend Larry Bird – a former Pacers' head coach and executive – watching from the sideline.
"It was amazing for me," Tominaga told the Pacers' social media team. "My dream is being an NBA player since I was young, and so it was amazing to be here on the court."
Click here for a limited time, register, and get full access until the start of the next football season for only $29.99
While the news was expected by many, it's still significant for the Huskers heading into their fifth season under head coach Fred Hoiberg.
Tominaga was one of the driving forces behind NU's late-season turnaround. He recorded eight of his nine 20-point efforts during conference play.
He averaged a team-high 14.2 points per game in the Big Ten while ranking seventh in the league in field goal percentage (.510) and fifth in 3-pointers per game (2.4).
Tominaga credited Hoiberg for his development since arriving in Lincoln two years ago.
"He's helped me a lot – defensively, offensively," Tominaga said. "Offensively, it's moving the ball and moving all the time on the court. That's hard to guard. Defensively, he's always trying to improve me." 
Adding muscle and improving defense are priorities
As much as he flourished on the offensive end last season, there are still plenty of questions about Tominaga's size and defense at the next level.
Listed at 6-foot-2, 175 pounds, he has spent much of the offseason focusing on adding bulk.
Tominaga has apparently made significant gains in his strength and weight. Hoiberg recently told the Huskers Radio Network that NU created personalized workout and nutrition plans for him that had already shown results.
"You're not going to recognize Keisei right now," Hoiberg said. "He looks great."
Never miss breaking news or another HuskerOnline article again. Click HERE to sign up for HuskerOnline's Daily and Breaking News Newsletters.
What's next for Tominaga?
With his NBA decision now in the books, Tominaga will shift his attention to the next step in his busy offseason. 
It sounds like the Moriyama Nagoya Aichi, Japan, native will not be with the Huskers during their foreign tour trip to Spain this summer.
That's because he will likely be representing his country with the Japanese national team at the 2023 FIBA World Cup. The event runs from Aug. 25-Sept. 10 and will be held in Japan, the Philippines, and Indonesia.
Tominaga will return to Japan during the first week of June when national team tryouts and practices begin.
His return to Lincoln will depend on whether he makes the team – which is expected – and Japan's success in the tournament.
The Huskers now officially have two remaining scholarships for the 2023-24 season.