Maryland bullies Huskers in blowout 82-63 road defeat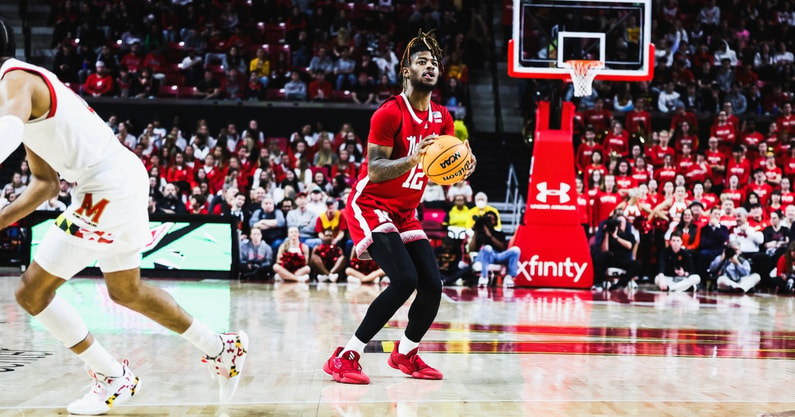 Nebraska's uphill battle with its shorthanded roster continued to prove daunting on Saturday. The Huskers traveled to Maryland and were handed another lopsided 82-63 defeat.
Derrick Walker (16 points) and Sam Hoiberg (15) combined for 31 points on 14-of-20 shooting, as NU was 53.3% from the field with 15 assists. But it wasn't nearly enough to overcome 15 turnovers that led to 20 points for the Terrapins.
Maryland was +6 on rebounds and scored 11 off of 11 offensive boards. The most glaring discrepancy came at the free throw line, as the Terps were a whopping 24-of-26 at the stripe. The Huskers were 9-of-15.
Having lost five of its last six games, NU dropped to 10-12 overall and 3-8 in Big Ten play. Maryland improved to 14-7, 5-5, and is now 11-1 at the Xfinity Center this season.
Click here for a limited time, register, and get full access until the start of the next football season for only $29.99!
Walker, Hoiberg kept Nebraska within reach early
Walker scored eight of Nebraska's first 10 points to help NU take a 13-8 lead out of the gate. But Maryland answered with a 10-0 run and led for the rest of the first half.
Hoiberg was the surprise of the day. The redshirt freshman walk-on came off the bench and scored 11 of his 15 points on 4-of-4 shooting before the break. That included hitting all three of his 3-pointers.
That helped the Huskers pull within 22-21 on a Hoiberg three with 8:19 left in the half. But the Terrapins maintained control by going a perfect 13-of-13 on free throws. They also scored 11 points off seven NU turnovers and assisted on 10 of their 11 made baskets.
Walker and Hoiberg scored 23 of Nebraska's 30 first-half points on 10-of-12 shooting. The rest of the lineup scored seven while going 3-for-14 from the field for a 40-30 deficit.
Never miss breaking news or another HuskerOnline article again. Click HERE to sign up for HuskerOnline's Daily and Breaking News Newsletters.
It was all Maryland in the second half
Maryland wasted no time starting the second half, turning three early Nebraska turnovers into an 8-2 run.
But after falling behind by 15, the Huskers answered with a 9-2 run of their own. They got as close as 53-45 on a layup by Walker with 12:33 remaining. 
It would be all Terrapins from there, though. A technical foul on C.J. Wilcher led to a five-point possession for Maryland. The Terps turned that into a 16-5 run to take their largest lead yet at 19 just four minutes later. 
Sam Griesel finished with eight points, six assists, and four rebounds in the loss. Nebraska shot 57.9% from the field in the second half. Five Terrapins scored in double figures in the win, led by 18 points and seven assists from Jahmir Young.
The Huskers will travel from College Park, Maryland, to Champaign, Illinois, tonight. They will stay there until Tuesday night's road game vs. the Fighting Illini. That contest is scheduled for a 6 p.m. CT tip and will be televised on Big Ten Network.