South Carolina's Kristin Coggin to lead Nebraska's football nutrition efforts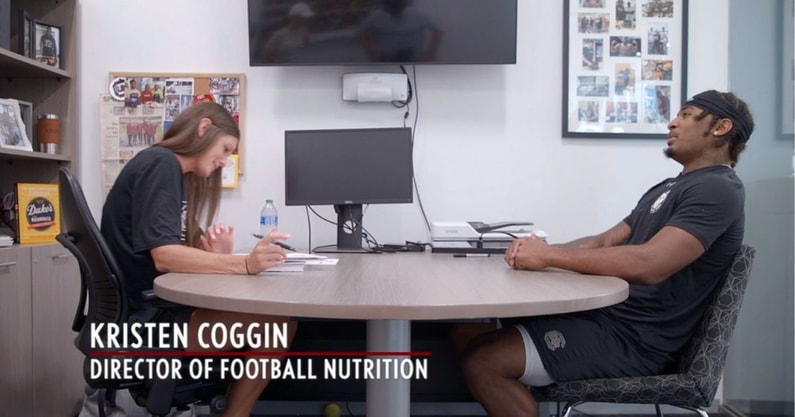 One of the first things Matt Rhule did when he came to Nebraska was shake up the strength and conditioning and nutrition departments.
Rhule hired Corey Campbell as his strength coach, and it appears NU may have its new nutritionist hired as well. HuskerOnline has learned that South Carolina's Kristin Coggin is set to lead the Huskers football nutrition efforts under Rhule. Coggin has served as the Gamecocks' Director of Football Performance and Nutrition since 2017.
Click here for a limited time, register, and get full access until the start of the next football season for only $29.99.
Coggin would replace Dave Ellis, one of the highest-paid nutritionists in the sport at $266,590. NU had an overall staff salary budget of nearly $1.1 million in its performance nutrition department. Coggin will only oversee the football side of nutrition and not the entire department like Ellis.
Kristin Coggin comes to NU highly-regarded
During Coggin's time at South Carolina, she was featured on ESPN for her work in the performance nutrition space.
Her connection to Rhule is offensive coordinator Marcus Satterfield, who worked with her during his time in Columbia.
"I'm teaching our players that nutrition isn't just something you need to perform at your highest level right now, but it's something that you need for the rest of your life," Coggin said in a previous interview with On3's Gamecock Central. "So getting them comfortable with different seasonings, using knifes, making meals, and giving them different protein."
Coggin will also walk into a new training table facility that opens in August when NU's Go Big Project is completed. It's expected to be one of the nicest in the country.
She's also expected to be one of the highest-paid sports nutritionists in the sport.
Never miss breaking news or another HuskerOnline article again. Click HERE to sign up for HuskerOnline's Daily and Breaking News Newsletters.