Nebraska Basketball Game Day: Maryland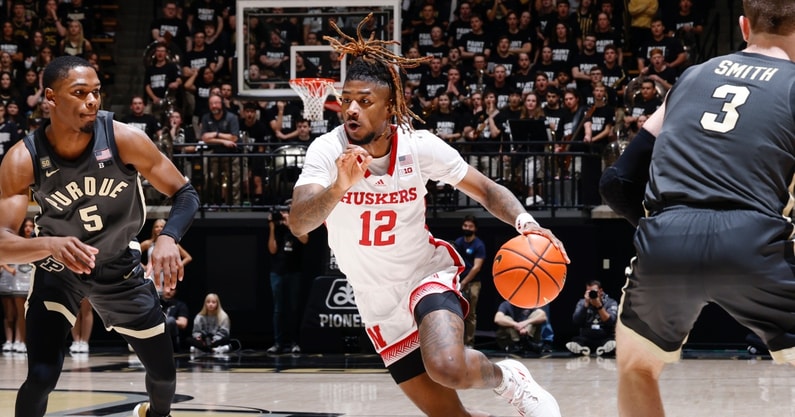 Here is what you need to know going into the first stop of Nebraska's two-game road trip today at Maryland…
Who, What, Where, When
Nebraska Cornhuskers (10-11, 3-7) at Maryland (13-7, 4-5)
Saturday, Jan. 28, 2023 – 3:30 p.m. CT
Xfinity Center (19,900)
TV: Big Ten Network
Radio: Huskers Radio Network
Internet: FOX Sports App
Click here for a limited time, register, and get full access until the start of the next football season for only $29.99!
Nebraska projected starters
| | | | | |
| --- | --- | --- | --- | --- |
| Sam Griesel | G | Sr. | 6-7/216 | Had 8 pts, 5 rebs, 4 assists, 4 steals, & 4 TOs vs. Northwestern. |
| Jamarques Lawrence | G | Fr. | 6-3/185 | Made first career start vs. Northwestern, went 4-8 on 3-pointers. |
| Keisei Tominaga | G | Jr. | 6-2/175 | Led team with 22 points in the loss to Northwestern |
| Denim Dawson | F | RFr. | 6-6/193 | Has started last 4 games; scored 5 points with 4 rebounds vs. NW. |
| Derrick Walker | F | Sr. | 6-9/245 | Posted 7 points, 4 boards, 4 assists, and 5 turnovers against NW. |
Maryland projected starters
| | | | | |
| --- | --- | --- | --- | --- |
| Jahmir Young | G | Sr. | 6-1/185 | Charlotte transfer who leads team with 15.9 ppg and 3.1 apg. |
| Don Carey | G | Sr. | 6-5/187 | Averages 6.9 points, 2.4 rebounds, and 1.1 assists per game. |
| Hakim Hart | G | Sr. | 6-8/205 | Averaging 11.6 points, 4.6 rebounds, and a team-high 1.2 steals per game. |
| Donta Scott | F | Sr. | 6-8/230 | Scoring 11.9 ppg and with 6.3 rpg and a team-high 1.0 bpg. |
| Julian Reese | F | So. | 6-9/230 | Averages 10.5 ppg on 65.1% shooting with a team-high 6.5 rpg. |
Never miss breaking news or another HuskerOnline article again. Click HERE to sign up for HuskerOnline's Daily and Breaking News Newsletters.
Leaders must step up
With Juwan Gary and Emmanuel Bandoumel out for the season, the bulk of the pressure to lead Nebraska on and off the court fell upon seniors Derrick Walker and Sam Griesel. In their first full game without Gary and Bandoumel, Northwestern's entire defensive game plan was to take Walker and Griesel out of the equation. That strategy worked to perfection, as the duo combined for a modest 15 points and only attempted 11 shots. Even worse, the Wildcats pestered them enough to force nine turnovers between them, many of those coming on unforced errors. Maryland and everyone else NU plays will likely follow the same script. For the Huskers to have a chance today or in any game the rest of the season, Walker and Griesel must step up produce at a much higher level.
Crack Maryland's defense
Maryland is a unique challenge because first-year head coach Kevin Willard runs a defensive scheme that Nebraska has yet to see this season. The Terrapins use a variety of looks, switching from zone to man throughout the game. However, the constant is pressure, as NU head coach Fred Hoiberg said it was similar to what the Huskers saw at St. John's earlier this season. That system has translated to Maryland holding opponents to 41% shooting from the field. The Terps' defense also ranks 26th nationally in effective field goal percentage (46.0), 32nd in adjusted efficiency (94.9), 36th in 3-point percentage (30.3), and 50th in 2-point percentage (46.2). The Huskers shoot 44.1% as a team and are dead last in the Big Ten in 3-point percentage at 30.2%. How well NU adjusts to Maryland's different looks will be critical for its chances of an upset today.
As always, win the boards
You can pretty much copy and paste this one as a critical key for Nebraska for the rest of the season. When the Huskers win the rebounding margin, they have a great chance at victory. When they don't, they haven't won a game all season. That trend continued last time out against Northwestern, which ended up +12 on the glass in a 78-63 blowout. NU dropped to 0-9 when losing the rebounding edge, while it's 10-2 when winning. Credit Sam Hoiberg for doing what he could for Nebraska, as he led the way with six boards. But when a 6-foot, 180-pound guard leads the team in rebounding in a Big Ten game, that's usually a problem. Maryland is not a great rebounding team, ranking just ahead of Nebraska (+0.5) at seventh in the conference with a +2.0 margin. The Huskers must be the harder-working team on the boards today.
Quotable
"The biggest thing is that we can't let (the Northwestern loss) topple over into the next few (games). Obviously, we have some tough road games coming up… We can't have it hang over into the next few games. We've got to stick to our culture and what we know. We need a better start next game."

Nebraska head coach Fred Hoiberg on his team bouncing back after losing four of its last five games.
Prediction
Maryland (-11.5) 70, Nebraska 58
Robin's overall season record: 13-8
Robin's record vs. the spread: 10-11