Frost on radio: Thompson gets nod at quarterback, and limited number of Blackshirts to be awarded Saturday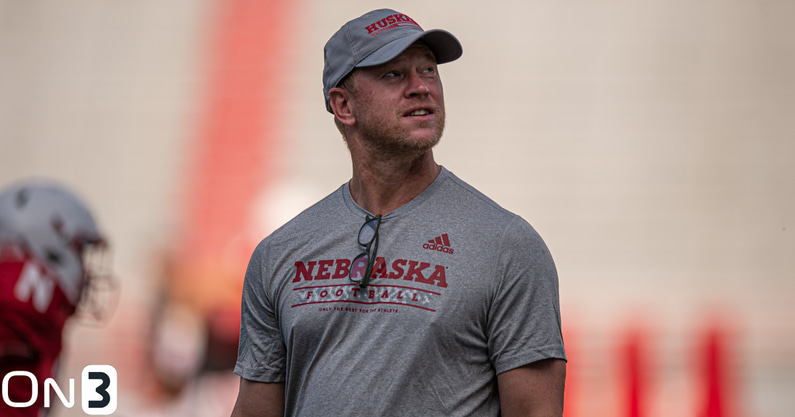 Casey Thompson will be Nebraska's starting quarterback to begin the season, Husker head coach Scott Frost said Thursday night.
"Talking to the offensive staff about it, Casey's going to be the guy," Frost said during an appearance on the Husker Sports Nightly radio program. "But we've had a lot of guys playing well at that position.
"Chubba (Purdy) just keeps improving. Logan (Smothers) is clearly better than he was last year. We've seen a lot of good things out of (Heinrich) Haarberg, and Richie (Torres) is a super-talented young guy. I really like what we have at that position.
"I wouldn't be surprised if more than one plays. But Casey's going to take the first rep."
So, when Nebraska opens the season Aug. 27 against Northwestern in Ireland, Thompson will be at the controls after spending four seasons at Texas. He played in a total of 19 games with the Longhorns, including 10 starts.
Both Frost and first-year Nebraska offensive coordinator Mark Whipple have made it clear that Thompson's experience compared to the Huskers' other quarterbacks figures prominently in the equation.
The 6-foot, 195-pound Thompson is a "gamer," Frost said.
"There's no substitute for having played a lot of college football," the coach added. "There's been fewer mistakes from him."
Thompson came to Nebraska in the winter having played half of last season with a thumb injury on his throwing hand. He battled through the injury during spring practice in Lincoln, then underwent a corrective procedure on the thumb in April.
"I think that thumb was probably bothering him worse than he let on (in the spring)," Frost said. "He's throwing it way better now in the fall. He threw it well in the spring. But he's got a lot of zip on it now."
Thompson gets the ball out of his hand quickly.
"He's got a really good feel for the pocket and throws well," Frost said. "He's doing a really good job with our run stuff. That was a little bit new to him, but he's picked that up really well. He's a football-savvy kid."
Nebraska's quarterbacks will benefit from a running back group "that is the best it's been since I've been here," Frost said. "Who gets the carries will be a decision we have to make week by week. All those guys look good. I can't compliment them enough.
"(Jaquez) Yant's done a great job improving. Gabe Ervin is head and shoulders better than he was a year ago. Rahmir (Johnson) is playing really well and can do multiple things for us. Anthony Grant just has a natural feel for what he does.
"And then our two freshmen, Ajay Allen's been spectacular at times and Emmett (Johnson) — man, that kid has talent and works hard."
In other news, Frost said captains will be named Saturday (voting is done) and a first set of Blackshirts will be awarded that day. He said defensive coordinator Erik Chinander doesn't want to award them to guys who haven't played in a game, meaning more likely will be disseminated in weeks ahead.
Frost had particularly strong praise for Nebraska's EDGE defenders, calling it "maybe the strongest position on the team." He said TCU transfer Ochaun Mathis "has been incredible, just his approach to coming into a new team and getting to work. I've seen improvement from him.
"I think him coming in probably has raised the level of play from Garrett (Nelson) and Caleb (Tannor)."
What's more, redshirt freshmen EDGE defenders Blaise Gunnerson and Jimari Butler "both have had unbelievable camps, too."
A recent addition to the roster, defensive back Brandon Moore, also may be able to help the team this season despite only joining the squad 11 days ago, Frost said. NU on Aug. 8 announced the addition of the former Central Florida and Florida State defender, who played for current Husker defensive backs coach Travis Fisher in 2017 at UCF.
"I wasn't sure what to expect and he went out and made a couple plays on the ball right away the first couple days and looked like the guy we remember," the coach said. "He's just a great kid, too. He's like family to me. I'm happy to be helping him, giving him another shot. I was hopeful he could help us and now having seen him, I think he will."
In a big-picture matter, Frost addressed the challenge of playing North Dakota on Sept. 3 as opposed to having bye following a trip to Dublin, Ireland.
"We talked to our kids about the challenge of going overseas to play and making sure we don't let that get in the way of our performance," Frost said. "I've already kind of hinted to them that the second week is going to be a challenge, too.
"Coming back (from Ireland), I think we land at 3 or 4 in the morning, and have to get ready to play the next Saturday. So we have to have the game plan in the hopper ready to go. If we have that done, it's really just about getting the guys mentally and physically ready to play in week two."
Frost struck an optimistic tone as he discussed the impact on recruiting that the new $155 million training facility could have for his program. The facility is currently under construction just north and east of Memorial Stadium.
"There's a lot of momentum right now, and we need to capitalize by making it happen on the field," the coach said. "Between this facility and the NIL help that we've gotten that's helped us attract players and how well our players are doing in NIL through ABM (Athlete Branding & Marketing), it'll help us take care of our guys and hopefully attract better recruits.
"Again, this could all come together really nicely. We want to make Nebraska as big a destination for kids around the country as we can."