Nebraska guard Emmanuel Bandoumel suffers season-ending knee injury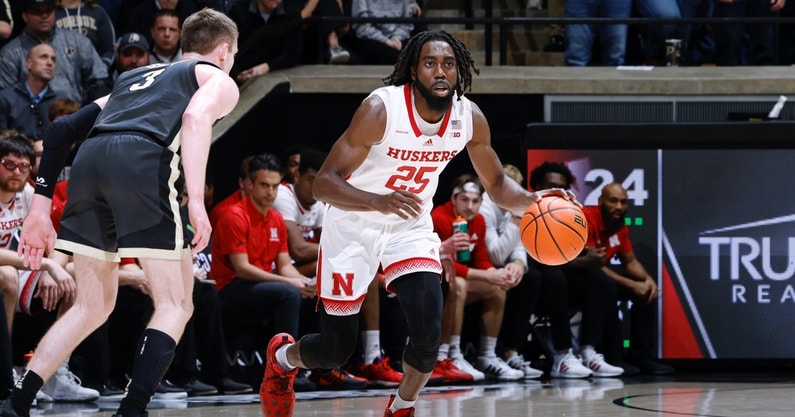 A week after losing starting forward Juwan Gary to a season-ending shoulder injury, Nebraska basketball was dealt an equally significant blow on Monday.
Head coach Fred Hoiberg announced that senior guard Emmanuel Bandoumel would miss the rest of the year with a knee injury he suffered in Saturday's loss at Penn State.
He will undergo surgery "within the next couple of weeks," but Bandoumel's college career has officially come to an end.
"I am heartbroken for Emmanuel to have his college career end this way," Hoiberg said in a statement. "I've said all season that Emmanuel is one of the best defenders in the country, and he impacts the game in so many ways beyond the measurables.
"He is also one of the best culture guys I've had the pleasure to coach. He always comes into the gym with a positive attitude and will do anything for the team. While he can't help us on the court, I know Emmanuel will continue to be a leader for us and help our younger guys."
Click here for a limited time, register, and get full access until the start of the next football season for only $29.99!
Bandoumel's void will be difficult for Nebraska to fill
A transfer from SMU, Bandoumel started 84 consecutive games during his time with the Mustangs and Huskers. He started all 20 games this season – the only NU player to do so – and averaged 8.4 points, 4.8 rebounds, 2.3 assists, and 1.0 steals per game. 
Nebraska routinely assigned the 6-foot-4 native of Quebec City, Quebec, to the opposing team's best guard. He was equally valuable as one of Nebraska's top vocal leaders on and off the court.
C.J. Wilcher started the second half for the Huskers after Bandoumel went down at Penn State. Wilcher had started the first 18 games of the year before Keisei Tominaga replaced him in the past two outings.
Freshman Jamarques Lawrence should also continue to see an expanded role off the bench.
"We're going to have to have everybody step up," Hoiberg told the Huskers Radio Network on Saturday.
Never miss breaking news or another HuskerOnline article again. Click HERE to sign up for HuskerOnline's Daily and Breaking News Newsletters.