Nebraska set to host three transfer portal visitors this weekend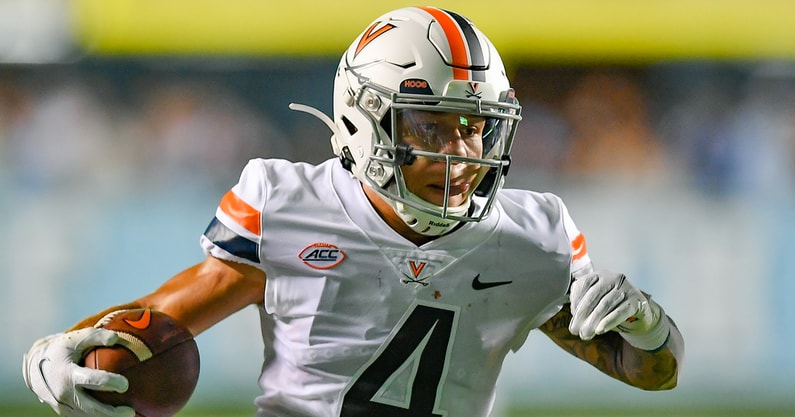 Nebraska will play host to at least three transfer portal visitors this week.
On3 already confirmed the visit of Stanford left tackle Walter Rouse on Wednesday. He's set to visit NU this coming weekend after trips to Oklahoma and Iowa this week.
Baylor offensive lineman Micah Mazzccua also announced he is visiting Lincoln this week on Twitter. The 6-foot-5, 331-pound Mazzccua played 780 snaps at left guard this past season at Baylor and has two seasons of eligibility remaining.
Click here for a limited time, register, and get full access until the start of the next football season for only $29.99.
Virginia WR Billy Kemp IV a new transfer target for Nebraska
However, one of the more significant visitors this week is Virginia wide receiver Billy Kemp IV. The 5-foot-9, 172-pound Kemp opted this week to return for a sixth season of college football. He entered the transfer portal on Tuesday.
Kemp confirmed to HuskerOnline that he will be in Lincoln this weekend for his first official visit Friday through Sunday.
"They kind of just reached out to me at the beginning of this week," Kemp told HuskerOnline. "Schools have been reaching out. The Nebraska head coach and offensive coordinator contacted me and basically wanted to get me out there to see everything."
Kemp would potentially fill a major hole on the NU roster, giving Nebraska a true No. 1 wide receiver heading into the 2023 football season. The Huskers have already added four high school receivers to their roster, along with sixth-year transfer Joshua Fleeks from Baylor.
During his five-year career at Virginia, Kemp ranks fourth all-time on the Cavaliers' career reception list with 192 catches. His 1,774 yards receiving ranks 10th in school history.
He also was the first Virginia player in school history to lead the team in punt returns and punt return yardage for four straight seasons. An ankle injury limited Kemp to four starts in seven games of action in 2022 after playing in 43 games the previous four seasons.
"I kind of switched my decision," Kemp said on why he chose to come back and play one more year of college football instead of turning pro. "Me being the competitor that I am, that wasn't the way I wanted to end my college career."
Kemp has one connection to Marcus Satterfield
When looking at the situation at Nebraska, Kemp knows there is plenty of opportunity in Lincoln.
He also has one connection to NU's current offensive coordinator Marcus Satterfield. His former high school teammate Antwane Wells Jr. played at South Carolina for Satterfield and is also from Highland Springs High School in Richmond, Virginia.
"This is just more about me going to a school that can give me opportunities to raise my stock," Kemp said. "I know (Rhule) is highly experienced in this field and has a ton of knowledge on football. He's a big coach on development and developing guys for the next level. That's ultimately my goal to play at the next level."
During his time at Virginia, Kemp said he played several different roles.
"I played a lot of slot, but looking at my film, I can do everything," Kemp said. "I can play outside and line up at running back. I am fast and twitchy and I have pretty good hands. I feel like I'm just an all-around good player.
"I'm looking to go somewhere that I can be the man."
Kemp has also heard from Penn State, West Virginia, Rutgers, California, Syracuse and NC State.
"Nebraska is the only visit I've set up at this time," Kemp said. "I am grad transfer, so I'm not sure when I have to transfer by. I just got in the portal, so I'm still trying to figure some stuff out."
Nebraska's second-semester classes begin Jan. 23.
Never miss breaking news or another HuskerOnline article again. Click HERE to sign up for HuskerOnline's Daily and Breaking News Newsletters.