Nebraska stuns No. 7 Creighton in 63-53 rivalry upset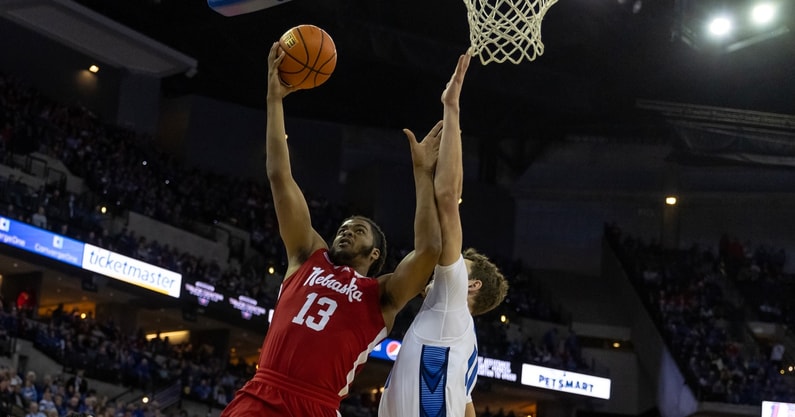 It had been nearly 20 years since Nebraska traveled to Omaha and left with a victory over instate rival Creighton.
For the first time since 2004, the Huskers stunned the No. 7 Bluejays in a 63-53 upset at CHI Health Center.
Led by one of the best defensive performances of the Fred Hoiberg era, Creighton shot 30.8% and 10-of-40 on 3-pointers with 16 turnovers.
Derrick Walker scored a career-high 22 points on the other end, while Sam Griesel added 18 points, 12 rebounds, and seven assists. Nebraska shot 51.5% as a team and out-scored CU 46-10 in the paint. 
The Huskers' last win in Omaha came in the 2003-04 NIT. Their previous regular-season road win over Creighton was back on Dec. 6, 1995. Sunday marked NU's fifth top-10 road win in program history and the second under Hoiberg (at No. 10 Wisconsin last season).
Click here for a limited time, register and get full access until the start of next football season for only $25.00.
After going a season-worst 4-for-27 from behind the arc in a loss at No. 2 Texas, Creighton's shooting struggles continued. The Bluejays shot just 25.8% from the field and had as many turnovers (eight) as made shots in the first half. 
Meanwhile, NU scored 16 of its 25 points in the paint and only trailed for five of the first 20 minutes. Walker scored 10 of Nebraska's first 14 points, and the Huskers' defense clamped down Creighton for a 25-23 halftime lead. 
That defensive effort continued into the second half. Nebraska pushed its lead to nine after six straight points from Griesel.
A four-point play by Francisco Farabello got Creighton back within 44-39 with 6:31 remaining. But Griesel answered with an And-1 on the ensuing possession. Walker scored eight of NU's next 10 points, and the Huskers took their largest lead at 57-45 with 2:22 left.
Two more Griesel free throws put NU up by 10 with 1:13 remaining. That margin would hold until the final buzzer.
Juwan Gary had 12 points on 5-of-5 shooting and nine rebounds. Emmanuel Bandoumel only scored four points but added five boards and three steals.
Farabello led Creighton with 16 points while going 5-of-9 on 3-pointers. The rest of the Bluejays, though, shot a combined 5-for-31 from behind the arc.
As impressive as Sunday's win was, the road won't get any easier for Nebraska from here. Next up is a trip to take on No. 10 Indiana on Wednesday night.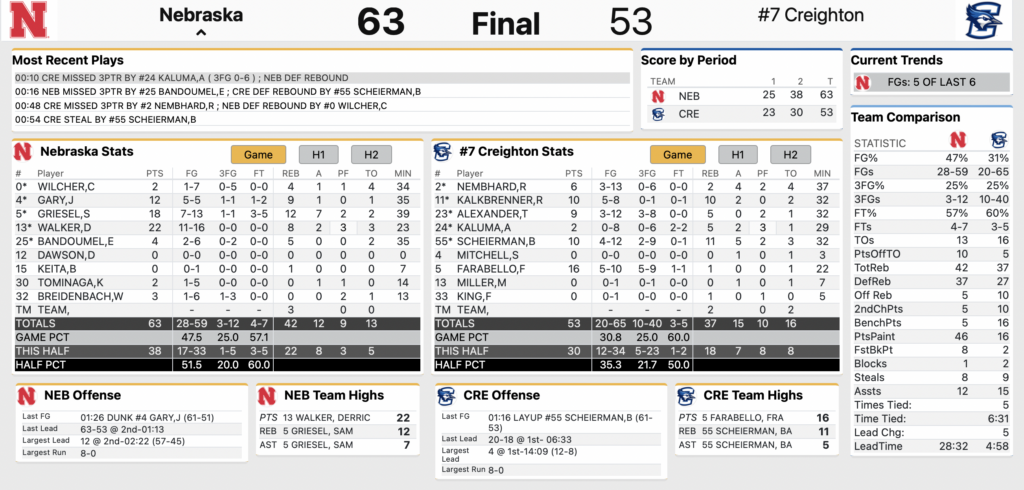 Nebraska believed when no one else did
Creighton had won 10 of the past 11 meetings with Nebraska and came in as 14.5-point favorites on Sunday. 
The game's outcome wasn't a question for many fans on both sides. It was more of whether the Huskers could hang around to make it at least somewhat competitive.
But as NU showed from start to finish, its players believed they could shock the college basketball world.
I asked Walker if there was a moment early on when the Huskers felt they could pull off an upset. 
"That point started before the ball was even in the air for tip-off," Walker answered. "We have a really good team, and we have a really good team that believes in each other. We believe that we can come out every day and win. 
"Our emphasis was us, and we made it about us tonight. I couldn't be more happy with how everyone played on our team because we focused on us."
Bandoumel, Huskers took over the game defensively
It's hard to contextualize how impressive Nebraska's defense was against Creighton.
The Bluejays came in one of the most efficient offenses in the country, ranking 10th in adjusted offensive efficiency (114.9). But the Huskers made them look disjointed and uncomfortable with the ball for all 40 minutes.
To be fair, CU missed a lot of good looks it typically makes at a high rate. Still, Nebraska's defensive tenacity was a big part of that. 
Walker and Griesel were phenomenal, but Bandoumel was equally critical in how he contained Creighton point guard Ryan Nembhard. In last year's 77-69 win in Lincoln, Nembhard torched NU for 22 points and five assists while hitting 4-of-5 3-pointers.
Nembhard managed just six points on 3-of-13 shooting (0-for-6 on threes) with four assists and four turnovers on Sunday.
Griesel and Walker helped win the game with their two-man game on offense. But Bandoumel's work on the other end was just as critical.
Creighton had just two fastbreak points on Sunday, including zero in the first half.
"One guy that didn't show up much in the box score was Emmanuel," Hoiberg said. "But I thought  defense on Nembhard – who absolutely torched us a year ago – was a huge key to this win."
Nebraska continues to dominate the second half
There has been one commonality in Nebraska's three consecutive wins over Florida State, Boston College, and now Creighton. 
All three were close games at halftime, ending with the Huskers taking complete control after the break.
After leading by two at the half, NU set the tone immediately with six straight points. Creighton answered with a 7-0 run of its own to pull within one. But every time the Bluejays tried to rally, Nebraska came back with an answer.
The Huskers never trailed in the second half, scoring 30 of their 38 points after halftime from the paint. They also out-rebounded CU 22-18, scored 10 points off eight turnovers, and held the Bluejays to 5-of-23 shooting on 3-pointers.
Slow starts after halftime had been an issue for Nebraska this season, most notably its second-half disaster at St. John's. But the Huskers have now played their best basketball when it's mattered the most for three games in a row.
They said it
"When I committed here, this was the game that I wanted the most, obviously, for a lot of reasons… Just thinking back to players that I idolized that wore this jersey that didn't get this win, and especially in this arena. Then just walking around Lincoln, everyone has just been like, 'Just beat Creighton this year! Just beat Creighton this year!' It'll be nice to have a great response to that this year. It's hard to put into words. I get a little emotional about it just because it means so much to me and so much to this group and to this state. This is a day that I'll remember for the rest of my life."

Senior point guard and Lincoln native Sam Griesel on the significance of Sunday's win over Creighton.