Nebraska women's basketball defeats Missouri State 74-65, advances to second round of WNIT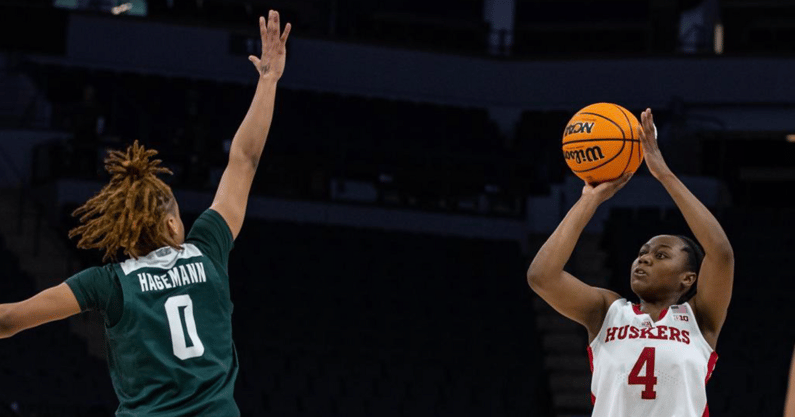 Nebraska women's basketball (16-14, 8-10) took down a scrappy Missouri State (20-12, 14-6) team 74-65 to advance to the second round of the WNIT.
Sam Haiby led the Huskers with 23 points. Isabelle Bourne had a team-high 11 rebounds and 16 points. Jaz Shelley added 11 points and six assists, going 3-for-6 from behind the arc.
Missouri State was led by Kennedy Taylor's 21 points and 14 rebounds. Aniya Thomas had 17 points and Sydney Wilson added 12 points.
Nebraska will play the winner of Northern Iowa vs. Colorado on Thursday, March 16. The game is at 6:00 p.m. CT in Cedar Falls, Iowa. The Huskers' second-round game date, time and location are to be decided. The second-round games take place between March 18-21.
Click here for a limited time, register, and get full access until the start of the next football season for only $29.99
The Huskers scored back-to-back layups to start the game. Issie Bourne had a hand in both as she passed to Alexis Markowski inside for an assist. On the next possession, the senior then went to work down low for a bucket of her own.
Missouri State guard Aniya Thomas responded with a three.
After the Bears made a free throw after Sam Haiby fouled Indya Green, Haiby immediately cut down the side of the lane for a layup to make it 6-4.
Haiby, a fifth-year senior, was on a mission during the whole game. ??? She added another layup to go up 10-7. Later she was fouled on a layup that rolled in. She hit the and-one shot for Nebraska to take a 13-10 lead.
After two buckets from Missouri State split by an Annika Stewart layup, Jaz Shelley nailed a three at the top of the key. Nebraska went on a 7-0 run to end the first quarter. Of course, Haiby scored four of those points.
Haiby finished the first quarter with 11 points and was 4-for-4 from field-goal range.
Missouri State and Taylor caught fire to start the second quarter. Taylor went on a 6-2 scoring run. She closed Nebraska's lead to 24-21.
After a Bears timeout, Nebraska scored for the first time in over two minutes as Shelley found Stewart under the basket for a fastbreak layup. Bourne kept the momentum going with a putback layup. Missouri State responded with a bucket of its own. However, Bourne made another basket on another fastbreak layup feed from Shelley.
The Bears scored nine straight points over the next three minutes to come back and take the lead, 32-30. Haiby, who had gone quiet in the second quarter, took the ball down the court and made a layup. She was fouled and made the and-one shot to take back the lead 33-30 with 2:30 left in the half.
Haiby bounce-passed to Markowski under the basket for Markowski's first basket for the quarter.
Shelley ended the first half with a half-court shot that fell almost perfectly through the hoop.
The Huskers were up 38-32 at halftime and ended the half on an 8-0 scoring run.
Second half
Missouri State came out on fire at the start of the second half. Thomas and Taylor teamed up for five points in one minute. However, they went on a five-minute scoring drought afterward.
Nebraska scored their first field goal of the second half as Shelley pulled off a no-look pass to Haiby, who laid it in. The Huskers went up 41-37 with under eight to go in the third.
Maddie Krull laid one in on a fastbreak for her first points of the game with 5:04 left in the third quarter.
After a media timeout, Shelley was fouled, making both free throws. Nebraska didn't score again for another three minutes. However, with the Bears going cold, they're lead held at 45-37.
Shelley was called for a technical foul as her elbow might have it Taylor in the face. Taylor fell on the ground face down and lay there for a moment, kicking her feet. Luckily, she got up and walked off by herself. Wilson made both free throws to close the gap to 45-39 with 2:52 left in the third.
Bourne nailed a three to end the Huskers' three-minute drought and take NU's largest lead of the game at 48-39.
After Thomas made two free throws, Shelley drained a three of her own to go up 10 points with under a minute left in the third.
Nebraska was up 51-41 heading into the fourth quarter.
Missouri State's scoring drought ended with a three-pointer by Rocco to start the fourth. Rocco's three ended an over nine-minute period where the Bears didn't have a field goal. 30 seconds later, Wilson drained another three to make it 53-47 with 8:21 left.
Haiby did what she was doing all game long and scored a critical bucket to stop the momentum. She was fouled on the layup and sank the and-one shot to go up 56-47.
After a Taylor jumper, Stewart drained her first three of the game to go back up by ten, leading 59-49 with seven minutes to go.
Nebraska didn't score a field goal in three minutes but kept chugging along with three free throw points. Bourne ended the streak with a layup in the paint.
Krull, 5-foot-9, went up against Missouri State's 6-foot-3 Taylor to get a basket and a foul. She made the extra point to climb up 67-57 with under three minutes to go.
Jade Masogayo scored the Bears' first field goal in three and a half minutes with 1:14 left in the game.
Nebraska didn't score a field goal for the final three minutes of the game but had seven free throws to keep them ahead. Haiby had six of the seven free throws.
The Huskers won their first postseason game in Pinnacle Bank Arena. They beat Drake in 2006 in the Bob Devaney Sports Center in the first round of the WNIT.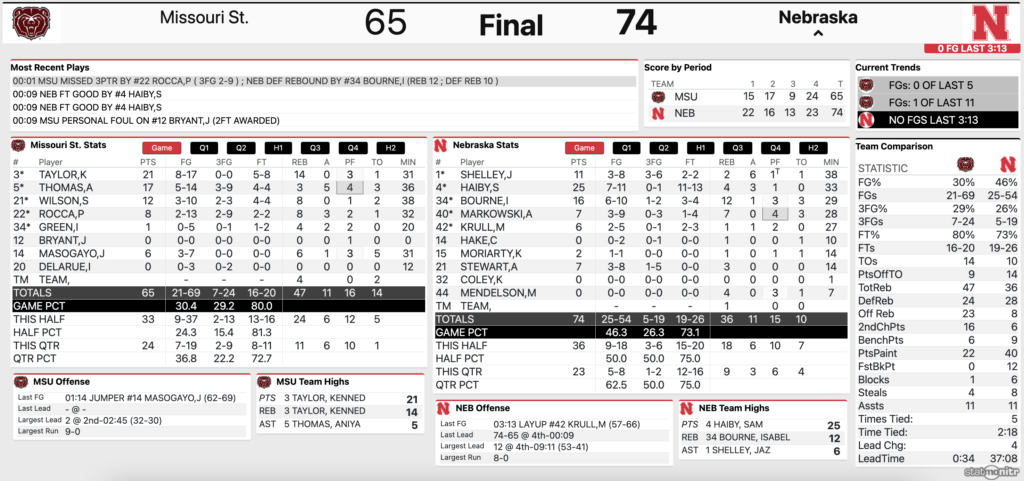 Never miss breaking news or another HuskerOnline article again. Click HERE to sign up for HuskerOnline's Daily and Breaking News Newsletters.
Paint touches
Sam Haiby had an "outstanding, gritty performance" as Head Coach Amy Williams described it. The fifth-year senior was a huge part in Nebraska getting their much-needed paint touches and buckets.
Haiby had a career-high 25 points with seven layups. She got to the free throw line a team-high of 13 times and made 11 of those shots. Nebraska had 40 points in the paint, compared to Missouri State's 22.
So what was working for Haiby?
"Paint touches," she said. "A huge goal of ours this game was trying to attack the lane and either score in there or for kick-out shots. I think I was just trying to attack the paint, finishing off the free throws."
Williams said Haiby stayed mentally tough and focused and that she fought through the bruises that happen during this time of year.
"We wanted to try to attack in transition," Williams said. "I thought our post players did a pretty good job of getting out and trying to rim run and collapsing defense which allowed Sam some avenues. She's really, really good at finding those little cracks and crevices to kind of penetrate through and get herself to the rim and did a great job getting herself to the free throw line and making free throws."
The head coach said Nebraska aimed to double up Missouri State with paint touches because they are such a good rebounding team.
Bourne said emphasizing paint touches helped her as well.
"I say every time, I get good passes from my guards that helped me out a lot, running in transition and paint touches, like Sam said, and then just working hard to box out," Bourne said. "Obviously, they got more rebounds than we would have liked them to get. But I think we did a pretty solid effort of trying to box out a really, really good rebounding team."
As Bourne mentioned, there was some good passing against Missouri State. Shelley had six assists and Haiby added three. The duo had one turnover, which has been an issue this season. Nebraska took care of the ball while passing inside as well.
Falling behind on the boards
Missouri State is a good rebounding team. They average 41.3 rebounds per game, which is second in the Missouri Valley Conference behind conference-champ Drake.
Against the Huskers, the Bears outrebounded NU 47-36. MSU had 23 offensive rebounds and 16 second-chance points.
Williams said one of her team's goals was to keep the Bears in single digits for offensive rebounding. Kennedy Taylor had nine herself.
"Hopefully, there's no more Kennedy Taylors that we have go up against," she said. "She's just a really special offensive rebounder, very physical and has a nose for the ball, puts herself in the right positions."
Defense and rebounding are something Nebraska will be focusing on for round two, no matter who their opponent is.
"I think obviously, the one things that you want to have staples are just your defense and rebounding," Williams said. "I thought we were a little undisciplined at times, defensively, and that led to more offensive rebounds than we wanted to give up. Doesn't matter who we play in this next round, we're going to try to shore that up and take care of that moving forward."
Nebraska does not know where and when their next game will be as of Wednesday night. However, Williams said the Huskers have been in communication with the WNIT committee, letting them know how willing and capable Nebraska is of hosting.