Tony White parlays success as Syracuse's defensive coordinator into landing the same role on Matt Rhule's staff at Nebraska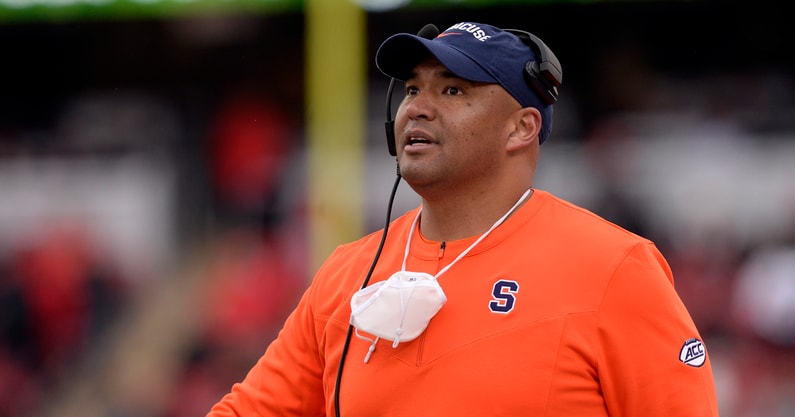 Nebraska reportedly has its new defensive coordinator.
Tony White, who's in his third season at Syracuse, is set to join Matt Rhule's first staff at NU.
According to Pete Thamel of ESPN, White runs a 3-3-5 defense and has emerged as one of the top ACC coordinators. The 43-year-old White hasn't previously coached with Rhule.
Thamel reported White had "multiple offers" and chose Nebraska.
Click here for a limited time, register and get full access until the start of next football season for only $25.00.
In finishing 7-5 overall (4-4 ACC) during the regular season, Syracuse ranked 35th nationally in scoring defense, allowing 22.7 points per game. The Orange were 29th in total defense, surrendering 338.8 yards per game. They ranked 19th against the pass and 68th against the rush.
Syracuse, with its defense leading the way, is set to play Minnesota (8-4, 5-4 Big Ten) in the Pinstripe Bowl on Dec. 29 in New York City. The Orange qualified for a bowl for the first time in four years despite an offense that ranks 89th nationally.
White played collegiately at UCLA
A native of Key West, Florida — who played collegiately at UCLA while Rhule coached there as an assistant — White has had a strong run at Syracuse, where he reportedly earned $711,000 in 2020 as the program's highest-paid assistant coach in the history of the program, according to Syracuse. com.
His defense calls itself "The Mob" because of a mentality it seeks to achieve, according to a Syracuse.com article in September.
"The ball is the main thing in football, so if we all attack it, if all 11 people try to attack it at once, good things are gonna happen," linebacker Marlowe Wax said.
In 2021, Syracuse held opponents to 330 yards per game, which ranked 19th nationally and second in the ACC. Orange stars Mikel Jones (linebacker) and Cody Roscoe (end) earned All-ACC honors.
Syracuse made a habit of getting to the quarterback, ranking third in the ACC in sacks (3.1), good for 16th nationally.
In 2020 — the truncated COVID season and White's first season at Syracuse — three of his players earned freshman All-America honors (Garrett Williams, Ja'Had Carter and Stefon Thompson) from various publications, as the Orange finished 1-10 overall (1-9 ACC).
White arrived in Syracuse after a short stint as Arizona State's defensive coordinator, a position he was appointed to in December 2019. He ran the defense in ASU's 20-14 victory over Florida State in the 2019 Tony the Tiger Sun Bowl, a game in which the Sun Devils shut out the Seminoles for nearly three quarters and scored a defensive touchdown.
New Nebraska coach tightened ASU's secondary
White mainly coached the secondary in two seasons at Arizona State. In those two seasons, the Sun Devils allowed just 13 passing plays of 40-plus yards, a marked improvement over the 34 such plays ASU gave up in the two years before White arrived.
The Sun Devil secondary made dramatic gains in White's first year, climbing 50 spots in the NCAA's passing defense rankings. That growth continued in 2019, as Arizona State finished the year 12th in the country with 65 passes defended.
Before arriving at ASU, White cemented himself as one of the nation's top rising assistant coaches during a nine-year stint (2009-17) coaching corners under Rocky Long at San Diego State. While helping the Aztec secondary consistently rank as one of the elite groups in the nation, White twice was named the Scout.com Mountain West Recruiter of the Year (2011, 2013). He was also recognized as the top recruiter among non-Power-5 schools in 2014 by Rivals.com.
SDSU thrived during White's time there
White's tenure coincided with one of the most successful eras in SDSU history. The Aztecs went to eight bowl games in White's nine seasons and won three Mountain West Conference championships (2012, 2015, 2016).
     
SDSU finished with pass-coverage grades ranked 31st or better in three of White's last four years with the Aztecs, according to Pro Football Focus. In 2017, the Aztecs were 11th nationally and first in the Mountain West in total defense (314.5 ypg) and ranked 15th in the country in passing yards allowed (178.7). The strong showing followed a 2016 campaign in which San Diego State led the FBS with 26 interceptions.
Before his time at SDSU, White coached linebackers at New Mexico in 2008 under Long. In 2007, White served as a graduate assistant at UCLA.
At Syracuse, White coached under Dino Babers. This season, White was a nominee for the Broyles Award, which honors the best assistant coaches in the country, but did not make it to the semifinal round.
Click HERE to be the first to get breaking news by signing up for HuskerOnline's Daily and Breaking News Newsletters.