Ranking the Big Ten: Pass Rusher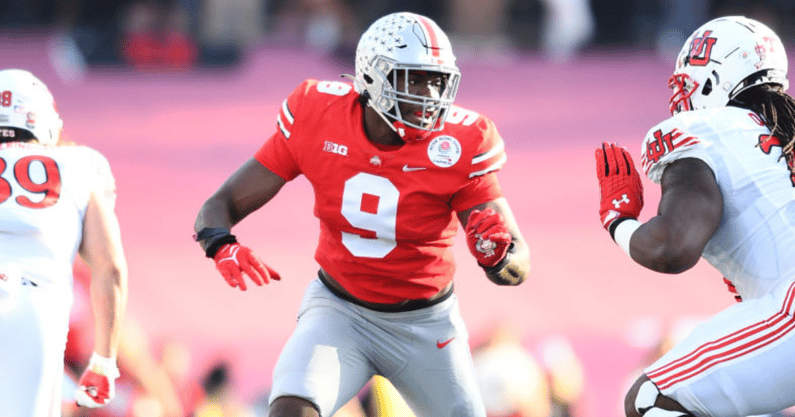 As the 2022 college football season quickly approaches, it is time to look at the top players in the Big Ten Conference.
We continue our Ranking the Big Ten series by rating the top five returning pass rushers in the conference.
Related: QB | RB | WR | TE | OT | OG | C |
1. Zach Harrison, Ohio State
Like most of the No. 1 players in the "Ranking the Big Ten" series, Ohio State defensive end Zach Harrison has a lot of honors.
To start, Harrison was voted Second-Team All-Big Ten by the media in 2021 and Third-Team All-Big Ten by the coaches.
If the preseason prognosticators are to be believed, things will get even better for Harrison in 2022. According to Lindy's, he is preseason First-Team All-Big Ten and their No. 9 defensive end nationally. Harrison comes in even higher in the NFL Draft Bible sneak peak at No. 4 in the country.
On3 also has Harrison at No. 4 nationally, just ahead of Wisconsin standout Nick Herbig. According to Pro Football Focus, Herbig is the only returning Big Ten pass rusher to out-grade Harrison. Herbig scored a 83.6 defensive grade to Harrison's 82.0 and he also beat Harrison in the pass-rush category with a 91.4 grade to Harrison's 86.4.
So, why isn't Herbig No. 1? He's an outside linebacker and (spoiler alert) you will see him reappear in this series next week.
Harrison is set up well to be the best defensive end in the Big Ten in 2022 after 28 tackles, 20 hurries, and four sacks in his junior season. At 6-foot-6 and 272 pounds, this psychology major will be giving nightmares to Big Ten offensive coordinators and quarterbacks alike.
Click here for a limited time, pre-register and get an unprecedented 12 months for only $1.00. 
2. Adetomiwa Adebawore, Northwestern
Northwestern's Adetomiwa Adebawore is a rising star in the Big Ten.
The senior defensive end earned an All-Big Ten honorable mention from conference coaches and media after the 2021 season.
The outside recognition is building during the 2022 preseason. Adebawore is preseason Second-Team All-Big Ten in Lindy's, Athlon Sports, and Phil Steele's rankings.
His PFF grades put him inside the top 10 of returning pass rushers. Adebawore earned a 63.9 for run defense, a 58.5 for tackling, and his best grade of 78.2 in pass rushing. That added up to a 71.7 defensive grade that is No. 7 among returning Big Ten edge rushers.
However, when you look at the 6-foot-2, 265-pounder's 2021 stats, he looks really similar to the other defensive ends in this list. He had five sacks, 21 hurries, and 30 tackles last season. That's one more sack and hurry than Zach Harrison. Plus, two more tackles.
His first shot at game action this season comes against a Nebraska offensive line with a lot of questions that remain unanswered and an abysmal 29.8 pass-block grade in 2021.
3. J.T. Tuimoloau, Ohio State
J. T. Tuimoloau is the second Ohio State Buckeye on this list. He also is the youngest pass rusher in the ranking as a sophomore.
Tuimoloau's PFF grades and on-field production for 2021 appear pedestrian at a first glance. He was the No. 4 overall prospect in the 2021 class according to On3, yet that only translated to 12 tackles and two sacks.
Here is the twist: 286 snaps.
For perspective, every other player on this list had almost twice that number.
On a PFF grades basis, Tuimoloau received an overall defensive grade of 60.4, a run-defense grade of 63.3, and a pass-rush grade of 59.1. The crown jewel of the Tuimoloau scale was his tackling grade. He posted an 82.5, the second-best among returning Big Ten defensive ends.
But with guys like Cliff Avril whispering in his ear, the former five-star recruit is bound to pop soon. Tuimoloau (pronounced: too-ee-moe-low-ow) is a name to learn, watch, and get accustomed to. College football fans will likely hear it often in the years to come.
4. Ochaun Mathis, Nebraska
Ochaun Mathis sent shockwaves through the college football world when he chose Nebraska over Texas on May 1.
According to College Football HQ, the 6-foot-5, 260-pound junior was the No. 1 transfer on the market at the time of his announcement. Now, Mathis joins a defensive line room badly in need of his impact.
Steven Sipple: Even with strong credentials, transfers Mathis and Wynn exercise restraint as they ease into Nebraska's overall team culture
Mathis had 36 tackles and four sacks last season at TCU. That earned him a spot on the Second-Team All-Big 12. In his time at TCU, Mathis tallied 135 tackles, 30.5 tackles for a loss, and 15.5 sacks.
The 6-foot-5, 257-pound Mathis saw a severe drop-off in his PFF grades from 2020 to 2021. Mathis recorded nine sacks in 2020 and had a 75.1 defensive grade in addition to a 73.4 pass-rush grade. Those grades fell to 61.7 and 68.8 in 2021.
As a team, Nebraska scored a 75.9 pass rush grade, which was No. 7 in the Big Ten. The Huskers had 23 sacks as a team in 2021, but 13 came from players returning to the team in 2022.
Mathis, paired with the Huskers' sack leader last season, Garrett Nelson, will have the potential to do some serious damage.
5. Garrett Nelson, Nebraska
Garrett Nelson has plenty of Nebraska fans drinking the Kool-Aid this fall.
He has graced the covers of multiple college football preseason magazines and has begun to take on a prominent voice in NU's locker room and media at large. It's not surprising that Husker fans are excited to see how Nelson grows following a big sophomore season.
A 6-foot-3, 245-pound native of Scottsbluff, Nebraska, Nelson led the team with six sacks last season. He paired that number with 32 tackles and 23 quarterback hurries. His PFF grades were solid, too.
Nelson scored a 69.8 defensive grade, a 66.8 for run defense, and a 66.1 tackling grade. His highest scoring category was as a pass rusher, where he posted a 74.0 grade that was fourth in the Big Ten. Following a move to a more edge rusher role, Nelson can play more to his strengths.
That's turned into some preseason attention. Lindy's named Nelson a preseason Third-Team All-Big Ten selection. Now the task for Nelson and the rest of the Nebraska pass rushers is to turn the Kool-Aid into results.
Who are your top five edge rushers in the Big Ten? Debate that and everything Nebraska on the Red Sea Scrolls forum.