Report: UConn's E.J. Barthel will be Matt Rhule's running back coach at Nebraska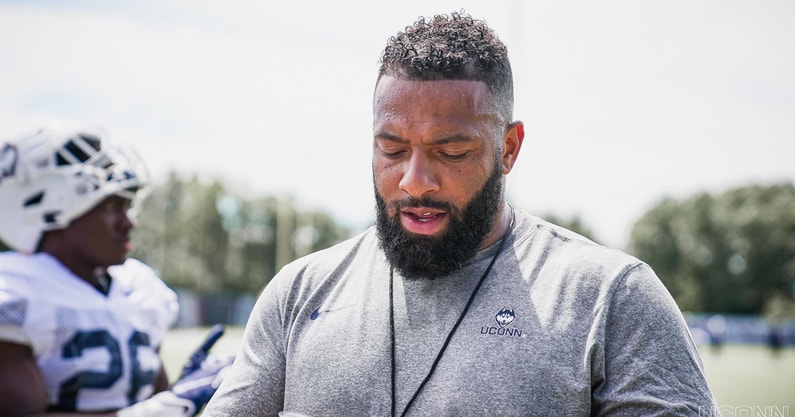 Nebraska has hired its new running backs coach, according to multiple reports.
UConn's E.J. Barthel will be Matt Rhule's running backs coach after spending this past year in Connecticut under Jim Mora Jr.
Barthel replaces Bryan Applewhite, who HuskerOnline confirmed will not be a part of Rhule's staff at NU. Applewhite had no previous ties to Rhule.
On Tuesday, Barthel also updated all of his Twitter information to Nebraska.
Click here for a limited time, register and get full access until the start of next football season for only $25.00.
What does E.J. Barthel bring to Nebraska?
Barthel helped the Huskies improve the play of its running backs this season, as the group averaged 4.80 yards per carry. They were at 3.18 yards per carry a year ago.
Before that, he worked under Rhule at Carolina as an offensive assistant for two seasons in 2020 and 2021.
"At my last stop, I got a chance to coach Christian McCaffrey, Mike Davis, and some guys at the Carolina Panthers," Barthel said in a previous interview at UConn. "I expect the same standard and level of urgency with our group here. We've got a talented group."
Barthel becomes the second known full-time hire on offense, joining offensive coordinator Marcus Satterfield. Ed Foley also has the chance to be an offensive assistant hire on the staff or a senior analyst.
At least four of Rhule's 10 full-time hires on the coaching staff have been set now, as along with Barthel and Satterfield, the Huskers have also hired Terrance Knighton as a defensive line coach and Evan Cooper in the secondary.
Corey Campbell will rejoin Rhule from Carolina to be his strength and conditioning coach.
Rhule has a staff pool of $7 million for 10 full-time hires, along with his strength and conditioning coach.
Related: Nebraska football: Matt Rhule coaching staff tracker