Steven Sipple: What made sense for Nebraska in 2010 now makes sense for USC and UCLA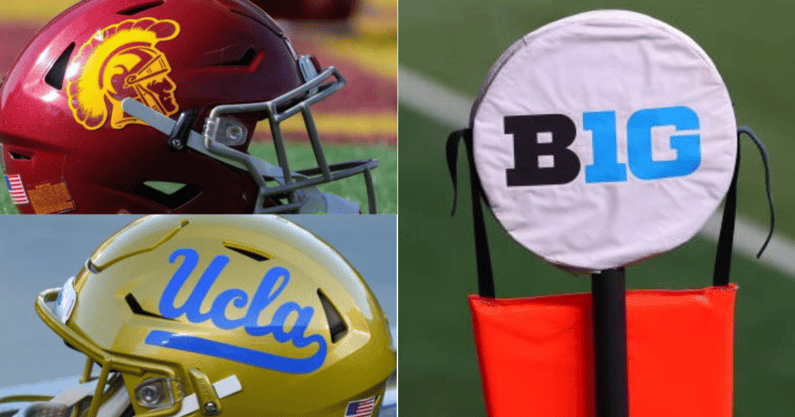 You perhaps thought USC and UCLA forever would be Pac-12 members, just as you feel Ohio State and Michigan always will be Big Ten members.
If you're overly nostalgic about college football, if you're set in your ways, it's best to get over it.
You should've already been over it.
Click here for a limited time, register and get an unprecedented 12 months for only $1.00.
We hope you still feel tinges of romanticism — after all, it's healthy and we hope you always will feel those tinges — but you also need to be ready for change.
Always be ready.
Be forever openminded.
Massive change continues to occur.
It's official: USC and UCLA are headed to the Big Ten. This is an impressive flex by the Big Ten. Sure, it's largely a financial flex. But it's more than that. USC and UCLA are two of the Pac-12's flagship programs. For the Trojans and Bruins, not to mention the Big Ten, this move is about competitiveness, brand and being in a position of strength as the collegiate landscape keeps shifting.
Excuse me if I have visions of John McKay and regular-season games in the Rose Bowl dancing in my head.
Romanticism? How about Nebraska hoops playing in Pauley Pavilion.
USC and UCLA are extraordinary, time-honored brands. They're old money. They ooze nostalgia.
In terms of prestige and class, they fit extremely well in the venerable Big Ten.
If you're a Nebraska fan, you have to love this stuff — especially if you like to travel.
Just sayin.
Big Ten faced seemingly easy decision
According to SI.com, USC and UCLA approached the Big Ten in recent weeks with a message: We plan to leave the Pac-12; would you want us or not?
The Big Ten made the correct decision in saying "yes."
"Yes" to a 16-team conference, with more additions likely at some point.
C'mon, it couldn't have been a difficult decision at all.
Ivan Maisel: UCLA and USC to the Big Ten? Simply more proof that money wins out
Zach Osterman of the Indianapolis Star points out that with the additions of USC and UCLA, the Big Ten can reasonably claim six of the nation's top seven TV markets: New York, Los Angeles, Chicago, Philadelphia, San Francisco-Oakland-San Jose and Washington, D.C.
Only Dallas eludes the Big Ten's grasp.
The Big Ten currently is negotiating its next media rights deal, which could be worth more than a billion dollars. An announcement of the deal has been anticipated for the past few weeks. We now understand the delay.
Whew, this feels enormous.
It feels somewhat shocking even in the context of college athletics' ever-shifting landscape.
But maybe we should've seen it coming. According to ESPN, Pac-12 officials had been nudging both USC and UCLA for years to extend their grant of rights deals that are tied to the current Pac-12 television contract — which expires following the 2023 football season and 2023-24 school year.
That explains why both schools can go to the Big Ten for the 2024-25 season and not suffer any financial penalties.  
With Texas and Oklahoma set to join the SEC no later than 2025, and with the Big Ten set to add two West Coast power brokers, we all know which two conferences stand above all.
Any way you measure it, everyone else is looking up to the SEC and Big Ten, in that order.
Since last summer, my sources have told me to eventually expect two mega-conferences: the Big Ten and SEC, with 20-plus teams apiece. In fact, one source told me Thursday that the combined number of teams eventually will be in the low 40s.
I'm guessing we're no more than a decade from that scenario happening.
So, get over your nostalgic bent.
Times are changing as we speak.
Thursday's news felt much like the news that rocked the Big 12 around this time last summer. Oklahoma and Texas bolting to the SEC later led the Big 12 to add UCF, Houston, Cincinnati and BYU. Those schools will officially become Big 12 members in July of next year.
The Big 12 in that configuration is a nice league hanging on any way it can.
The Pac-12? Well, it probably won't be much more than a nice little league going forward, assuming it stays together.
Mike Huguenin: Pac-12 gutted by its longtime partner in latest conference expansion
Utah is on the rise on the gridiron but garners scant attention as a national brand. Oregon and Washington become the conference's leaders in brand power.
As you ponder all this, keep in mind that according to ESPN, revenue projections have the SEC and Big Ten making nearly double the amount of other Power 5 leagues later this decade. Those financial pressures left USC and UCLA feeling a need to have a seat at a big table for the long run.
Nebraska fans surely can relate
Sound familiar, Nebraska fans?
Nebraska found riches and stability in the Big Ten, albeit with limited on-field and on-court success so far.
Former Nebraska football coach Tom Osborne, who helped orchestrate the school's move to the Big Ten in that wild summer of 2010, made clear to me a couple of years ago that he has zero regrets, noting the Big Ten's massive annual payouts to members.
Through all the craziness in 2010, Osborne said, he never felt overly stressed "because it just seemed like the way the tea leaves were laid out for us, there was really no question the Big Ten would take us. It wasn't anything I really anguished over. I felt it was the logical move."
It was eminently logical for Nebraska at that time.
The same goes for USC and UCLA at this time.
Click here for a limited time, register and get an unprecedented 12 months for only $1.00.