Texas UIL Athletic Director Dr. Susan Elza joining Matt Rhule's staff at Nebraska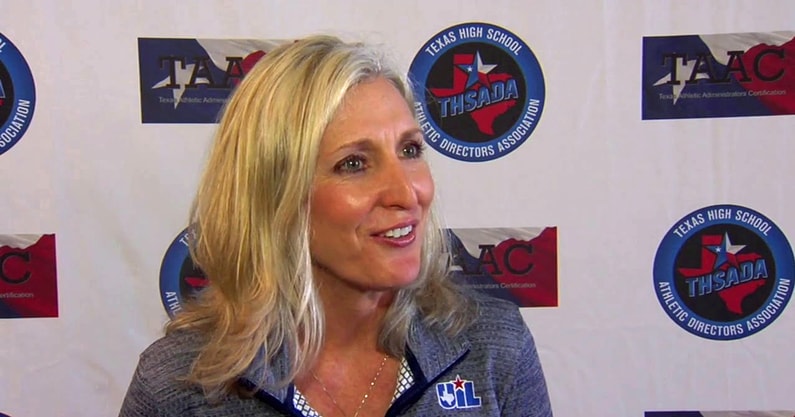 Nebraska head coach Matt Rhule has already made a few out-of-box hires on his staff to help strengthen the Huskers' foothold in the state of Texas.
Rhule has made another significant hire from the state of Texas on his staff. Dr. Susan Elza will join Rhule at NU and serve as his chief of staff. Elza currently serves as the athletic director of the University Interscholastic League (UIL) – the governing body of Texas high school athletics. Football Scoop first reported the news.
Get full access to all of our coverage until the start of the next football season for only $29.99!
This is another big statement by Rhule and his staff, hiring the head of the Texas high school athletics to be the manager of his program behind the scenes. Elza, along with general manager Sean Padden appear to be the two key cogs for Rhule that will manage things for his operation at Nebraska.
Later this year, Elza will also be inducted into the Texas High School Athletic Director Association Hall of Honor.
Elza is another big piece in the state of Texas for Nebraska
With the addition of Elza, NU has added another big name from the state of Texas to its staff.
Elza will join Arlington Martin head coach Bob Wager, who will serve as Rhule's tight ends coach. Wager won over 200 games during his 20+ years as a Texas high school football head coach.
RELATED – Exclusive Tunnel Talk 1/13/2023
On top of that, NU hired former Cedar Hill and Baylor quarterback Garrett McGuire as wide receivers coach. The 23-year-old McGuire is the son of current Texas Tech head coach Joey McGuire and brings a wealth of knowledge from the state of Texas to Lincoln. Joey McGuire worked under Rhule at Baylor as an assistant coach.
It was also announced that CJ Cavazos has accepted a job to be NU's Director of Football Relations.
Cavazos has been an executive with the XFL for the last year. The XFL tasked him with talent acquisition as Director of College and Professional Relations. That came naturally after he had spent over two decades in the recruiting world and building rapport with programs, coaches, and players primarily in the state of Texas.
Meanwhile, Elza was was a former high school softball coach that transitioned into athletic administration, eventually leading to her current role in Austin as the athletic director of the UIL.
Rhule's relationship to Elza dates back to 2017 when he first took over at Baylor as a newcomer to the state of Texas. At that time, he invited Elza and the entire UIL staff to Waco to build relationships for the future.
The chief of staff will play a big role in Rhule's operation, serving as his right-hand man in many key areas. This is not necessarily a recruiting position, but it will be assumed Elza will play a big part when recruits visit campus and also just with her past relationships in the state of Texas.
Never miss breaking news or another HuskerOnline article again. Click HERE to sign up for HuskerOnline's Daily and Breaking News Newsletters.