Three Huskers invited to 2023 NFL Combine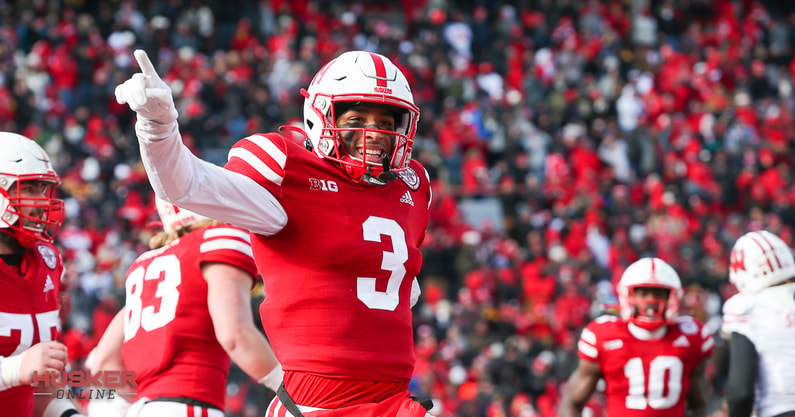 The official list of invitees to the 2023 NFL Combine in Indianapolis was revealed on Wednesday. Three former Nebraska players will get the chance to showcase themselves at the event.
Wide receiver Trey Palmer, tight end Travis Vokolek, and linebacker Ochaun Mathis all received invites to the Combine, held at Lucas Oil Stadium from March 2-5.
Mathis will be the first Husker to go with the linebackers and defensive linemen on Thursday, March 2, with drills starting at 1 p.m. CT.
Palmer and Vokolek will go on Saturday, March 4, with the receivers, tight ends, and quarterbacks. Drills that day will begin at 11 a.m. CT.
Coverage of the event will be on NFL Network.
Get full access to all of our coverage until the start of the next football season for only $29.99
NFL Draft trio all left their mark at Nebraska
Palmer set a single-season NU record with 1,043 yards receiving, topping the old mark of 1,004 yards held by Stanley Morgan Jr. in 2018. He is the only player in the Big Ten Conference with three 150-yard receiving games this season. 
The former LSU transfer finished the season with 71 receptions, ranking second all-time behind Marlon Lucky's mark of 75 from 2007. Palmer's nine receiving touchdowns are good for fifth all-time in school history.
Despite missing two games to injury, Vokolek still set career highs with 20 catches, 240 yards, and two touchdowns in 10 games last season.
The senior captain and former Rutgers transfer had his best game as a Husker against his former team. He caught a career-high six passes for 46 receiving yards, including a 7-yard touchdown – his first at Nebraska.
Mathis joined NU as a high-profile transfer from TCU. The former All-Big 12 performer finished with 48 tackles and 3.5 sacks during the 2022 season.
Never miss breaking news or another HuskerOnline article again. Click HERE to sign up for HuskerOnline's Daily and Breaking News Newsletters.
No invite for Garrett Nelson
A notable omission from the invitation list was former Nebraska EDGE and captain Garrett Nelson.
The Scottsbluff, Nebraska, native posted the best season of his career in 2022, finishing with 65 tackles and 5.5 sacks.
Nelson had the option to return to NU for another year through a COVID-19 waiver but announced he was moving on in December.
More on the 2023 NFL Draft
The 2023 NFL Draft takes place from Thursday, April 27, through Saturday, April 29, in Kansas City, Missouri. The event location this year is the plaza just outside of Union Station.
Round 1 of the NFL Draft begins at 8 p.m. ET on Thursday, April 27. Rounds 2-3 will start at 7 p.m. ET on Friday, April 28, and Rounds 4-7 will begin at 12 p.m. ET on Saturday, April 29. The draft broadcast runs throughout the weekend on both ESPN and NFL Network.
To be eligible for the NFL Draft, players must be at least three years removed from their final year of high school while having used up their collegiate eligibility. Underclassmen can request league approval to become eligible for the draft, as are players who have graduated before using up all their collegiate eligibility.
One hundred underclassmen gained approval for last year's draft. Seventy-three of those 100 underclassmen received special eligibility, while 27 were underclassmen who had completed their college degrees.