Thursday nuggets: Huskers ready for return against Indiana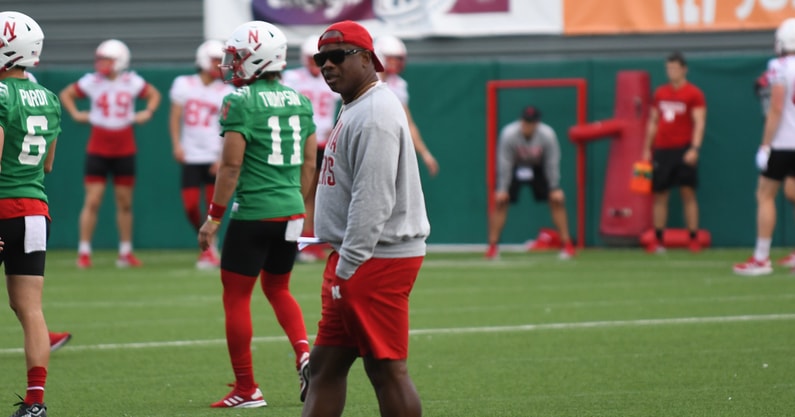 Here are some quick notes to pass along from Nebraska interim head coach Mickey Joseph following Thursday morning's practice…
Interim head coach Mickey Joseph
***Joseph said Nebraska came back off the bye with a great week of practice. He said the players "flew around" in all three phases and the coaching staff "coached with their hair on fire."
***Joseph said he's already seen improvement in NU's overall tackling after having nearly three full weeks of live tackling added to practices.
"We couldn't do nothing but go up," Joseph said.
***Joseph said he'd been impressed with how well Indiana's defense had been against the run this season. He noted how they shut down Cincinnati's running game last week.
***With Bill Busch taking over as interim defensive coordinator, Joseph said Nebraska's staff mainly wanted to cut out some defensive calls and "simplify" some things on that side of the ball.
"We're doing what they (the players) can do," he said.
***Indiana's offense will likely throw the ball around 50 times on Saturday. Joseph said the key for NU's defensive backs was to just "play the ball and use your technique."
***Joseph declined to answer when asked how Nebraska's coaching staff would be divided up on game day between coaching on the field and from the coaches' box.
"I'll let you see that on Saturday," he said.
***Joseph praised the Huskers' player leadership for stepping up and helping the team through a difficult past few weeks. He said Garrett Nelson and the rest of NU's Leadership Council was at the forefront of that.
***Joseph's message to the Huskers this week was to "be the hunter, not the hunted."
"If you don't want to hunt, you don't want to be here," he said.
***Joseph said the bye was was especially helpful for the offensive line to heal up physically. But he and o-line coach Donovan Raiola were still looking for the "best five" to emerge after some notable injuries.
***Joseph expected Saturday to feel a little different for him personally than his first game as interim head coach two weeks ago against Oklahoma.