Toughest Tests: Ranking the best offenses and defenses Nebraska will face this season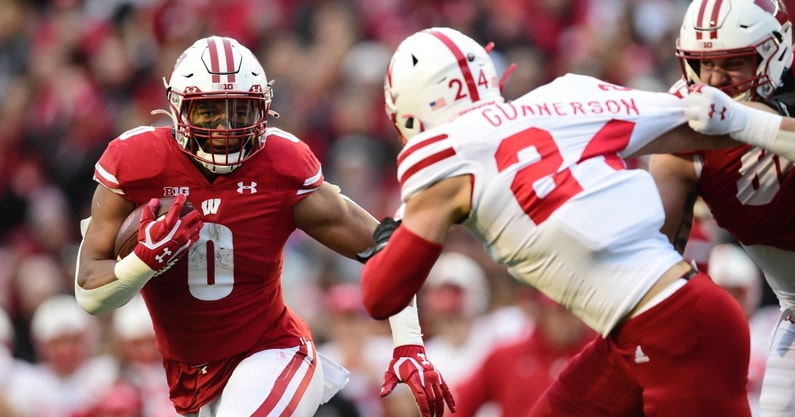 Nebraska still has plenty to figure out on both sides of the football going into the start of fall camp. But it's never too early to look ahead at what's in store for the Huskers this season.
Today, HuskerOnline takes a look at three opposing offenses and defenses that will present the most difficult challenges for NU in 2023…
Get three months of access for $1 or one year for $49.99. This is a limited-time offer for Nebraska fans!
Toughest offenses
1. Michigan
Michigan's offense ran over pretty much every it played last season, ranking sixth nationally with 40.4 points and averaging 458.8 yards per game. Now the Wolverines return pretty much everyone on the side of the ball in 2023.
Running backs Blake Corum (1,463 rushing yards and 18 touchdowns last year) and Donovan Edwards (991 yards and seven TDs) are back. So is quarterback J.J. McCarthy, who threw 22 touchdowns to just five interceptions.
The Wolverines do have to replace its top receiver (Ronnie Bell), tight end (Luke Schoonmaker), left tackle (Ryan Hayes), and center (Olu Oluwatimi). Even so, Michigan is locked and loaded on that side of the ball.
2. Wisconsin
What Wisconsin will look like on offense next season remains somewhat of a mystery. New head coach Luke Fickell hired Phil Longo as his offensive coordinator, bringing a versatile, fast-tempo scheme to Madison.
As long as first-team All-Big Ten running back Braelon Allen is in the backfield, you know the Badgers will run the football. However, UW got SMU transfer quarterback Tanner Mordecai this offseason. He ranked 18th nationally with over 3,500 yards and ninth with 33 touchdowns through the air.
How Wisconsin attacks with the ball will likely vary from week to week. But whether on the ground or through the air, the Badgers have the personnel to be dangerous.
3. Maryland
Maryland returns one of the better-known quarterbacks in the Big Ten this season in Taulia Tagovailoa, who guided his team to a surprising 8-5 record last season. Tagovailoa ranked third in the Big Ten with 3,008 passing yards, 18 touchdowns, and eight picks.
He lost three of his top receivers to the NFL this offseason. But the Terrapins replenished that firepower by adding FIU transfer and former FCS All-American Tyrese Chambers and West Virginia transfer Kaden Prather. The Terps also return Jeshaun Jones and tight end Corey Dyches, their top two receiving targets in 2021.
Maryland also has running backs Roman Hemby (989 yards and 10 TDs) and Antwain Littleton (320, five) returning. The big question is the offensive line. A group that struggled last year now must replace three graduated starters and two others that left through the portal.
RELATED: Degrees of difficulty: Ranking Nebraska's 2023 schedule from easiest to hardest
Toughest defenses
1. Michigan
Like on offense, Michigan's defense is the cream of the crop in the Big Ten. The Wolverines bring back seven starters from a unit that gave up just 16.1 ppg, 292.1 total ypg, and ranked seventh nationally with 97.9 rushing ypg.
There are some holes UM needs to fill, particularly with its pass rush after losing Mike Morris and Mazi Smith to the NFL. Linebacker Junior Colson (101 tackles) is one of the best in the business, and he'll be joined by All-Big Ten pick Michael Barrett.
Michigan also boasts one of the country's top defensive tackles in Kris Jenkins and added talented pass-rusher Josiaiah Stewart from Coastal Carolina. Rod Moore is one of the league's best safeties, and Will Johnson is an emerging star at cornerback. In other words, the Wolverines are stacked once again.
2. Iowa
Make all the jokes about how bad Iowa's offense has been the past few years. But the Hawkeyes' defense has been no laughing matter for a long time. Defensive coordinator Phil Parker will again guide the team's strength in 2023.
Iowa lost two first-round picks in star linebacker Jack Campbell and defensive end Lukas Van Ness, as well as All-Big Ten safety Riley Moss to the NFL. But it reloaded with key returners and additions at all three levels. The d-line is stout with Joe Evans, Logan Lee, and Noah Shannon. Virginia transfer Nick Jackson, who's posted three-straight 100-tackles seasons, will fill Campbell's role at middle linebacker.
Then there's Cooper DeJean, regarded as one of the top cornerbacks in the country and a potential 2024 first-rounder. Iowa is hoping its offense is much improved this season, but the defense will once again carry its success.
3. Illinois
The driving force behind Illinois' breakout 2022 campaign was a dominant performance from its defense from start to finish. The Fighting Illini ranked third nationally in total defense (273.5 ypg), first in scoring defense (12.8 ppg), first in passing efficiency defense (92.64), eighth in passing defense (173.8 ypg), and 10th in rushing defense (99.8 ypg).
However, Bret Bielema must replace his heralded defensive coordinator, Ryan Walters, who's now the head coach at Purdue. Now Aaron Henry takes over at DC with big shoes to fill. The Illini also lost two standout defensive backs in NFL draft picks, Devon Witherspoon and Sydney Brown.
Even so, Illinois will hang its hat on one of the Big Ten's best defenses this season. All-American Jer'Zhan Newton and All-Big Ten selection Keith Randolph are back as arguably the nation's top defensive tackle duo. Replicating last season's dominance will be hard, but UI appears ready for the challenge.
RELATED: Over or under? Predicting Nebraska's 2023 win-loss record
Never miss Nebraska breaking news or another HuskerOnline article again. Click HERE to sign up for HuskerOnline's Daily and Breaking News Newsletters.