All-American Bowl journal: Notre Dame LB Joshua Burnham is fired up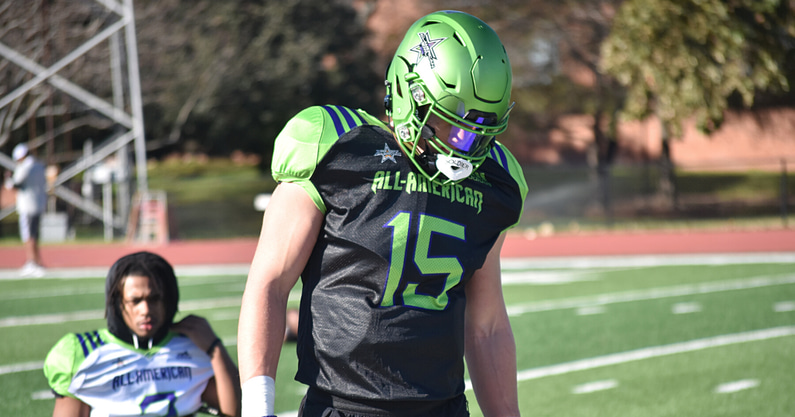 Throughout the week at the All-American Bowl in San Antonio, Traverse City (Mich.) Central class of 2022 linebacker and Notre Dame signee Joshua Burnham will share his thoughts and experiences of taking part in the prestigious postseason all-star game.
Below are his thoughts from Thursday, Jan. 6.
On being named East Team MVP by On3 from Thursday: "It was awesome to win MVP. I feel like it was definitely the best I have played since we've been here and it's nice to see that it proved that. I just played very aggressively during the inside run period. If I saw something, I went."
On preparing to enroll at Notre Dame in just a couple days: "After practice we had a Notre Dame Zoom meeting talking about this weekend and moving in and getting ready for everything."
On the warm weather in San Antonio this week: "My tan is insane. I actually have tan lines right now."
On how he's feeling after a few physical days of practice. "I feel good. I'm not as sore as I thought I was going to be. I honestly feel great, just being able to play again is so nice."
Joshua Burnham was dominant Thursday
As we've covered this week at Blue & Gold, it's hard for linebackers to shine in these settings where the action is mostly vanilla, but Burnham was flying around and making plays yesterday.
They aren't taking running backs to the ground, so if you blink you'll miss what would constitute as a "tackle," but Burnham was reading and reacting and coming downhill fast. On3 analyst Gerry Hamilton raved about the Notre Dame recruit, giving Burnham the MVP of the East practice Thursday.
Majority of the Irish's 2022 class are all-stars
Notre Dame signed 21 recruits during the early signing period, but the Fighting Irish are looking at adding more player(s), whether that be in the high school or transfer portal ranks. Notre Dame even offered Portland (Ore.) Lake Oswego wide receiver Justius Lowe last week and spoke to BlueandGold.com's Mike Singer about the news.
Of the 21 recruits, 16 of them are playing or have already played in one of the three major postseason all-star games: the All-American Bowl, the Under Armour All-America Game and the Polynesian Bowl.
On Monday, the players set to compete in the premier postseason all-star game arrived in San Antonio. The All-American Bowl recruits practice Tuesday-Friday ahead of the contest which will air on Saturday at 1 p.m. ET on NBC.
Notre Dame will be well represented in the game with 10 signees set to participate.
Huber Heights (Ohio) Wayne offensive tackle Aamil Wagner, Chantilly (Va.) High defensive end Aiden Gobaira, Traverse City (Mich.) Central linebacker Joshua Burnham and Lawrenceburg (Ind.) High offensive lineman Ashton Craig are the Fighting Irish signees on the East squad.
Notre Dame will have seven recruits playing on the West team, including Camas (Wash.) Union wide receiver Tobias Merriweather, St. Louis John Burroughs defensive end Tyson Ford, Mission Hills (Calif.) Bishop Alemany linebacker Niuafe Tuihalamaka, Fond du Lac (Wis.) St. Mary's Springs offensive lineman Billy Schrauth, Grand Rapids (Mich.) Catholic Central linebacker Nolan Ziegler and Indian Trail (N.C.) Metrolina Christian Academy punter Bryce McFerson.
A breakdown with of both squad's rosters with jersey numbers is listed by On3 here.
Oradell (N.J.) Bergen Catholic quarterback Steve Angeli, Hilton Head (S.C.) High linebacker Jaylen Sneed and Groton (Mass.) Lawrence Academy offensive lineman Ty Chan played in the Under Armour Game on Sunday.
Atlanta Westminster tight end Holden Staes and Phoenix Brophy Prep cornerback Benjamin Morrison are playing in the Polynesian Bowl later this month.
All five of Notre Dame's offensive line recruits and the four linebacker signees were invited to one of the major postseason all-star games.
Notre Dame's 2022 recruiting class currently ranks as the No. 6 group in the country per the On3 Consensus. Ninety percent of the class is considered "blue chip" recruits, which is a prospect with a four-star ranking or higher.
Sneed is the highest-ranked prospect in the Irish's class with a ranking of No. 34 nationally. He also is ranked as the No. 3 linebacker in America per the On3 Consensus.