Notre Dame men's basketball vs. Clemson: Preview, what to know and how to watch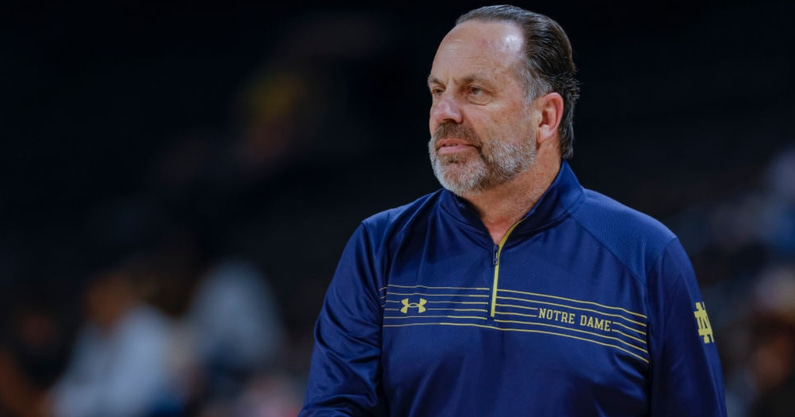 Notre Dame has played Clemson twice in football since it has faced the Tigers in men's basketball.
Twenty-three months ago, the two schools' men's teams last met on a basketball court. In that span, the Irish football program joined a conference and then burned rubber back to independence. It hired a new coach. And, of course, a pandemic hit — the main reason why two ACC basketball foes can go nearly two years without matching up and drift entirely off the other's radar.
Notre Dame and Clemson weren't supposed to take an extended hiatus, of course. COVID-19 imposed it. Tigers' virus issues wiped out their scheduled Feb. 17, 2021 meeting in South Bend. The ACC's scheduling rotations slated them to play just once. A makeup date wasn't feasible, they never met in the ACC Tournament, and that was that.
"You didn't really pay attention to them last year because you never even got to the scouting report," head coach Mike Brey said. "There's been a little more catch-up."
Brey turned on the film and saw how quickly things can change in 23 months. Just four players from the Tigers team Notre Dame beat on Feb. 9, 2020 are on the roster that will oppose the Irish Wednesday night in Purcell Pavilion (7 p.m., Regional Sports Networks).
Their style of play has flipped, too. Clemson's 2019-20 team was a defensive-oriented group that thrived in slugfests but lacked shot-makers. This one, though? It ranks 30th in adjusted offensive efficiency, per KenPom, and third in three-point percentage (40.9).
"They're an offensive group," Brey said. "They're still solid defensively, but they're shooting the ball, they're skilled. They're like playing against ourselves a little bit."
Notre Dame begins a stretch of three games in six days, with a Saturday road trip to Virginia Tech following Clemson and Jan. 17 road game at Howard. The Irish head into it having won five straight games and six of seven. All of a sudden, they're one of just five ACC teams with one loss in conference play (zero are unbeaten) and have the sixth-best odds to win the ACC.
A top-five ACC finish and NCAA Tournament appearance still feels premature to expect, to a degree. The Irish are 9-5 overall and 86th in the NET. A blowout loss at Boston College remains a blotch on the résumé. If you're into checking out bracket projections this time of year, you won't find them in the field.
The path is coming into view, though. Notre Dame added a 78-73 home victory over top-40 North Carolina during their win streak. A 2-0 week against Clemson and Virginia Tech would add a Quadrant 2 and Quadrant 1 win, respectively, and push the Irish's league record to 5-1. Beat Howard — the easiest assignment of the three — and they would be 12-5.
That record would usher in heightened expectations for the rest of the year — and that's just how Notre Dame wants it.
"If we can get these three wins in about seven, eight days, whatever it is, we feel like we'll be in a really good position moving forward," senior guard Dane Goodwin said.
Clemson (10-5, 2-2 ACC) at Notre Dame (9-5, 3-1)
When: Wednesday, Jan. 12 at 7 p.m. ET
Where: Purcell Pavilion
TV: Regional Sports Networks (how to watch)
Line: Notre Dame -2.5
NET rankings: Notre Dame 86, Clemson 55
KenPom prediction: Notre Dame 73, Clemson 71
Last meeting: Notre Dame won 61-57 on Feb. 9, 2020 in Clemson, S.C.
Series history: Notre Dame leads 6-2
Other notes:
• Clemson has four players shooting at least 38.8 percent from three-point range: guard Al-Amir Dawes (42.4 percent), guard Nick Honor (40.0), forward Hunter Tyson (38.8) and guard David Collins (42.9). All but Collins are averaging at least three attempts per game beyond the arc. Dawes has taken a team-high 85 threes and made 36.
• Despite its uptick in accuracy, Clemson's three-point volume has dropped sharply from the prior two years. The Tigers took 43.4 percent of their shots from three-point range, which ranked 43rd in Division I. This season, it's down to 36.6 percent (217th nationally).
• Notre Dame is shooting 44.1 percent on three-pointers during its five-game winning streak. A 72-68 overtime defeat of Georgia Tech Jan. 8 ended a run of four straight games shooting at least 40 percent on threes.
• Irish senior forward Nate Laszewski was 6 of 7 on three-pointers and 7 of 11 from the field in the win over North Carolina. In three other ACC games, he has taken eight total shots.
• Goodwin's 4.9 percent turnover rate is fifth-best nationally.
• Clemson has four players who average double-figure points per game, led by forward PJ Hall's 14.7.