Countdown to kickoff: Notre Dame vs. Ohio State only 81 days away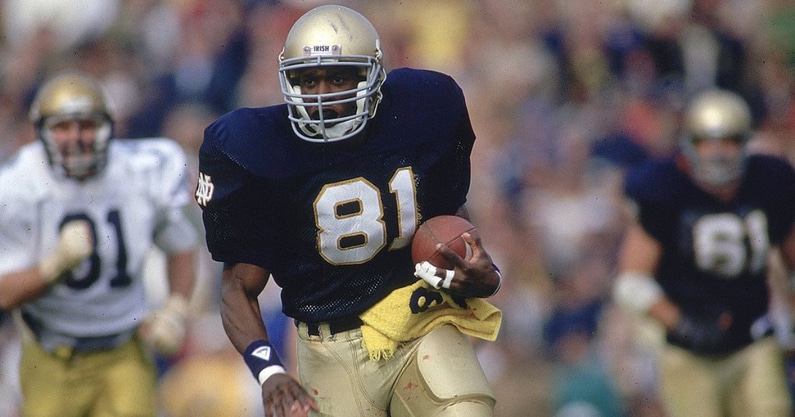 To preview one of the most anticipated games for Notre Dame this century and the official start of the Marcus Freeman era, BlueandGold.com is counting down the days to the matchup against Ohio State on Sept. 3.
This daily series of 99 stories celebrates by the numbers some of the most notable names, dates, moments and memories related to the past and present of Notre Dame football.
With 81 days left, we take a look back at the careers of two legendary No. 81s, wide receiver Tim Brown and tight end Ken MacAfee.
Find Brown's name in a Notre Dame record book, and you'll probably find MacAfee's nearby.
They both won the Walter Camp Player of the Year Award. They were first-team All-Americans, top-10 draft picks and ended their college careers at or near the top of Notre Dame's career receiving list. They're in the College Football Hall of Fame. And, of course, they donned the No. 81 jersey. They still stand as the two most decorated Irish players to wear it.
PROMOTION: Sign up for just $1 for your first year at Blue & Gold
CLICK HERE to order the 2022 Notre Dame Football Preview
MacAfee and Brown's careers were exactly 10 years apart, with the former arriving at Notre Dame in 1974. He needed half a season to pilfer the starting tight end job. He ended his freshman year as a starter on a 10-2 team that beat Alabama in the Orange Bowl.
That was just the start.
MacAfee was named a first-team All-American each of the next three seasons, leading the Irish in receiving yards twice in that span. His career culminated with 54 catches for 797 yards and six touchdowns in 1977, which earned him the Walter Camp award, unanimous All-American status and a third-place finish in the Heisman Trophy voting. Notre Dame won the national title that year, defeating Texas 38-10 in the Cotton Bowl.
MacAfee ended his Notre Dame career as with 128 catches and 1,759 yards, both of which ranked third in program history when he left. He hauled in 15 career touchdowns. The San Francisco 49ers selected him with the No. 7 pick in the 1978 NFL Draft.
His pro career lasted just two years, though. Frustrated with a request to play offensive line, MacAfee left the NFL and enrolled in dental school. He has a dental practice in the Boston area today.
Tyler Eifert later passed MacAfee's receptions and yards mark for a Notre Dame tight end. Current junior Michael Mayer is likely to surpass both this year. He needs seven touchdowns to push ahead of MacAfee for the most by a tight end in team history.
RELATED: Notre Dame football recruiting:
• Lucky Charms: Latest on Notre Dame recruits Rico Flores Jr. & Boubacar Traore
• Four-star CB Christian Gray recaps Notre Dame official visit
Mayer may own most of the tight end records when he leaves. If so, he will have a claim as the best to ever play that position for the Irish. But MacAfee will be no less of a standard and remains the starting point of Notre Dame's case as "Tight End U."
Ten years after MacAfee's arrival, Brown made a similar splash as a freshman. His 28 catches in 1984 set a record for an Irish first-year player (it has since been broken). In 1986, he set a school record with 1,937 all-purpose yards and was named an All-American.
Brown wasn't done. He was a unanimous All-American and won the Heisman in 1987, finishing with 1,847 all-purpose yards and eight touchdowns. He caught 34 passes for 846 yards, rushed for 144 yards and had 857 combined return yards. He was the first receiver to win the Heisman and remains the most recent Irish player to claim it.
"I can't imagine that there's anyone else who can have such a major effect on a football game in as many ways as Tim Brown can," former Notre Dame head coach Lou Holtz said.
All told, Brown set 19 school records in his Notre Dame career. He left with 2,493 receiving yards and 5,024 all-purpose yards – both records at the time. He averaged 18.2 yards per catch and scored 22 touchdowns.
The Los Angeles (now Las Vegas) Raiders took Brown sixth overall in the 1988 draft. He stayed with the team for 16 seasons, earning two second-team All-Pro nods. He holds the NFL record for most consecutive starts by a wide receiver (176). He ended his career with 1,094 catches for 14,934 yards and 100 touchdowns. He was named a member of the NFL's 1990s All-Decade Team and was voted into the Pro Football Hall of Fame in 2015.