Countdown to kickoff: Notre Dame vs. Ohio State only 85 days away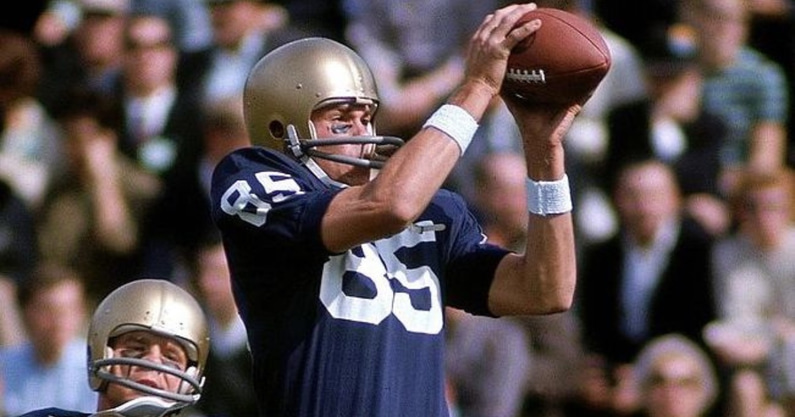 To preview one of the most anticipated games for Notre Dame this century and the official start of the Marcus Freeman era, BlueandGold.com is counting down the days to the matchup against Ohio State on Sept. 3.
This daily series of 99 stories celebrates by the numbers some of the most notable names, dates, moments and memories related to the past and present of Notre Dame football.
Today we look at 1966-68 wide receiver Jim Seymour, the most accomplished player in program history to wear the No. 85 jersey.
PROMOTION: Sign up for just $1 for your first year at Blue & Gold
Talk about a first-year splash.
Well, second-year, technically. Seymour was a freshman at Notre Dame in 1965, sidelined because NCAA rules didn't allow freshmen to play. A season impounded on the bench didn't hinder his ability to put together one of the most decorated individual careers in the Irish's rich history.
His three-year brilliance began in 1966, when Seymour went from freshman squad to varsity starter. He hauled in 48 passes for 862 yards and eight touchdowns, helping Notre Dame win the national championship and earning All-America honors. He had 276 receiving yards in his first college game. It remains one of the most impressive debut seasons for an Irish player. It was also what the Irish offense was missing after scoring three combined points in its final two games of 1965.
Seymour didn't stop there. He had 37 catches for 515 yards and four touchdowns in 1967, once again earning All-America recognition. As a senior, he caught 53 passes for 736 yards and four scores…good for another All-America season.
RELATED: CJ Carr commits to Notre Dame:
• Q&A: Carr goes in depth on why he committed
• How the CJ Carr commitment is a key piece in Notre Dame's recruiting elevation and path to playoff success
Notre Dame hadn't seen a dominant three-year stretch by a receiver like it. College football hadn't either. He was simply bigger (6-4), faster and stronger than the other receivers in his day. Passing offenses became more prevalent in the late 1960s and sought receivers built like him.
Seymour left as the program's all-time leader in catches (138), yards (2,113) and touchdowns (16). Those records have since been broken. That 1966 performance vs. Purdue, though, remains the highest single-game receiving output in Notre Dame history. His connection with classmate and quarterback Terry Hanratty earned the duo the nickname "Mr. Fling and Mr. Cling." They appeared on the cover of a 1966 edition of TIME magazine.
The Los Angeles Rams selected Seymour 10th overall in the 1969 NFL Draft. He played one season for the Rams and spent 1970-72 with the Chicago Bears.
All told, Seymour is one of five Irish players to be selected as an All-American in three seasons. Luther Bradley, Leon Hart, Ken MacAfee and Chris Zorich are the others.
After his playing career, Seymour worked in insurance and was on the Notre Dame Monogram Club's board of directors from 2001-04. He died in 2011 at age 64.