Countdown to kickoff: Notre Dame vs. Ohio State only 82 days away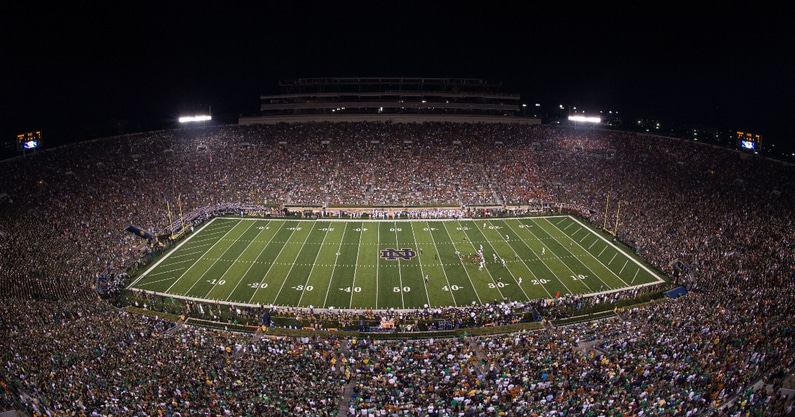 To preview one of the most anticipated games for Notre Dame this century and the official start of the Marcus Freeman era, BlueandGold.com is counting down the days to the matchup against Ohio State on Sept. 3.
This daily series of 99 stories celebrates by the numbers some of the most notable names, dates, moments and memories related to the past and present of Notre Dame football.
With 82 days to go, we take a look at the 1982 matchup between Notre Dame and Michigan, which was the first night game ever played at Notre Dame Stadium.
PROMOTION: Sign up for just $1 for your first year at Blue & Gold
Notre Dame Stadium, also known as "The House Rockne Built," opened its doors on Oct. 4, 1930 and replaced an outdated Cartier Field. But it took nearly 52 years for the Irish to play a night game at one of college football's most iconic venues.
The occurrence finally happened on Sept. 18, 1982, as the No. 20 Irish hosted rival and tenth-ranked Michigan under portable lighting courtesy of Musco Lighting. There were 59,075 fans present to watch Notre Dame as it came off of its first losing season since 1963 (5-6). Legendary head coach Bo Schembechler was leading Michigan at the time.
The Irish jumped out to a 13-0 lead, but the Wolverines posted a 72-yard punt return by Heisman Trophy candidate Anthony Carter and a 39-yard touchdown catch by tailback Rick Rogers to make a game of it. Rogers' touchdown came with 7:38 left in the fourth quarter, making it a 23-17 contest.
The Wolverines had the ball with 4:12 to go, and they were driving. That was until Irish captain and safety Dave Duerson intercepted a pass intended for split end Vincent Bean, effectively sealing what would end as a 23-17 victory for the Irish.
In total, Notre Dame amassed eight sacks and held Michigan to 227 yards of offense. The Wolverines only rushed for 41 of them, the first time in nearly three years the team was held under 100 yards rushing.
"We overcame a lot of bad breaks and had a lot go against us," said Irish head coach Gerry Faust after the game, per the South Bend Tribune. "But when you come back like that, you prove you are a great team. I can be proud of the effort of this team, and we will use this as a stepping stone to bigger and better things this season."
In last past four decades since the inaugural game under the lights, the occasion has become more commonplace, especially in the last 10 years. An Oct. 22, 2011 game against USC was Notre Dame's first night game since Sept. 15, 1990. They've since become a regular staple during the season.
Notre Dame has two night games at its home stadium on the 2022 calendar: Oct. 15 against Stanford and Nov. 5 against Clemson.