Countdown to kickoff: Notre Dame vs. Ohio State only 75 days away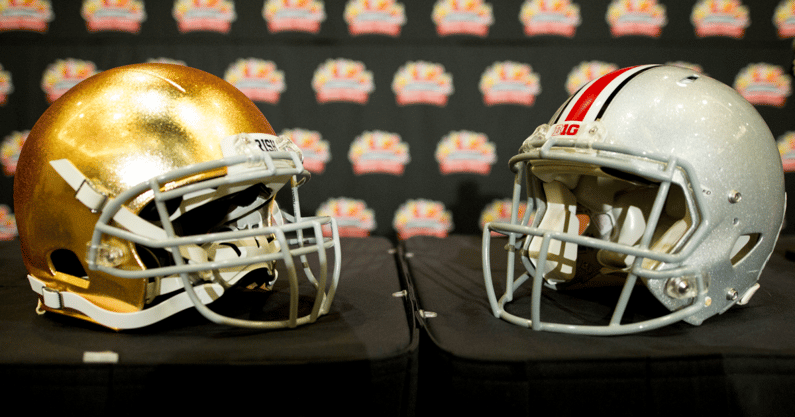 To preview one of the most anticipated games for Notre Dame this century and the official start of the Marcus Freeman era, BlueandGold.com is counting down the days to the matchup against Ohio State on Sept. 3.
This daily series of 99 stories celebrates by the numbers some of the most notable names, dates, moments and memories related to the past and present of Notre Dame football. 
Today, we look at No. 75 and the athletic family tree and four decades of Notre Dame student-athlete legacy Tim Grunhard shares with his wife Sarah (Harrington) Grunhard.
Tim Grunhard wore the number as a standout offensive lineman at Notre Dame from 1986-89 and as an important member of the 1988 national championship team.  
Good bloodlines
Grunhard isn't in any particular hurry to try and add another branch to what is already a healthy family tree of Notre Dame athletes Tim and Sarah share. 
But the former Fighting Irish All-American offensive guard still finds it funny to speculate about what might happen 20 or so years from now. 
See, Tim and Sarah already have a robust catalog of family athletic success after their daughter, Cailey, a gifted swimmer, became a fourth-generation Notre Dame monogram winner from Grunhard-Harrington lineage.
The family's remarkable timeline looks like this. 
*Tim and Sarah met as classmates at Notre Dame in the 1980s. Sarah's father, Jim Harrington, was an All-American Irish pole vaulter in 1954.
*Sarah's grandfather, Paul Harrington, was a pole vaulter at Notre Dame in 1926 under then Irish track coach Knute Rockne. Paul Harrington later became a world-record holder in the event. 
*Tim Grunhard started for the 1988 Notre Dame national championship team and graduated in 1989 before enjoying an 11-year NFL career with the Kansas City Chiefs. 
*Cailey Grunhard was a gifted backstroke and butterfly swimmer, who won multiple events during her Irish swimming career from 2017-21.
*Cailey's twin brother, Colin Grunhard, was a walk-on for the Notre Dame football team who was eventually put on scholarship and earned playing time as a backup center. 
A Mission, Kans., native, Colin transferred to Kansas University after graduation from Notre Dame and played the 2021 season for the Jayhawks. 
*And finally, Cassie Grunhard — the youngest of the siblings — studied nursing and was a fine swimmer at Saint Louis University. 
More to come?
So, with three successful college-graduated student-athletes, might a fifth-generation Notre Dame monogram winner be on the way someday? 
"Let's not rush things," Tim Grunhard joked. "But if any family is going to do it, it's going to be the Grunhard-Harrington family that has put together such a legacy at Notre Dame."