Former LSU, Ole Miss head coach Ed Orgeron explains why he is spending the week at Notre Dame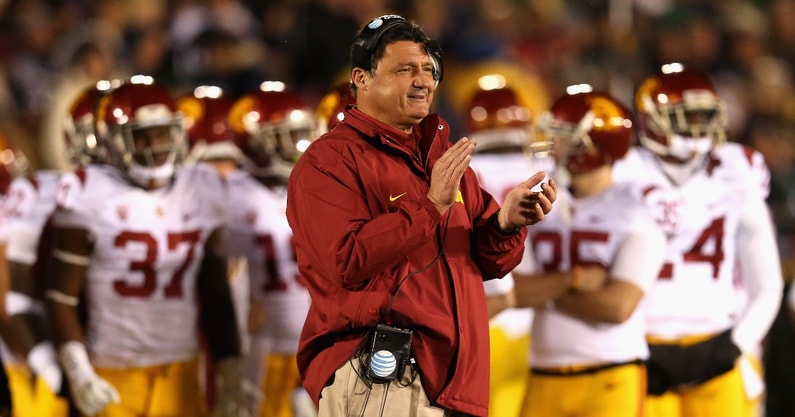 If you asked any media member who covers Notre Dame if they thought they'd be spending a morning this week with Ed Orgeron, they would've look at you like you're crazy.
But that's what happened on Tuesday, as the former LSU and Ole Miss head coach made a stop in South Bend and could be seen watching Notre Dame's 12th spring practice.
PROMOTION: Sign up for just $1 for your first year at Blue & Gold
So what exactly is Orgeron doing?
"I wanted to come up here with my three sons and show them what Notre Dame is," Orgeron said when he spoke with the media for a few minutes after the conclusion of practice. "I get to come in and enjoy being around campus."
The national championship-winning head coach has been to South Bend before in several roles. Orgeron was the defensive line coach at Miami from 1988-92, so he made the trip to Notre Dame Stadium for both the 1988 and 1990 games between the two storied programs. He had multiple stints at USC from 1998-2004 and 2010-13, so he came to Notre Dame every other year to coach in one of the best rivalries in college football.
In 2013, Orgeron was the interim head coach for the USC-Notre Dame contest, one which the Irish won 14-10. At that point, Notre Dame hadn't beaten USC at home since 2001. The winning quarterback? Current Irish offensive coordinator Tommy Rees.
"I'll tell you what, going into that stadium I have great memories of the battles," Orgeron said. "But yesterday when we drove up to the stadium, we went to go see their locker room to the right. I'm used to going to the left.
"I enjoy being here. I wanted to see Marcus (Freeman) and the staff. We're here all week and are just going to have a good time."
Orgeron and Freeman know each other from when the former interviewed the latter for the LSU defensive coordinator position ahead of the 2021 season. Obviously, Freeman took the same job at Notre Dame.
"It looks like he made the right decision," Orgeron said with a laugh.
Freeman, a first-year head coach, had Orgeron speak with the team after practice too. It is clear Freeman values his insight and experience, and any head coach with a national championship on their resume has some good things to say.
For now, Orgeron said he is staying out of coaching, although he did not rule out an eventual return to the gridiron.
"It all depends," the 60-year-old head coach said. "I'm not going to coach this year for sure. I'm keeping my options open. Right now, I'm enjoying what I'm doing."