Irish in the NFL: Three former Notre Dame players advance to conference championship games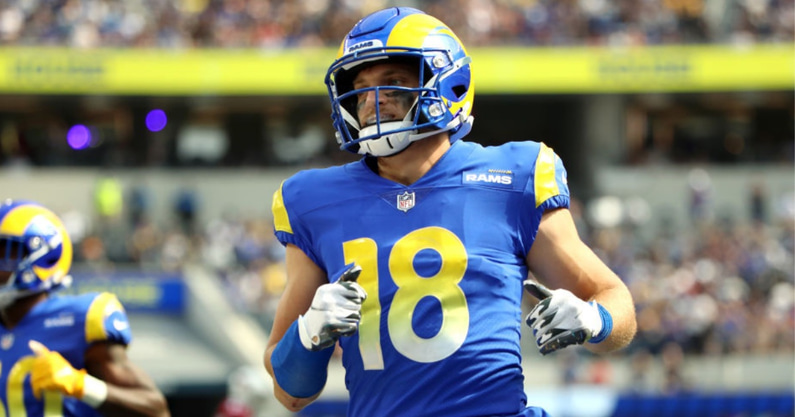 There will be at least one former Notre Dame football player in Super Bowl LVI.
If the No. 4 seed Los Angeles Rams defeat the No. 6 San Francisco 49ers on Jan. 30 in the NFC Championship Game, 2020 Irish wide receiver Ben Skowronek will represent Notre Dame in the NFL's final game.
If the 49ers win, 2017-20 Notre Dame guard Aaron Banks will move on. So will 2013-17 tackle Mike McGlinchey, although he won't be on the field to help. He has not played since early November due to a season-ending quad injury.
Skowronek, a seventh-round pick last spring, has been a special-teams staple for the Rams and occasional contributor on offense. He made two tackles in the Rams' 30-27 win over the No. 2-seeded Tampa Bay Buccaneers on Sunday. Banks, the No. 48 overall selection in the most recent draft, has seen occasional action as a backup. He was active for nine regular-season games and dressed for the 49ers' 13-10 defeat of the NFC's top-seeded Green Bay Packers on Saturday.
There is one former Irish player left in the AFC. Defensive end Khalid Kareem and the No. 4 Cincinnati Bengals advanced to the AFC Championship Game against the No. 2-seeded Kansas City Chiefs by notching a 19-16 win over the top-seeded Tennessee Titans on Saturday. Kareem was active, but did not record any stats.
Elsewhere, four ex-Irish players saw their seasons end last weekend. Here is a roundup of how every former Notre Dame player in the divisional round fared.
RELATED
Aaron Banks (Played at Notre Dame from 2017-20), OG, San Francisco 49ers
On the active roster as a reserve lineman for the 49ers' 13-10 win at Green Bay, but did not see the field … Was active in nine regular-season games for 10-7 San Francisco.
Matthias Farley (2011-15), S, Tennessee Titans
Made one tackle on special teams in Titans' 19-16 loss to Cincinnati … Active for all 17 regular-season games and notched 13 tackles with a forced fumble for 12-5 Tennessee.
Robert Hainsey (2017-20), OL, Tampa Bay Buccaneers
Was on active roster as a backup lineman for Bucs' 30-27 loss to Los Angeles Rams, but did not play on offense … Appeared in nine regular-season games for 13-4 Tampa Bay.
Khalid Kareem (2016-19), DL, Cincinnati Bengals
Played seven defensive snaps but recorded no stats in Bengals' 19-16 win over Tennessee … Spent the first seven weeks of the season on injured reserve, but logged snaps in seven regular-season games (one start) and made eight tackles with one forced fumble for 10-7 Cincinnati.
Nick McCloud (2020), CB, Buffalo Bills
Was not elevated from practice squad for Bills' 42-36 overtime loss to Kansas City … Signed to the Bills' practice squad Nov. 8 … Was waived by Cincinnati Nov. 2 after seeing action in two games.
Mike McGlinchey (2013-17), OT, San Francisco 49ers
Suffered a season-ending torn quad injury during the 49ers' 31-17 home loss to Arizona in Week 9 … Started the first eight regular-season games for 10-7 San Francisco.
Ben Skowronek (2020), WR, Los Angeles Rams
Made two tackles on special teams in Rams' 30-27 win over Tampa Bay … Also played six offensive snaps vs. Buccaneers, but did not catch a pass … Appeared in 14 regular-season games with one start, and notched 11 catches for 133 yards and made eight tackles on special teams for 12-5 Los Angeles.
Equanimeous St. Brown (2015-17), WR, Green Bay Packers
Played 19 snaps on offense and five on special teams, but did not catch a pass in Packers' 13-10 loss to San Francisco … Appeared in 13 regular-season games (two starts), and compiled nine receptions for 97 yards and three rushing attempts for 14 yards for 13-4 Green Bay.