Four-star running back Jayden Limar commits to Notre Dame football over Michigan, others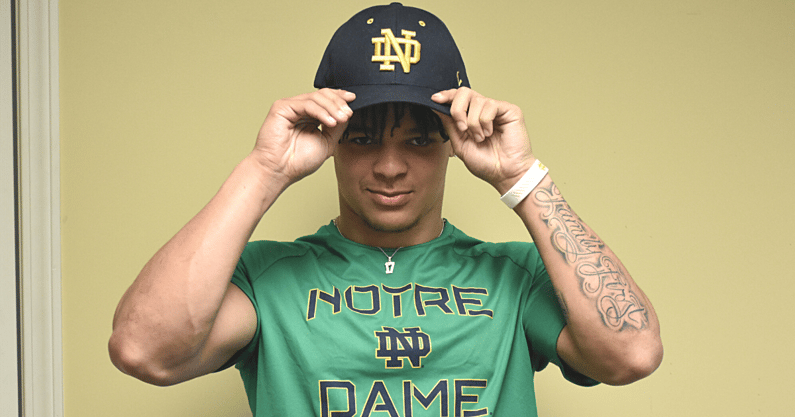 Lake Stevens (Wash.) High class of 2023 running back Jayden Limar has announced his commitment to Notre Dame, choosing the Fighting Irish over finalists Arizona, Michigan and Oregon.
"It was the relationship that I built with the coaches and the atmosphere that they have there," the four-star prospect told Blue & Gold before making his decision public. "It was the perfect fit for me.
"A lot of coaches that you come in contact with treat it all as business and there's no personal part. But Notre Dame made it clear that they care more about the person than the football player. That was a big thing to me."
Limar announced his choice Thursday, May 26, but he told the Notre Dame staff several weeks ago — even before he visited for the Blue-Gold Game April 23 — that he would be choosing their school.
He first informed Notre Dame director of recruiting Chad Bowden of his decision and then spoke with head coach Marcus Freeman, running backs coach Deland McCullough and offensive coordinator Tommy Rees.
"They were all ecstatic," Limar recalled. "Coach Freeman was caught off guard; he had no idea that's what I was calling him about. He thought we were just checking in. They all thought I was going to come out there and see campus one more time, but when I knew it was going to be Notre Dame, I wanted to make sure they knew that right away."
There's quite a big difference between keeping a private commitment between just a recruit and coaching staff compared with going public with your decision. Limar could have waited a bit longer and returned to South Bend for his official visit June 10 before announcing his choice to make sure it was the right fit.
"I didn't see any benefit in waiting," he explained. "At the end of the day, I felt like it was going to be Notre Dame. The recruiting process started getting stressful for me. I was ready to make something happen, so I did."
Limar is the nation's No. 16 running back and No. 265 overall recruit according to the 2023 On3 Consensus ranking. He gives the Fighting Irish 13 commitments in the class and five verbals on the offensive side of the ball.
PROMOTION: Sign up for just $1 for your first year at Blue & Gold
Notre Dame staff key in Limar's decision
Gone are the days in Notre Dame recruiting where a top Irish target would communicate with one or maybe two members of the coaching staff. In Limar's recruitment, it was a four-pronged attack between Bowden, Freeman, McCullough and Rees.
"Marcus Freeman definitely put them in the lead for me," Limar stated. "How much he was contacting me as a head coach is something you don't see very often. I was talking to him a ridiculous amount. It was really cool to see that he was making a priority.
"And then Coach McCullough got there — we clicked in such a short time. It just felt right, and I knew I wanted him to be my coach.
"Coach Chad and I would talk on the phone at least once a week, and I like him a lot. He brings a different aspect to Notre Dame. Usually when you talk to recruiters there's the basic rundown, but Chad gives you the real. We've built a great relationship.
"Coach Rees is a really smart dude. We could talk football all day. I definitely have a great relationship with him.
"A lot of people say how academics is important at their school and will hold you to a high standard, but Notre Dame actually does it."
The Jayden Limar file
Limar reportedly ran a 4.53 40-yard dash per laser time at the National Preps Showcase March 12 and was also named running back MVP at the camp.
He helped lead Lake Stevens to an undefeated regular season, but his team fell in the 2021 4A Washington State title game. Limar totaled 1,918 yards from scrimmage and 25 scores on his way to earning The Herald's 2021 all-area first-team offense.
He totaled 1,549 rushing yards and 20 touchdowns, plus 369 yards and four receiving scores. He also had a kickoff return touchdown.
Limar's younger brother, Jayshon Limar, is a class of 2025 running back who has already added an offer from Arizona.
He is also good friends with incoming Irish receiver and Washington native Tobias Merriweather. The two train together with Ford Sports Performance in Washington.
Washington State, USC, UCLA, Texas A&M, Louisville, Miami, Colorado, Utah, California and Oregon State are among the other schools that offered Limar.
He expects to enroll early at Notre Dame and will take his official visit to South Bend June 10-12.