Notre Dame defensive line coach Mike Elston leaving for same job at Michigan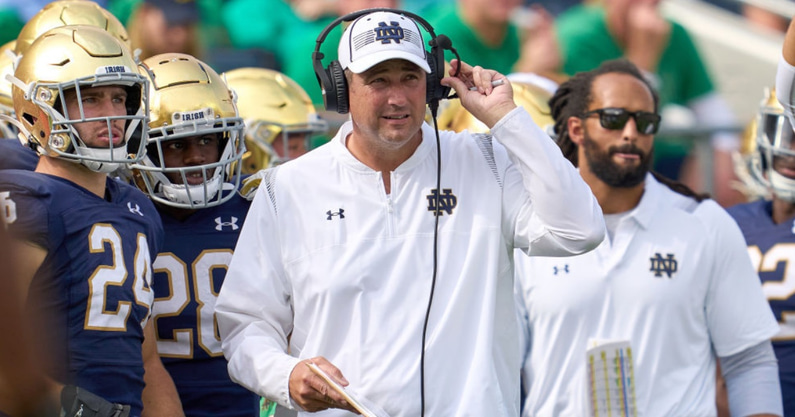 Notre Dame's longest-tenured assistant is leaving the program.
Defensive line coach and recruiting coordinator Mike Elston is taking the same position at Michigan after 12 seasons at Notre Dame, On3's Chris Balas confirmed. The news was first reported by Irish Breakdown.
Elston served as Notre Dame's defensive line coach the past five seasons and held various roles during his time in South Bend. He came with former Irish head coach Brian Kelly from Cincinnati in 2010 and started as the defensive line coach. He moved to linebackers coach and added recruiting coordinator duties in 2014 before switching back to defensive line in 2017. He was the associate head coach from 2018-20.
Notre Dame's line has been its strongest defensive position for most of Elston's second stint coaching it. This season, the Irish tied a school record with 41 sacks. They set previous Kelly-era highs in sacks (34) in 2018 and 2019. They have played eight-man rotations or more the last few years.
Five Irish defensive linemen have been drafted since 2018. Defensive end Isaiah Foskey would have likely made it six, but he chose to return for his senior season. His 11 sacks in 2021 were the third-most in a single-season in team history and the highest total since Stephon Tuitt posted 12 in 2012.
The 47-year-old Elston played linebacker at Michigan from 1993-96. He began his coaching career there in 1997 as a student assistant. He was Eastern Michigan's defensive line coach from 2001-03 and took the same job at Central Michigan in 2004 on Kelly's first staff. He was also the co-defensive coordinator there in 2005 and special teams coordinator in 2006. He went to Cincinnati with Kelly in 2007.
Elston did not follow Kelly to LSU, marking the first time in 18 years they will not be on staff together. He called plays in Notre Dame's Fiesta Bowl loss to Oklahoma State, taking over that job for newly elevated head coach Marcus Freeman.
He said in December that the decision to stay put involved more than football.
"It's a family decision for me," Elston said. "It will always be a family decision for me. It's not about money. My kids want to go to Notre Dame, too. That's why I've turned down opportunities for myself. I want my children to go off to college and when they say to their friends, 'I'm going home for the weekend,' they have a place to go. They know where home is, and that's South Bend for them. I don't want that to change right now."
Elston's departure leaves Freeman with two vacancies left to fill on his first staff: defensive line coach and defensive coordinator. Iowa State's Jon Heacock was reportedly at Notre Dame Tuesday interviewing for the latter.
Freeman has hired Cincinnati's Brian Mason as special teams coordinator, brought Harry Hiestand back for his second tour as offensive line coach and Baylor's Chansi Stuckey as wide receivers coach so far this offseason.