Multiple Notre Dame commits see big moves in On3's 2024 updated rankings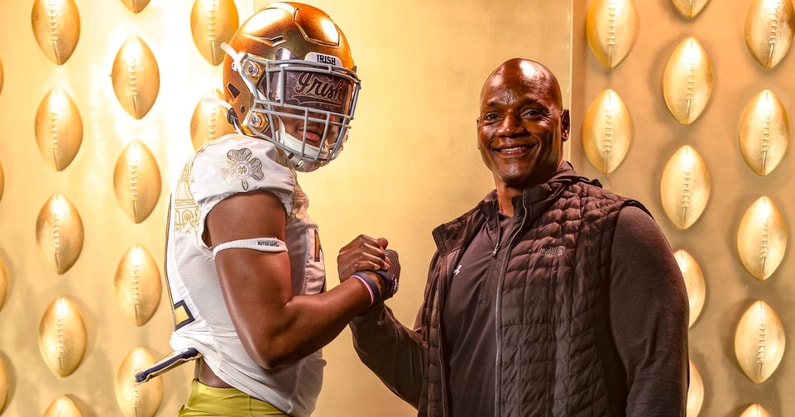 Early senior season tape is important for college coaches still looking to fill their classes, and On3 values it as well. The rankings team updated the 2024 rankings on Monday.
"This update is driven by early senior season evaluations," On3 director of scouting and rankings Charles Power tweeted. "Sample sizes vary from prospect to prospect, but we've been able to get an early snapshot several weeks into the season. The next update will see continued movement based on the senior year."
Overall, it was a very positive update from a Notre Dame perspective.
On3 already had Charlotte (N.C.) Catholic's Bryce Young ranked highest across the industry, but that gap only widened in today's update. He moved from No. 194 to No. 120 in the national rankings, while also going from No. 19 to No. 11 at the EDGE spot.
Bellflower (Calif.) St. John Bosco's Kyngstonn Viliamu-Asa saw a positive bump as well. On3 remains the outlier in ranking him, but he was outside the On300 going into Monday and is now the No. 201 overall prospect and No. 12 linebacker in the land. He was previously the No. 27 linebacker in America.
A move of eight spots usually isn't too notable, but Glen Ellyn (Ill.) Glenbard South's Cam Williams saw that move Monday, and when you're already ranked inside the top-50, it is a notable move. Williams is having a strong start to his senior campaign and got a bump from No. 35 nationally to No. 27. He moved up a couple spots in the receiver rankings, too, now being listed as the No. 5 wideout in America.
The other Notre Dame commit inside On3's top-100 players list is Lufkin (Texas) High's Kedren Young, who also moved up in the rankings. His bump up was 21 spots, as he's now the No. 71 player in the land. He ranks as the No. 5 running back nationally. On3 has him ranked by far the highest according to the four media outlets.
Notre Dame's other running back commit in the 2024 class — Hannibal (Mo.) High's Aneyas Williams — saw a healthy bump, too. His ranking moved up 15 spots to No. 280. He's the No. 23 running back in America.
Here are the other Notre Dame commits who rank in the On300 and where they're listed in the national rankings: Lakewood (Ohio) St. Edward EDGE Loghan Thomas (No. 168 to No. 160), Fishers (Ind.) Hamilton Southeastern offensive lineman Styles Prescod (No. 179 to No. 184), Roswell (Ga.) High offensive lineman Anthonie Knapp (No. 184 to No. 188), Saline (Mich.) High quarterback CJ Carr (unchanged, No. 192), Charlotte (N.C.) Catholic receiver Micah Gilbert (No. 241 to No. 245) and Fort Wayne (Ind.) North Side athlete Tae Johnson (No. 293 to No. 298).
Among the three-star prospects, West Chester (Ohio) Lakota West's Taebron Bennie-Powell was ranked as an "athlete" and is now listed as a safety. He's the No. 46 player at the position. His "grade" moved from an 88 to an 89 as well.
We expected to see a change in the ranking of Salinas (Calif.) Palma's Logan Saldate. His grade moved from 86 to 89, and his positional receiver ranking moved from No. 181 to No. 75 per On3.