Newsstand: Content wrap-up on QB Kenny Minchey's commitment to Notre Dame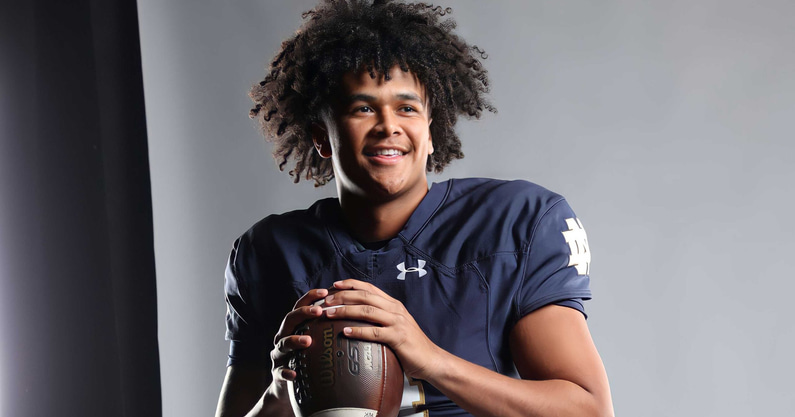 In case you've been living under a rock this week, we're here to let you know that Hendersonville (Tenn.) Pope John Paul II four-star class of 2023 quarterback Kenny Minchey announced his commitment to Notre Dame on Tuesday.
Blue & Gold has had wall-to-wall coverage of the big addition for Marcus Freeman.
* Minchey spoke with Blue & Gold ahead of his announcement to discuss his commitment to Notre Dame and how it all came together. LINK
* Four experts gave their breakdown of what Notre Dame is getting in the four-star passer. LINK
* Blue & Gold recruiting insider Mike Singer had his "five thoughts" column on the news. LINK
* Blue & Gold beat writer Tyler Horka detailed what Minchey's commitment means for the current quarterback situation at Notre Dame. LINK
* Minchey is among the committed prospects who will enroll at Notre Dame in January. Who are the others? LINK
In 13 games played in 2021, Minchey completed 215 of 351 passes for 3,280 yards with 32 touchdowns and 9 interceptions. On the ground, he added 137 yards and 3 scores on 52 attempts.
He suffered a shoulder injury in early September and missed most of his senior season but was able to return to action Nov. 4 and led his team to a 35-13 playoff victory that night. He felt some discomfort in his throwing shoulder the next week and decided not to risk potential injury by playing further.
During his shortened senior season that included five full games, Minchey completed 65 of 94 passes for 1,007 yards with 15 touchdowns and 3 interceptions. He added 43 rushing yards on 11 carries.
Notre Dame Tweets of the Day
Sign up for Blue & Gold and On3 for the latest Irish athletics coverage, insider recruiting notes, and more! It's just $10 until the start of next football season for new subscribers. More information can be found on our subscriptions page.
Quote of the Day
"He is really talented. Big-league arm. He's really getting the ball out right now. And he's seeing the field really well. He can create on the run. His eyes are downfield, even though the rush is telling him to move his feet. And he's able to convert on the move. He's dangerous with the ball in his hands and equally with the vertical game. So, he is really a complete package — very impressed with him."
— Notre Dame defensive coordinator Al Golden on USC quarterback Caleb Williams
Headlines of the Day
Lucky Charms: More on Notre Dame 2023 recruiting (Mike Singer, Blue & Gold)
What USC players said about Notre Dame football (Tyler Horka, Blue & Gold)
Notre Dame men's basketball has its lofty goals still in front, but needs more from its defense to reach them (Patrick Engel, Blue & Gold)
On paper: A unit-by-unit breakdown of Notre Dame vs. USC (Todd Burlage, Blue & Gold)
How Notre Dame found success in another national title-less season (Tyler Horka, Blue & Gold)
Three things to know about ND's Week 13 opponent, USC (Patrick Engel, Blue & Gold)