Newsstand: Recruits love their videos from Notre Dame official visit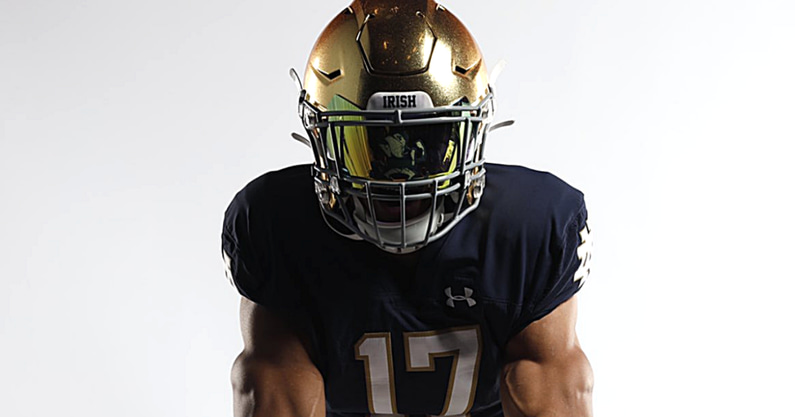 Photoshoots have been a key part of official visits in the past several years, as prospects love getting padded up and in a college's football uniform to take pictures. Notre Dame has been doing that and continues to do it. The Fighting Irish are also looking to take things to the next level.
Notre Dame has hosted close to 30 prospects for official visits this month, and along with the traditional photoshoot, the Fighting Irish media team is also putting together video reels for the prospects to share on social media.
"I don't think there's another school doing media and video shoots like Notre Dame does," Lake Stevens (Wash.) High running back and Notre Dame commit Jayden Limar told Blue & Gold following his official visit.
Below, you can watch three of the recruit's videos from their official visits. The first is Limar's, followed by four-star wide receiver Rico Flores Jr. and Irish linebacker commit Preston Zinter. The prospects pick the music that goes along with their video.
For more on the visit weekend, check out the Blue & Gold football recruiting news tab.
Tweets of the day
Sign up for Blue & Gold and On3 for the latest Notre Dame athletics coverage, insider recruiting notes, and more! It's just one dollar for the introductory first year. More information can be found on our subscriptions page.
Quote of the day
"Wesley is one of the most physically gifted guards in this draft, capable of getting into the paint at will with his strong frame and explosive first step. He made strides as the season moved on both defensively and with his ability to create for teammates, and if he can continue to evolve as a shooter, he has the potential to be a real mismatch with the ball in his hands."
— ESPN's Jonathan Givony on Notre Dame guard Blake Wesley, a projected first-round pick in this week's NBA draft
Headlines of the day
Notre Dame football transfer tracker: Which ex-Irish players have found their 2022 destinations? (Patrick Engel, Blue & Gold)
Countdown to kickoff: Notre Dame vs. Ohio State only 75 days away (Todd Burlage, Blue & Gold)
Four-star CB Micah Bell breaks down ND visit, previews what's next (Mike Singer, Blue & Gold)
Takeaways from ND's three major June recruiting weekends (Mike Singer, Blue & Gold)
Four-star WR Jaden Greathouse gives the latest on Notre Dame after visit (Mike Singer, Blue & Gold)
Notre Dame men's basketball scholarship chart (Patrick Engel, Blue & Gold)
ND football 2022 summer enrollee jersey numbers, other switches (Ashton Pollard, Blue & Gold)
ESPN releases FPI College Football Top 25 for 2022 (Alex Weber, On3)