Notre Dame football's 2023 class ranks No. 1 per the On3 Consensus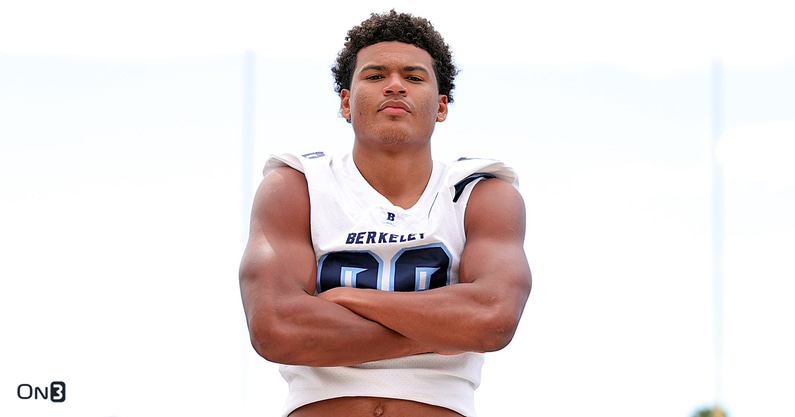 When Notre Dame landed a commitment from Denton (Texas) Guyer four-star safety Peyton Bowen on New Year's Day, it pushed the Fighting Irish past USC for the No. 1 ranking in the 2023 On3 Consensus Team Recruiting Ranking.
What is On3's ranking system and how is it calculated?
The On3 Consensus Team Recruiting Ranking is the only ranking that utilizes all four major recruiting media companies: On3, 247Sports, Rivals.com and ESPN. It equally weighs the four media companies at 25%.
It solves the problem of varying class sizes during the recruiting cycle. It compiles the highest-rated commits for each team up to a total based on a rolling average of current total commitments among Power Five schools.
The current average number of commits used in the rankings score is five. This means that of Notre Dame's eight commitments, only the top five are used for the rankings score.
With this model, there are no bonus points for having more commitments than other teams and only small deductions occur when a team has fewer commitments than the rolling average. Unlike distribution (bell) curves, this model doesn't disproportionately weigh a team's top three or four highest rated commits and is a more accurate representation of an entire class.
The On3 Consensus recruit rankings creates a specific rating. For example, Tampa (Fla.) Berkeley Prep defensive end Keon Keeley has an On3 Consensus score of 95.35. When averaging Notre Dame's entire 2023 class, the score comes out to 92.51.
But when taking just the rolling average of five, the Irish's Team Ranking average is 93.725. This is the score used for the On3 Consensus Team Recruiting Ranking, as seen in the image below.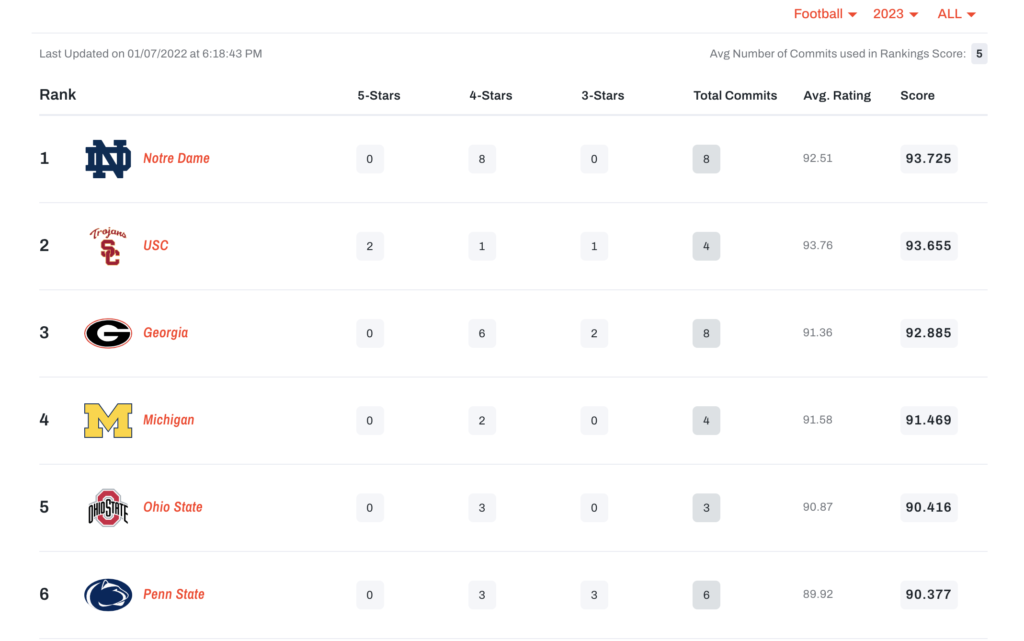 Will Notre Dame be able to hold on to the No. 1 spot in the rankings? Probably not. Notre Dame typically jumps out to hot starts as players who fall in love with the university commit early, but then the SEC powers catch up. A top-five class is certainly achievable, though.
While Notre Dame fans are tired of hearing that "next year will be the big one" for Irish recruiting, the 2023 cycle does feel different with Marcus Freeman at the helm. The Irish have a bona fide stud recruiter leading the program, and his efforts on the recruiting trail will only push his assistants to work harder.
Notre Dame's 2022 class ranks No. 6 per the On3 Team Recruiting Ranking. Here is how the five previous Irish classes finished: 2021 No. 11, 2020 No. 18, 2019 No. 13, 2018 No. 9 and 2017 No. 15.
Notre Dame's 2023 class does not have any On3 Consensus five-star prospects yet, but Keeley is one per On3's own rankings. He is the No. 1 EDGE and No. 4 overall prospect in America. Per the On3 Consensus, Keeley is the No. 2 Edge and No. 22 recruit in the land. There are currently only 15 On3 Consensus five-star recruits in the 2023 class.