How to watch Notre Dame vs. Oklahoma in the College World Series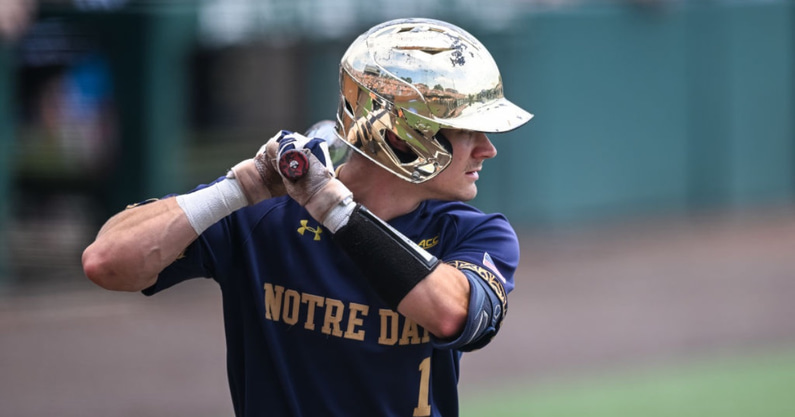 Notre Dame and Oklahoma had arguably the two most difficult paths to the College World Series of any team in it. Neither was a national seed. Neither played a tournament game at home.
Both, though, swiped regional and super regional titles by toppling ranked teams. Now, they face off Sunday at 7 p.m. ET (ESPN2) after they won their first games in Omaha two days earlier. The Irish defeated No. 9 seed Texas 7-3 Friday. The Sooners beat No. 5 Texas A&M 13-8.
Two-way player and right-handed pitcher Cade Horton (4-2, 5.58 ERA) will start for Oklahoma. Notre Dame's starter will be graduate student righty Austin Temple (4-1, 3.57).
The Notre Dame-Oklahoma winner is off until Wednesday. That team can clinch a spot in the best-of-three final. The loser plays Tuesday in an elimination game against the winner of Sunday's Texas vs. Texas A&M contest.
PROMOTION: Sign up for just $1 for your first year at Blue & Gold
CLICK HERE to order the 2022 Notre Dame Football Preview
Notre Dame never trailed in its defeat of Texas. The Irish pushed across runs in the first, third, and fourth innings to take a 3-1 lead. Their three-run fifth inning broke the game open. They out-hit the Longhorns 11-6 and did not allow an extra-base hit. Sixth-year senior John Michael Bertrand threw 5.1 innings, allowing three earned runs.
Notre Dame reached the College World Series with a super regional win over No. 1 overall seed Tennessee. It won the Statesboro Regional title by beating No. 16 seed Georgia Southern once and Texas Tech twice. Oklahoma, meanwhile, beat No. 4 Virginia Tech in a super regional and won the Gainesville Regional by beating No. 13 Florida twice and Liberty once. The Sooners also won the Big 12 tournament.
The College World Series final begins June 25.
Notre Dame vs. Oklahoma in the 2022 College World Series
When: Sunday, June 19 at 7 p.m. ET
Where: Charles Schwab Field, Omaha, Neb.
TV: ESPN2
Team records: Notre Dame 41-15, 16-11 ACC; Oklahoma 43-22, 13-9 Big 12
Head coaches: Link Jarrett (third season at Notre Dame, 86-30); Skip Johnson (fifth season season at Oklahoma, 155-102)
Other notes:
• This year is Notre Dame's third trip to the College World Series and first since 2002. Oklahoma has reached it 11 times and won two championships. The most recent title was in 1994.
More College World Series coverage
• How Irish pitchers turned in another gem to beat Texas in College World Series