How to watch Notre Dame vs. Texas A&M in the College World Series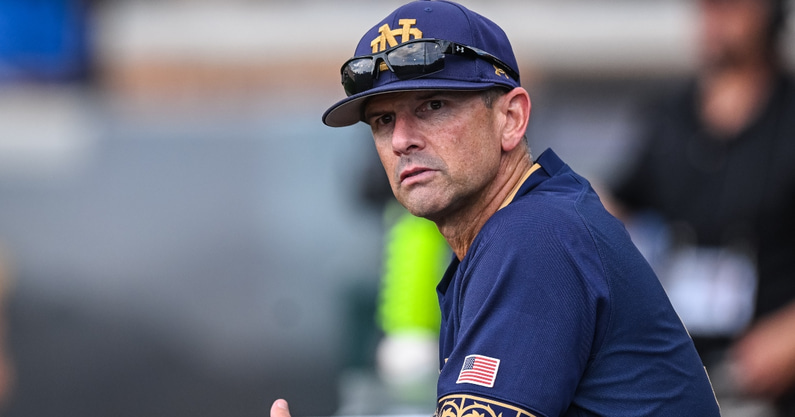 It's win or go home in the College World Series for Notre Dame. The Irish play an elimination game Tuesday afternoon (2 p.m. ET, ESPN) against Texas A&M.
Tuesday is both teams' third game of the College World Series. Each is 1-1 and lost to Oklahoma. Notre Dame fell to the Sooners 6-2 on Sunday, two days after beating Texas in its opener. The Aggies lost to Oklahoma on Friday and rebounded by ousting Texas from the eight-team field with a Sunday victory.
Notre Dame will be the home team Tuesday. Neither side announced a starting pitcher before game day.
PROMOTION: Sign up for just $1 for your first year at Blue & Gold
CLICK HERE to order the 2022 Notre Dame Football Preview
The winner moves on to a Wednesday game against Oklahoma and needs to beat the Sooners twice to reach the best-of-three College World Series final, which starts June 25. Oklahoma won its first two games and will head to the final if it wins Wednesday.
Texas A&M was the No. 5 seed in the NCAA tournament. The Aggies went 3-0 in the regional they hosted and needed just two games to win their super regional series against No. 12 seed Louisville. Notre Dame was not nationally seeded, but took out a pair of top-16 seeds to clinch a spot in the College World Series. It won the Statesboro Regional hosted by No. 16 Georgia Southern and beat No. 1 Tennessee in a super regional.
The Irish never led in their Sunday loss to Oklahoma. They trailed 5-0 after five innings and struck out 14 times.
This is the fifth all-time meeting between Notre Dame and Texas A&M. The series is tied 2-2, with the most recent matchup a 5-4 Irish win in 2006.
Notre Dame vs. Texas A&M in the 2022 College World Series
When: Tuesday, June 21 at 2 p.m. ET
Where: Charles Schwab Field, Omaha, Neb.
TV: ESPN
Team records: Notre Dame 41-16, 16-11 ACC; Texas A&M 43-19, 19-11 SEC
Head coaches: Link Jarrett (third season at Notre Dame, 86-31); Jim Schlossnagle (first season at Texas A&M, 43-19)
Other notes:
• This year is Notre Dame's third trip to the College World Series and first since 2002. Texas A&M has reached it seven times. Neither has won a national title.
More College World Series coverage
• How Oklahoma beat Irish at their own game at the College World Series
• Why watching Irish in the College World Series was surreal for Paul Mainieri