Myron Tagovailoa-Amosa makes prior plan formal, declares for NFL Draft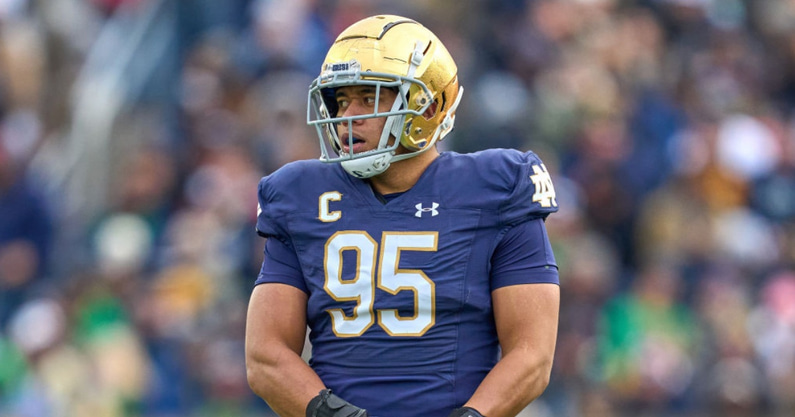 Myron Tagovailoa-Amosa first said it in December.
Asked during a press conference if the Fiesta Bowl would be his last game in a Notre Dame uniform, the graduate student defensive end responded yes.
That was his only acknowledgement of his future. As far as he was concerned, that future hadn't arrived yet. The bowl game was still top of mind and his No. 1 task.
Now, it's time to focus on what's next. Tagovailoa-Amosa made that official Sunday night and formally declared for the NFL Draft, foregoing a sixth season at Notre Dame. The option to return in 2022 became available in the summer of 2020 when the NCAA awarded all football players on rosters that season with an extra year of eligibility. Tagovailoa-Amosa, though, stuck with his original schedule.
Tagovailoa-Amosa started all 12 games he played in 2021, making 25 tackles (6.0 for loss) and notching two sacks. His 32 quarterback pressures and 579 snaps were second among Notre Dame defensive linemen. He was one of seven team captains.
His graduate year began with an exciting and long-desired opportunity. Notre Dame moved him to defensive end after four years as an interior lineman. He signed with the Irish in 2017 with a preference to play on the edge. Notre Dame slotting him at tackle paid off for him anyway — and right away. He cracked the rotation as a freshman and played 13 games, making 12 tackles and 1.5 tackles for loss in 327 snaps.
The 2018 season brought a speed bump. Tagovailoa-Amosa broke his foot in the season opener and did not return until the College Football Playoff. It was only a bump, though. He won the starting three-technique tackle job in 2019 and kept it in 2020. He made 39 tackles (8.5 for loss), notched 3.0 sacks and recorded 43 quarterback pressures in his first two years as a starter.
Tagovailoa-Amosa was a three-star recruit in Notre Dame's 2017 class out of Ewa Beach (Hawaii) Kapolei High School. He committed to Notre Dame on National Signing Day and chose the Irish over Navy and Vanderbilt.
Notre Dame had nine players who could come back in 2022 as "super seniors" by using the COVID exemption. Safety Houston Griffith, defensive tackle Jayson Ademilola, wide receiver Avery Davis and offensive tackle Josh Lugg have decided to use it. Tagovailoa-Amosa, linebacker Drew White and linebacker Isaiah Pryor are moving on. Linebacker Bo Bauer and cornerback TaRiq Bracy have not publicly revealed their plans.