Four-star LB Jaiden Ausberry commits to Notre Dame football over LSU, Michigan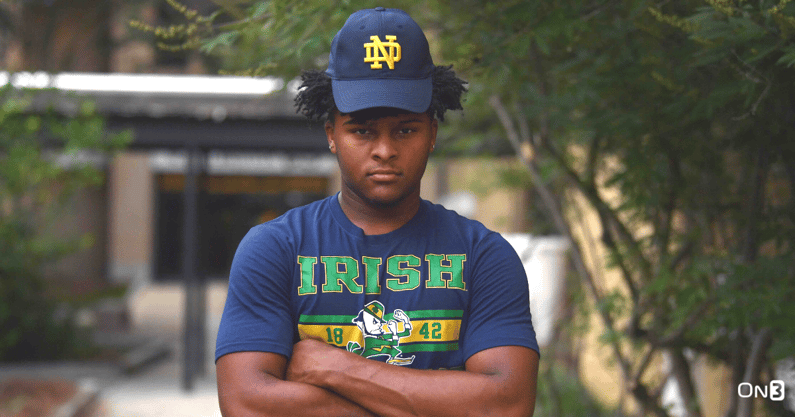 Notre Dame has picked up another major commitment in the 2023 class, with the latest pledge coming from Baton Rouge (La.) University Lab linebacker Jaiden Ausberry, who picked the Fighting Irish over finalists Alabama, Auburn, Florida, LSU, Michigan, and Texas A&M.
It was a long recruiting process between Notre Dame and Ausberry, with then-defensive coordinator and linebackers coach Marcus Freeman extending an offer to the four-star recruit on June 6, 2021. It wouldn't be until March 2022 that Ausberry would get back to South Bend, a visit that put the Irish in a strong position to land him.
His official visit in June was a game changer as well, and after previously planning to make a commitment in December, Ausberry moved his timeline up to Aug. 4, resulting in good news for Freeman and Co.
"I have a lot of relationships up there, and I've known them for a long time," Ausberry told On3's Sam Spiegelman regarding his commitment to the Irish. "It's a family atmosphere and fulfilled exactly what I'm looking for on and off the field and after football. They put a lot of people in the league, and Coach Freeman is a good defensive mind. I know he's going to take care of me up there."
Ausberry, who is the nation's No. 10 linebacker and No. 117 overall player in the land per the On3 Consensus, is Notre Dame's 21st commitment in the 2023 cycle. He's the third linebacker of the class, joining fellow four-star recruits Drayk Bowen of Merrillville (Ind.) Andrean and Preston Zinter of Lawrence (Mass.) Catholic Central.
"I really felt the love on the official visit with all the commits up there, and I was one of the few uncommitted people," Ausberry also told Spiegelman. "There's such a family atmosphere. I think we're going to have one of the best classes ever and win a national championship under Coach Freeman."
PROMOTION: Sign up for just $1 for your first year at Blue & Gold
Notre Dame linebacker pedigree a key selling point
Freeman, who was named the 30th head coach at Notre Dame last December, made a major impact on Ausberry's recruitment.
"When we first we met last summer, we clicked immediately, and we built that relationship because he was the linebackers coach and defensive coordinator," Ausberry explained. "As the head coach, we already knew each other. He's close to my mom, my dad and my brother because he recruited him, too, and he's like family to us — and that meant a lot to me."
Freeman was a linebacker at Ohio State and has spent all of his career up to this point coaching the position. Defensive coordinator Al Golden was the linebackers coach for the Super Bowl runner-up Cincinnati Bengals. Graduate assistant James Laurinaitis was a two-time Big Ten Defensive Player of the Year during his playing days at Ohio State. And defensive line coach Al Washington was Ohio State's linebackers coach from 2019-21.
There's a lot to like on the Notre Dame staff if you're a linebacker recruit. The staff's linebacker background is something Ausberry is well aware of.
"It's really cool," he said. "They're going to know how to develop me the best way because they've been at the top levels."
Ohio State was considered by most as the team to beat early on in Ausberry's recruitment in large part because of the connection he and Washington had.
"We were really tight," Ausberry noted. "He's been with me since the start of my recruitment. He's taking it to a different level with my family; he talks to my mom and dad. He really focuses on the personal relationship, which I really like about him. He's a great coach and has been there with me since the beginning. I have a lot of respect for him."
The Jaiden Ausberry file
Along with his finalists, Ausberry holds offers from Arkansas, Florida, Florida State, Michigan State, Mississippi State, Ohio State, Oregon and Tennessee.
Ausberry played a key role in University Lab's undefeated season in 2021, capturing the Louisiana Division II state championship. The Louisiana Football Coaches Association and Louisiana Sports Writers Association both listed Ausberry on their respective first-team defense lists.
He is committed to playing in the 2023 Under Armour All-America Game.
Per Athetlic.net, Ausberry was clocked running an 11.67 in the 100-meter race and posted a mark of 20 feet, 2.75 inches in the long jump.
His father, Verge Ausberry, was a linebacker for LSU in the early 1990s and currently serves as the Tigers' executive deputy director of athletics and executive director of external relations. His older brother, Austin Ausberry, is entering his freshman season as a defensive back for the Auburn Tigers.
Ausberry has an NIL Valuation of $123,000, which slots him at No. 130 in the high school football NIL rankings. The On3 NIL Valuation is an index that looks to set the standard market value for both high school and college-level athletes. The NIL valuation does not act as a tracker of the value of NIL deals an athlete has completed to date. It rather signifies an athlete's value at a certain moment in time.