Notre Dame lands commitment from All-American WR Rico Flores Jr.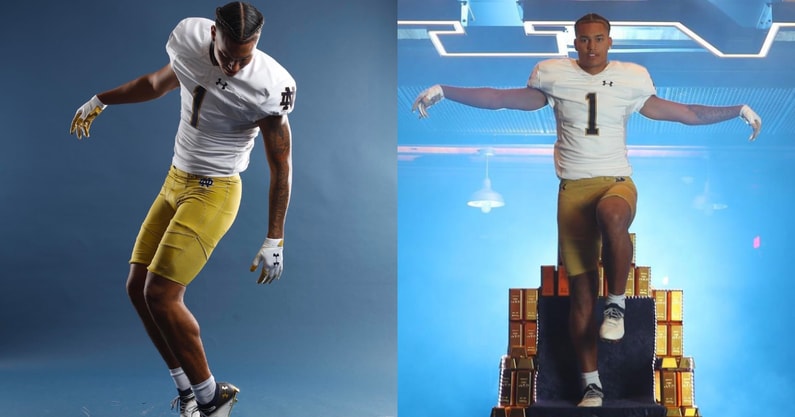 Notre Dame is rolling on the recruiting front and added another commitment on Sunday afternoon, when Folsom (Calif.) High class of 2023 wide receiver Rico Flores Jr. announced his pledge to the Fighting Irish.
The four-star prospect has an impressive offer sheet that he narrowed down to three schools: Georgia, Notre Dame and Ohio State. His first visit to Notre Dame was for his official the weekend of June 10, and he saw everything he needed to see to make his decision in favor of the Irish.
"It's about that 40-year decision," Flores told On3's Chad Simmons about choosing the Irish. "Notre Dame has it all. They have great coaches, the education is great, and I feel very comfortable there. It's about family, and I feel comfortable with the whole situation at Notre Dame."
Flores becomes Notre Dame's 18th commitment of the 2023 class, which is No. 1 in the country in the On3 Consensus Football Team Recruiting Rankings.
He joins Round Rock (Texas) Stony Point's Braylon James as the wide receivers committed to Notre Dame in the 2023 class.
Flores is listed as the No. 12 prospect in California, and the No. 28 wide receiver and No. 171 overall player nationally in the 2023 On3 Consensus.
PROMOTION: Sign up for just $1 for your first year at Blue & Gold
Notre Dame recruited Flores the hardest
The Fighting Irish staff extended an offer to Flores in April 2021. Former receivers coach Del Alexander was leading the charge in the recruitment, and Alexander's replacement, Chansi Stuckey, hit the ground running in building a strong connection with Flores right away.
"He's a really great dude," Flores said of Stuckey. "The aura about him is really great. I like it. He's straight up with you."
Notre Dame seemed to go from a contender in Flores' recruitment to the team to beat in the spring, but the Irish hadn't hosted him on campus yet. When Flores was able to make it to South Bend a few weeks ago, the Notre Dame experience blew him away.
"Seeing the campus, the facilities, getting to hang out with the coaches for a longer period of time, being with the players who go there now and the other recruits," Flores said when asked about the highlights of his visit. "It was good building relationships overall. I got a feel for everything and saw what my future would be like if I attend Notre Dame."
Both Georgia and Ohio State were considered the team to beat at various points of Flores' recruitment, but the Irish staff's persistence paid off.
"I am not going to lie, Notre Dame does recruit me the hardest," Flores told On3 in May. "It is like the whole staff recruits me. From Coach [Marcus] Freeman to Coach [Tommy] Rees to Coach Stuckey to Chad Bowden, they show me a lot of interest.
"It is a different feeling from them. It is hard to explain. That attention means something to me."
After Flores' official visit to Notre Dame, he was scheduled to head to Georgia and Ohio State in the following two weekends, respectively, but both trips were canceled.
The Rico Flores Jr. file
Along with his finalists, Flores also held offers from Alabama, LSU, Michigan State, Oregon, Stanford, Tennessee, Texas, USC and Washington.
Flores made the MaxPreps' 2021 spring season California All-State first team. He caught 31 passes for 606 yards and 10 touchdowns during his six-game sophomore season.
He had an outstanding junior season, recording 81 receptions for 1,157 yards and 11 touchdowns in a 15-game season. Flores made the 2021 MaxPreps All Sac-Joaquin Section Football first-team offense.
Across 29 contests in his prep career, Flores has been highly productive, hauling in 129 passes for 2,141 yards and 24 scores.
Flores is committed to playing in the 2023 All-American Bowl in San Antonio.
He announced his commitment to Notre Dame on July 3, the birth date of his late uncle.