Newsstand: Notre Dame sends out 'official' offers for class of 2023 recruits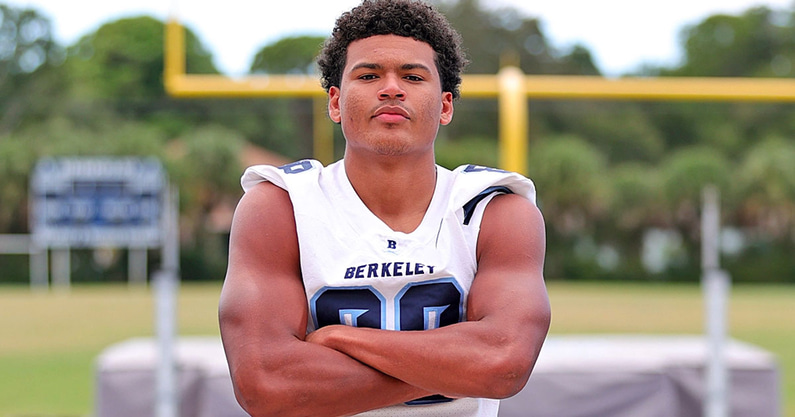 Aug. 1 of a prospect's senior year is when they can start receiving an "official" scholarship offer from a school. Before that day, all offers are verbal. And the Notre Dame Fighting Irish's official offers it sent out via graphic form and in the mail were fantastic.
Tampa (Fla.) Berkeley Prep's Keon Keeley, theNo. 1 EDGE and No. 12 overall player according to the 2023 On3 Consensus rankings, received his official offer in the mail, and his mother tweeted out a video of it. The pop-out artwork with Notre Dame monuments with the offer letter and other notes — including a small handwritten message from head coach Marcus Freeman — are visible.
A few of the tweets of the Irish commits' official offers can be viewed below.
The Fighting Irish currently have the No. 2 class nationally per the 2023 On3 Consensus Football Team Recruiting Rankings. The Irish have 20 commitments, including one On3 Consensus five-star (Keeley), 18 four-stars and one three-star. Notre Dame has a blue-chip ratio — which is the amount of four- and five-star players in the class — of 95 percent.
Notre Dame only has one in-state commit — Merrillville (Ind.) Andrean linebacker Drayk Bowen — and a class average distance of 843.1 miles from the prospect's hometown to South Bend.
Tweets of the Day
Sign up for Blue & Gold and On3 for the latest Notre Dame athletics coverage, insider recruiting notes, and more! It's just one dollar for the introductory first year. More information can be found on our subscriptions page.
Quote of the day
"Notre Dame is a little bit different for me when I go on visits. They try to make it more personal. You can tell."
— 2024 four-star linebacker Anthony Speca on Notre Dame
Headlines of the day
Lucky Charms: Notre Dame football recruiting tidbits (Mike Singer, Blue & Gold)
Countdown to kickoff: Notre Dame vs. Ohio State is 33 days away (Patrick Engel, Blue & Gold)
The Gold Standard: Notre Dame football recruiting stock report (Mike Singer, Blue & Gold)
Why ND WR Avery Davis is no longer afraid of failure: 'I had to hit bottom' (Ashton Pollard, Blue & Gold)
ND staff impresses 2024 four-star LB Anthony Speca on latest visit (Mike Singer, Blue & Gold)
Every ND football player to appear on a preseason award watch list (Patrick Engel, Blue & Gold)
ND's Top 25 Most Important Players for 2022, No. 4: Lorenzo Styles (Ashton Pollard, Blue & Gold)