2024 four-star TE Jack Larsen commits to Notre Dame football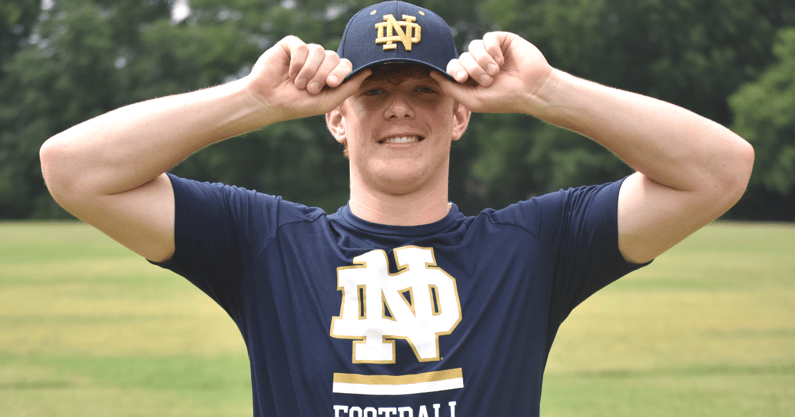 Charlotte (N.C.) Catholic tight end Jack Larsen is Notre Dame's newest commitment in the 2024 class, with the four-star prospect announcing his pledge to the Fighting Irish over finalists Clemson, Michigan, North Carolina and North Carolina State on Friday.
Larsen has Irish heritage in his blood, was raised Catholic and attends a Catholic high school. After Notre Dame offered Larsen a scholarship on St. Patrick's Day, it seemed that it was destiny for him to end up as a student-athlete for the Fighting Irish.
"The education is top notch, the tight end excellence and the Catholic aspect of the school is huge for me," Larsen said about why he picked the Irish. "I want to study business, and the Mendoza school is excellent. I met with academic advisors on my visit, and they're awesome. It's a great fit.
"There are so many Notre Dame tight ends currently in the NFL, and the Catholic aspect is definitely something I embrace."
According to the 2024 On3 Consensus ranking, Larsen is the No. 14 tight end and No. 245 overall player in America. In addition to his finalists, he also held offers from Alabama, Clemson, Florida, Florida State, Ohio State and Texas A&M.
He gives Notre Dame four commitments early on in the 2024 cycle, joining quarterback CJ Carr and defensive linemen Owen Wafle and Brandon Davis-Swain.
In depth on Larsen's Notre Dame commitment
The 6-3, 212-pounder has been to Notre Dame on four occasions. He performed at a camp last July and returned in October to watch the Irish knock off his home-state North Carolina Tar Heels. He made it back to campus April 12 — a few weeks after he received the Notre Dame scholarship offer — and made visit No. 4 during the first weekend of June.
Larsen participated in Notre Dame's Irish Invasion camp during his trip to South Bend earlier this month, and he put on a show, earning offensive MVP honors from Blue & Gold.
"After being coached by Coach [Gerad] Parker and being around Coach [Tommy] Rees and the staff, it really clicked," Larsen added. "I knew it was the place for me. I wanted to get on campus one more time, and it all clicked."
Larsen told the Irish staff during his visit that he wanted to commit to them but needed to go back home to talk the decision over with his mother and sister, who were not able to make the trip.
When Larsen called the Notre Dame staff after getting home to give them the good news, Parker, Rees and head coach Marcus Freeman were probably expecting the commitment call, but that didn't stop them from being fired up about it.
"It was special," Larsen recalled. "Coach Parker was fired up and pumped. He's ready to get me there."
Parker joined the Notre Dame staff as the new tight ends coach earlier this year, and he's built a strong connection with Larsen.
"It's meant a lot," Larsen said of their relationship. "I haven't known him for a long time, but the time I have been talking to him, it's been special. He's a great coach with a lot of experience. I'm looking forward to furthering the relationship."
Larsen is making an early decision by committing a couple months before the start of his junior season, but choosing Notre Dame was inevitable for him.
"I knew Notre Dame was the place for me for a while," he said. "I want to focus on my junior season and get a ring with my high school team."
He also feels a weight lifted off his shoulders now that he's committed.
"I'm stoked," Larsen added. "I'm ready to be a part of the Irish."
Larsen is also ready to start recruiting other prospects to Notre Dame, something he'll do with the aforementioned CJ Carr. They met for the first time at the Irish Invasion camp and seemed to click with on-field chemistry.
"He's a great quarterback," Larsen said. "He didn't miss any throws at all when we were up there. It's crazy. I'm pumped; he's a great guy."
The Jack Larsen file
During his first two season of high school ball, Larsen has recorded 34 receptions for 589 yards and six touchdowns, but it's Blue & Gold's understanding that his sophomore stats inputted to MaxPreps are incomplete, so his career numbers will improve when that's corrected.
Larsen was named to the 2021 North Carolina Southwestern 4A all-conference team.
He caught six touchdowns as a freshman, helping lead Charlotte Catholic to a North Carolina 3A state championship victory.
Former Notre Dame offensive lineman Mark Harrell (2012-16) played his prep ball at Charlotte Catholic and is currently on the Cougars' coaching staff.