Irish legacy Emmett Mosley back at Notre Dame; enjoys time spent with staff, CJ Carr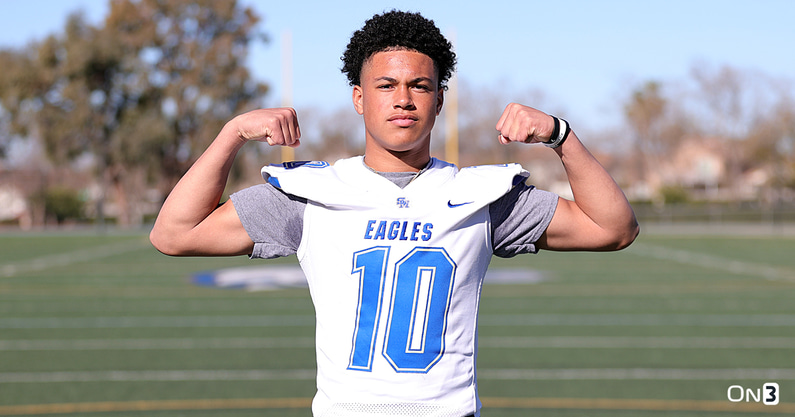 Rancho Santa Margarita (Calif.) Catholic class of 2024 wide receiver Emmett Mosley V visited Notre Dame at the end of April for the Blue-Gold Game and was back in South Bend at the end of July. It's not the easiest trip to go from Southern California out to South Bend, but this visit worked out perfectly for Mosley.
"I was actually in the area for something else, so it worked out to get over there and see the coaches again," Mosley said. "They wanted me to visit for camp in June, but I could get out for the cookout day."
The cookout day Mosley mentioned was last Tuesday, July 26, and one that Mosley had an enjoyable experience at.
"It was all good," he said. "I talked to a lot of the coaches, commits and a lot of the players. I had a good time."
Mosley spent the most time with Notre Dame offensive coordinator Tommy Rees and wide receivers coach Chansi Stuckey during the trip. He also talked with head coach Marcus Freeman as well.
"The most important thing was connecting with the coaches and talking with them," continued Mosley. "We had a lot of fun activities they set up for us. It was great talking to them and building a relationship with them."
Notre Dame has Mosley's attention
The rising junior is the son of two former Irish athletes, Emmett IV and Cindy (née Daws). Mosley's father played running back and receiver at Notre Dame from 1993-96, and his mother was a top soccer player during the same time period. The midfielder won the 1996 Hermann Trophy, the award given to the top collegiate soccer player in the country and scored a record-setting 61 goals for the blue and gold.
The On3 Recruiting Prediction Machine (RPM) reads that Notre Dame is the heavy favorite for Mosley, but he won't make a decision based on what his parents went to school. The Irish staff has to recruit him the best, and it seems like they're doing a pretty good job of that so far.
"I talk to them a lot," Mosley said. "I think [Stuckey] is a great coach and great guy. The program is in a great direction with those coaches. In talking to the players, they have a great relationship with the coaches too."
Notre Dame has a quarterback commitment from Saline (Mich.) High's CJ Carr, who ranks as the No. 30 recruit and No. 5 signal-caller per the 2024 On3 Consensus. Mosley met Carr on campus and notes that he's paying attention to where the top 2024 quarterbacks are going to school.
"For sure — there's a sense of security when you have a top quarterback going there," Mosley explained. "I talked to CJ, and he's a really good kid and good player too. It definitely makes a difference when you're choosing a school and they already have a great quarterback committed."
Mosley is in no rush to make any big decisions about his college future.
"We're in summer camp right now so I'm focused on the season, but hopefully I'll get back to a game at Notre Dame sometime in the fall and some other places too," he said.
According to the On3 Consensus, Mosley ranks as the No. 202 overall player and No. 15 "athlete" in the nation.