2024 four-star EDGE Loghan Thomas includes Notre Dame in his top 10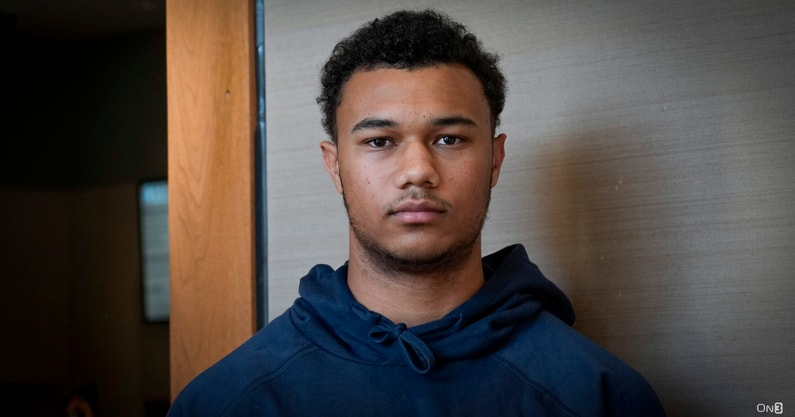 On Tuesday, Notre Dame publicly learned its standing in the college football recruitment of one of the top EDGE targets in the 2024 class. Four-star recruit Loghan Thomas from Katy (Texas) Paetow High included the Fighting Irish in his top schools. 
The 6-foot-3, 210-pound Thomas narrowed his list of 22 offers to a top 10 also featuring Arizona, Colorado, Georgia, Oklahoma, Ole Miss, Southern California, Texas, Texas A&M and Texas Tech. 
PROMOTION: Join for only $29.99 to unlock premium access of the best Notre Dame coverage in the market. This is a limited-time offer, so act fast!
Every one of Thomas' favorite schools, besides Arizona and Texas Tech, offered after he claimed MVP at the All-American Combine in San Antonio in January. Though they didn't make his top 10, Sam Houston State, Marshall, Kansas, Southern Methodist, Kansas State and Memphis also offered before then. 
Houston, North Texas, Duke, Nebraska, Texas State, UNLV and Louisiana offered him a scholarship after his All-American Bowl performance but did not make his top schools list. 
The On3 Industry Ranking — a proprietary algorithm that compiles ratings and rankings from all four primary recruiting media services — evaluates Thomas as the No. 363 overall player, No. 28 EDGE and No. 57 player in Texas. 
On3 ranks him as the No. 124 overall player, No. 11 EDGE and No. 27 player in Texas. His On3 overall and state rankings are the best among the four primary recruiting services. 
Thomas has visited Oklahoma (twice), Texas Tech (twice), Texas, Texas A&M and Ohio State. The Buckeyes have yet to offer.
A background on Notre Dame's interest in Thomas
Notre Dame defensive line coach Al Washington offered Thomas on Jan. 10. Since then, head coach Marcus Freeman has also become involved in his recruitment. 
​​"It's a big defensive staff, and I like the way they talk and the way their defense plays," Thomas told On3's Sam Spiegelman on Feb. 14. 
The Fighting Irish have made such a strong impression early on that Thomas scheduled an unofficial college recruiting visit to Notre Dame, which will take place on March 23. A few factors about ND are sticking out ahead of it. 
"Notre Dame is a great school for education, but they also compete at a high level in football, and I like that," Thomas said. 
Besides Thomas, Notre Dame has offered scholarships to 19 EDGE rushers in the 2024 class. Of those offerees, the Irish are targeting: Elijah Rushing, Marquise Lightfoot, Darien Mayo, Jacob Smith, Kellen Lindstrom, Mylachi Williams, Jaylen Harvey, Anelu Lafaele and Solomon Williams.
The Irish have one 2024 defensive front seven commitment in On3 Industry Ranking four-star recruit Owen Wafle from Princeton (N.J.) Hun School. Notre Dame has also secured pledges from cornerbacks Karson Hobbs and Leonard Moore. 
Notre Dame has not signed an EDGE from the Longhorn state since Fort Worth (Texas) Nolan Catholic High standout Nana Osafo-Mensah.